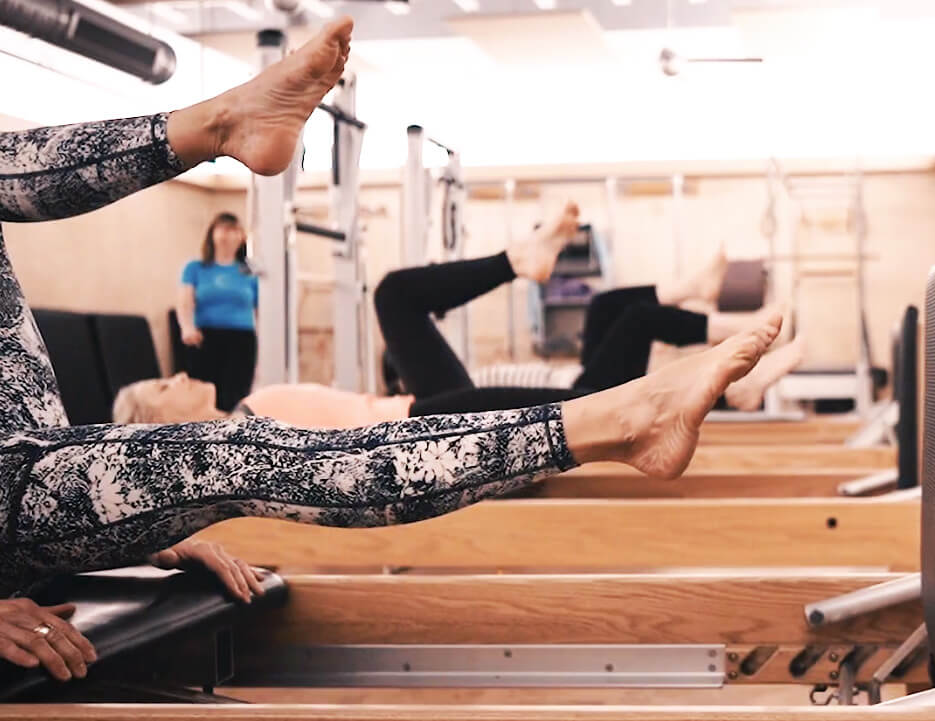 TAKE YOUR PRACTICE OUT OF THE BOX
Pilates is a staple exercise at Castle Hill Fitness. With Pilates, you can increase overall strength and conditioning, body awareness, cross-train for improved performance in other workouts, and work through injuries. All while being practically no-impact! In Pilates, specialized equipment is used to incorporate resistance and to help deepen poses. Castle Hill Fitness is currently one of the few studios in Austin offering Pilates equipment classes! (Classes are included in VIP memberships, or are available to purchase a la carte.)
This Fall, we're taking that classic Pilates burn to a whole new level! Our new seasonal schedule features more Pilates classes for all levels, at both CHF studios and virtually. Meanwhile, specialized multi-week series will further enhance your practice AND your overall fitness routine. These programs deep-dive into specific topics and are kept small to allow for more one-on-one attention from the instructor. Like small group training at a budget-friendly rate! 
PILATES SERIES THAT'LL ADD THAT EXTRA 'OOMPH'

THE PILATES BEGINNER'S CRASH COURSE
| | |
| --- | --- |
| | You gotta start somewhere! Start your Pilates journey in our monthly Foundational Pilates: Equipment Series. Join Brooke Howard or Ashley Weber to learn the Pilates equipment basics in just 4 weeks. Dive right into our weekly classes afterward with confidence! |

PERFECT CROSS-TRAINING FOR OTHER WORKOUTS
| | |
| --- | --- |
| | Heather's new Strength and Stability: Bosu Pilates! series is the perfect complement to any fitness routine. Mainstay fitness prop meets Pilates to increase range of motion, coordination, balance, and overall power! You'll learn movements that will translate to better everyday function in your body and other workouts.   |

HEART-PUMPING CARDIO
| | |
| --- | --- |
| | Pilates gets an adrenaline rush in Cardio Pilates with Clear. Use the equipment and a variety of props to work up a sweat AND improve mobility, flexibility, and toning in a low-impact workout.   |

STRENGTHEN & SOOTHE
| | |
| --- | --- |
| | Ashley combines the best of both worlds of Yin Yoga and Pilates Equipment in Yin Pilates Equipment. Float out of class on cloud 9 after experiencing the strengthening benefits of Pilates and the mindful, stress-relieving benefits of Yin yoga!  |
We simply can't get enough Pilates here! These series are just a taste of our higher-learning Pilates opportunities. With our class series and workshops, and weekly classes, everything you need to become a Pilates pro is at Castle Hill Fitness!
MEET OUR PILATES INSTRUCTORS