RENT OUR SPACE FOR YOUR NEXT EVENT
Picture your next party or private event at Castle Hill Fitness. We provide a number of spaces that are available to rent for an hourly rate. Centrally located at the intersection of West 12th Street and North Lamar Boulevard in Downtown Austin Texas, our studio spaces in the main building of our downtown location.
For rates, studio tours, and to check availability, read below for more information.
---

WHAT'S INCLUDED:
Tour of the facility and features
Use of the open space studio
Sound system for iPod connection
Onsite bathrooms
Onsite and street parking
FEES & REQUIREMENTS:
A signed contract and 50% of total rental fees or $100 are required to book a date
A $75 cleaning fee; there is an additional $75 fee for each event over 8 hours
Castle Hill accepts checks, money orders, and also credit cards.
Cancellations – bookings will incur a cancellation fee of 50% total rental or $100, whichever is less.
BOOKINGS & RESERVATIONS:
You can book a date with a deposit of $100 or 50% of the rental fees and a signed contract.
When choosing a block of time for your event, the hours should include your set‐up/decorating time, your event time, and breakdown time.
CAPACITY & PARKING
Castle Hill Fitness has on-site parking in the front and back lots of the main building, in addition to rooftop parking. Rooftop parking is accessible via the ramp on the right side of the building. Additional free parking for events is on Baylor Street north and south of 12th Street.
PROP & A/V RENTALS
Additional props are available for rent for $25/event. Props examples are mats, blankets, blocks, straps, bolsters, foam rollers and
chairs for 20 people. Projector and screen are available for an additional setup fee. Must reserve in advance.
SET-UP, BREAKDOWN, AND FOOD
Renter is responsible for set‐up and breakdown for an event, leaving the space as you found it.
Renter is responsible for all food and drinks left in the studio. A $200 damage fee will be assigned for any damages to the
facility.
NON-PROFITS & FUNDRAISING
RENTAL RATES
Rates are subject to change for various Holidays and special events. Please contact us if you have questions.
Minimum 2 hrs = $100
Each additional hour = $50/hr
Discount at 8 hrs = $360
Discount at 16 hrs = $688
[show_header text="Private Group Events" id="groupevents"]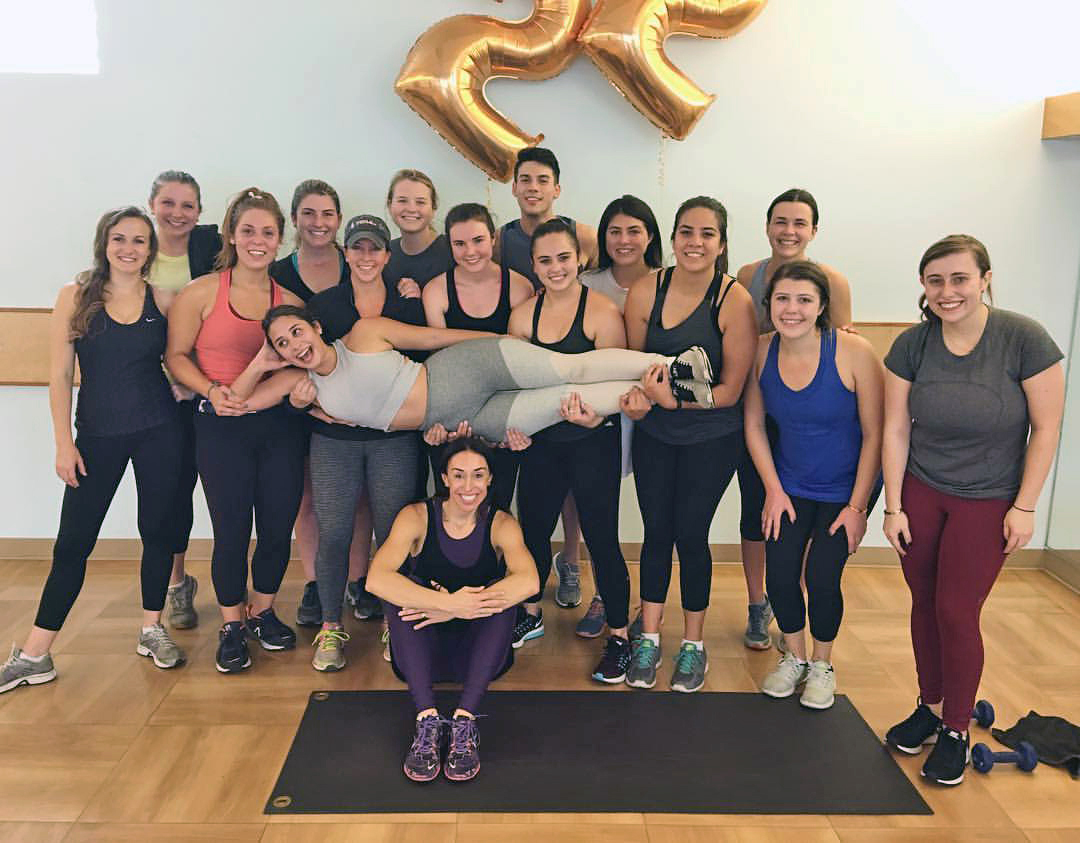 SAVE THE DATE for a fitness class for just you and your friends! Imagine you and your bridesmaids decompressing with day-of yoga together, or picture a company field trip for you and your peers from the office. Our Certified Personal Training staff can offer one of their classic workout formats for you and your friends, family, or colleagues to move to, including:
Barre Class
Crosstraining Workouts
CrossFit Style Workouts
Dance Fitness
High-Intensity Boot Camp
Indoor Cycle Class
Pre/Post Natal Fitness
Pilates Mat or Equipment Class
Toning and Strength Workouts
Yoga
PRIVATE GROUP WORKOUT PARTIES ARE PERFECT FOR:
Bachelor/Bachelorettes

Birthdays

Corporate Field Trips

Graduations

Baby Showers
WHAT'S INCLUDED? A 1 hr (or 1.5hrs) private event and an instructor just for you and friends, all props are provided, onsite parking, and shower & locker room facilities. Available subject to space and instructor availability. We will endeavor to fit the best studio space and instructor for your desired theme and occasion.
PRIVATE GROUP EVENT PRICING:
1hr Event – $200
1.5hr Event – $300
2hr Event – $350
LOOKING FOR MORE? Tell us what type of group event you're thinking and we'll help match the trainer and theme you want!

CONTACT TO RESERVE YOUR PARTY TODAY Fill out the form below.

[show_header text="Rental Request Form" id="request"]