The best way to truly achieve your health and fitness goals is to fully understand your body. No two people are the same, and no fitness strategy works for everyone. Castle Hill Fitness offers body composition testing with the InBody assessment tool, and is open to members and non-members alike. Your assessment test will be conducted by a personal trainer who will help you understand your results and make specific recommendations. Our body composition assessment equipment give you the information you need to take your performance and health goals to the next level!
Regular body composition testing (2-4 times a year) allows you to track your progress and performance. 
Questions? Contact help@castlehillfitness.com.
---
INBODY COMPOSITION TESTING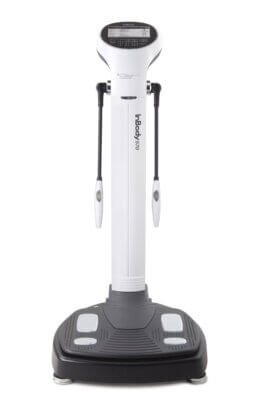 The InBody Assessment is a non-invasive body composition analysis that provides a detailed breakdown of your muscle, fat, and water in under a minute. This information can be used to determine how specific diets and exercises are affecting your overall body composition and general health. 
INFORMATIVE RESULTS & PERSONALIZED REPORT
After an InBody assessment, you'll walk away with a personalized report that gives you a snapshot of your overall health, including: 
Body fat percentage
Lean muscle tissue percentage
Lean mass analysis in each body segment (arms, legs, trunk), including information about asymmetries and imbalances. 
Visceral fat percentage (the fat in and around your organs)
An ECW/TBW analysis that helps identify and track inflammation, swelling, and even potential joint injuries. 
HOW TO PREPARE FOR AN INBODY TEST
To obtain accurate test results we recommend the following preparations for your appointment:
Do not eat or exercise before testing
Ideally, take the test in the morning
Use the bathroom prior to testing
Remove socks, stockings, and any items from your pockets. 
The Inbody Test is not available for individuals with medical implant devices such as pacemakers, or essential support devices such as patient monitoring systems. 
| | | |
| --- | --- | --- |
| InBody Composition Assessment | Members | Non-members |
| Assessment & Results Consult (30 minutes) First InBody only.  | $40 | $45 |
| Assessment (15-minutes) | $25 | $30 |
BOOK YOUR INBODY ASSESSMENT ONLINE
We observe a 24-hour cancellation policy on all personal services. You can cancel your appointment online up to 24 hours in advance. Late cancellation fees are equal to the booked service.