The best way to truly achieve your health and fitness goals is to fully understand your body. No two people are the same, and no fitness strategy works for everyone. Castle Hill Fitness offers two body composition assessment tools – the Bod Pod and InBody. Each offers unique information using different, non-invasive, and quick technologies, and are open to members and non-members alike. No matter which assessment tool you choose, your test will be conducted by a personal trainer who will help you understand your results and make specific recommendations. Our body composition assessment tools give you the information you need to take your performance and health goals to the next level. 
Regular body composition testing (2-4 times a year) allows you to track your progress and performance. 
Questions about which assessment tool is right for you? Contact help@castlehillfitness.com.
---
BOD POD BODY COMPOSITION TEST
The unique information from BOD POD testing will help you reach your specific goals effectively. With this body composition test, you will learn the amounts of fat and lean tissue that make up your weight. You will get the "whole picture" of what's really going on with your body, so you can plan accordingly. Whether you've hit a training or performance plateau, or are just starting your fitness and wellness journey, the BOD POD is an important piece of the puzzle. It can help you:
Set baselines for an initial test and then track progress through regular testing
Monitor trends and fine-tune your athletic performance. 
Measure the success of your overall nutrition and exercise program. 
HOW DOES THE BOD POD WORK?
Based on the same whole-body measurement principles as hydrostatic weighing, the BOD POD employs patented air displacement technology instead of a water dunk. Subjects sit comfortably inside the capsule while computerized pressure sensors determine the amount of air their body displaces. This test is accurate, safe, and quick, with a complete analysis taking under 10 minutes. 
HOW TO PREPARE FOR YOUR BOD POD
Do not eat or drink 2 hours before the test
Do not exercise 2 hours before the test
You must wear minimal, form-fitting clothing such as a lycra or spandex swimsuit (or single-layer compression shorts and/or a lightweight jog bra)
| | | |
| --- | --- | --- |
| BOD POD PRICING | Members | Non-members |
| One test | $60 | $65 |
| Set of 3 tests* | $125 | $130 |
* Expires in 12 months
BOOK YOUR BOD POD ONLINE
Book online with one of the listed providers below! You can also email hello@castlehillfitness.com or call 512-478-4567.
BOOK ONLINE:
---
INBODY COMPOSITION TESTING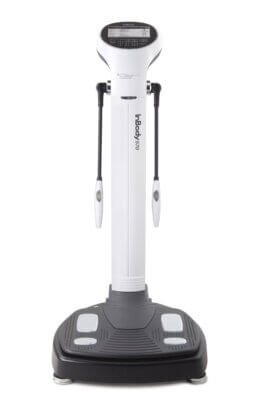 The InBody Assessment is a non-invasive body composition analysis that provides a detailed breakdown of your muscle, fat, and water in under a minute. This information can be used to determine how specific diets and exercises are affecting your overall body composition and general health. 
INFORMATIVE RESULTS & PERSONALIZED REPORT
After an InBody assessment, you'll walk away with a personalized report that gives you a snapshot of your overall health, including: 
Body fat percentage
Lean muscle tissue percentage
Lean mass analysis in each body segment (arms, legs, trunk), including information about asymmetries and imbalances. 
Visceral fat percentage (the fat in and around your organs)
An ECW/TBW analysis that helps identify and track inflammation, swelling, and even potential joint injuries. 
HOW TO PREPARE FOR AN INBODY TEST
To obtain accurate test results we recommend the following preparations for your appointment:
Do not eat or exercise before testing
Ideally, take the test in the morning
Use the bathroom prior to testing
Remove socks, stockings, and any items from your pockets. 
The Inbody Test is not available for individuals with medical implant devices such as pacemakers, or essential support devices such as patient monitoring systems. 
| | | |
| --- | --- | --- |
| InBody Composition Assessment | Members | Non-members |
| Assessment & Results Consult (30 minutes) First InBody only.  | $40 | $45 |
| Assessment (15-minutes) | $25 | $30 |
BOOK YOUR INBODY ASSESSMENT ONLINE
We observe a 24-hour cancellation policy on all personal services. You can cancel your appointment online up to 24 hours in advance. Late cancellation fees are equal to the booked service.