INVEST IN YOUR BEST
Why should a company invest in a wellness program? Businesses that dedicate themselves to employee wellness achieve a healthier, happier workforce - in and out of the office! A company wellness program will build a stronger community, engage employees, keep insurance premiums down, and inspire people to reap the benefits of a healthy and active lifestyle. Other benefits of a corporate wellness program include:
» Enhanced Company Culture
» Higher Productivity
» Increased Creativity
» Improved Morale & Company Retention

Castle Hill Fitness can help make that happen! Since 2002, we've engrained ourselves in the Austin community, building community and working on overall health and wellness. Making YOUR business a healthier, happier workplace is right up our alley. Click here to learn more about Castle Hill's mission and values.
In-Club Services
Group Fitness: Nothing like bringing your team closer together than with a good old-fashioned sweat sessh! We offer a wide variety of weekly exercise class formats - both virtual and in-person. 
Personal Training: Our experienced Personal Trainers all have their unique specialties and training, from strength training, rehabilitation, Yoga, Pilates, and more. Our wide variety of personal training services support every person's individual journey, with customized plans and support from our talented trainers.
Massage & Wellness services: Our Wellness Spa is here to aid in recovery and deepen relaxation. Browse our variety of Spa services here.
Physical Therapy: Physical Therapy will help speed up the recovery process after an injury and with pain mitigation, to keep your team feeling their best!
Health Coaching & Nutrition: Our Health Coaches help support the bigger picture of health and wellness by focusing on an individual's daily habits such as diet, sleep, and stress, and tailoring customized plans.
Our Community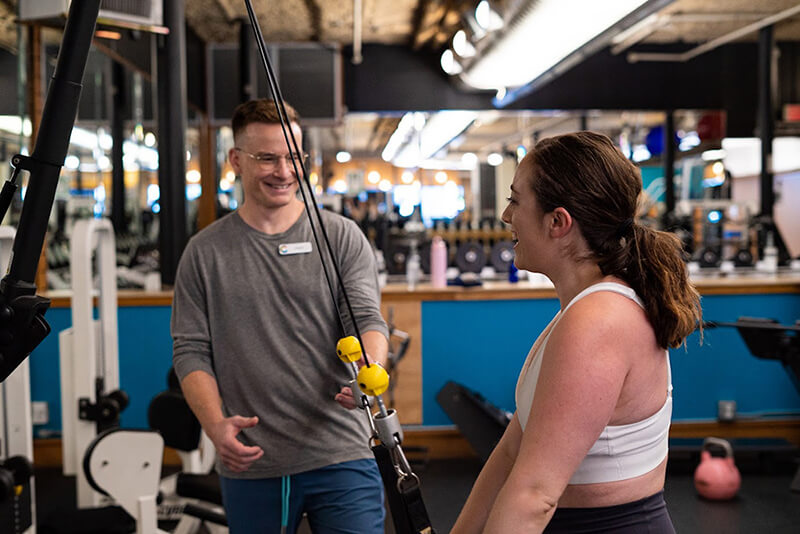 We're more than a place to workout. Your workforce will establish meaningful connections through their love of health and fitness, amongst a positive community that is always cheering them on!
Our Amenities/Facility
We have everything the Austin community needs to turn a fitness club into a second home.

Get ready for your next big thing with the locker room amenities. Castle Hill Fitness provides shampoo, conditioner, and body wash in each shower area, as well as grooming toiletries on the vanity and counter spaces.
Complimentary towel service is included with each visit
Free on-site parking
Custom Wellness Programs
We offer on and off-site wellness programming. Castle Hill Fitness works individually with each partnership to enhance what they already have available to their employees, and create programming that fits their needs. We also have multiple pre-made wellness program plans that we know will make a difference in your employees' lives! Castle Hill Fitness provides 2 complimentary events per year. 
Company Challenges
Private small group training with a Personal Trainer
Private Group Fitness class (in-person or virtual)
In-Body Evaluations & Fitness Testing at our facility
Lunch and Learns (on-site at your company)
Chair Massages (on-site at your company)
STANDARD PARTNERSHIP
Our introductory business discount option. We will provide a base discount on our month-to-month membership options to your employees. This option is of no cost to your organization. Click here to view our month-to-month membership options.
SUBSIDY PARTNERSHIP
Our highest business discount option. We will provide a base discount plus a percentage match of any wellness subsidy you provide to your employees, beyond what is available to them via their insurance provider.
Become a Business Partner Today
We'd love to learn more about your needs! Please fill out the simple form at the button below, and a member of our team will be in touch with you shortly.
Is my company already a partner?
Fill out the form below to find out if your company is already a partner!