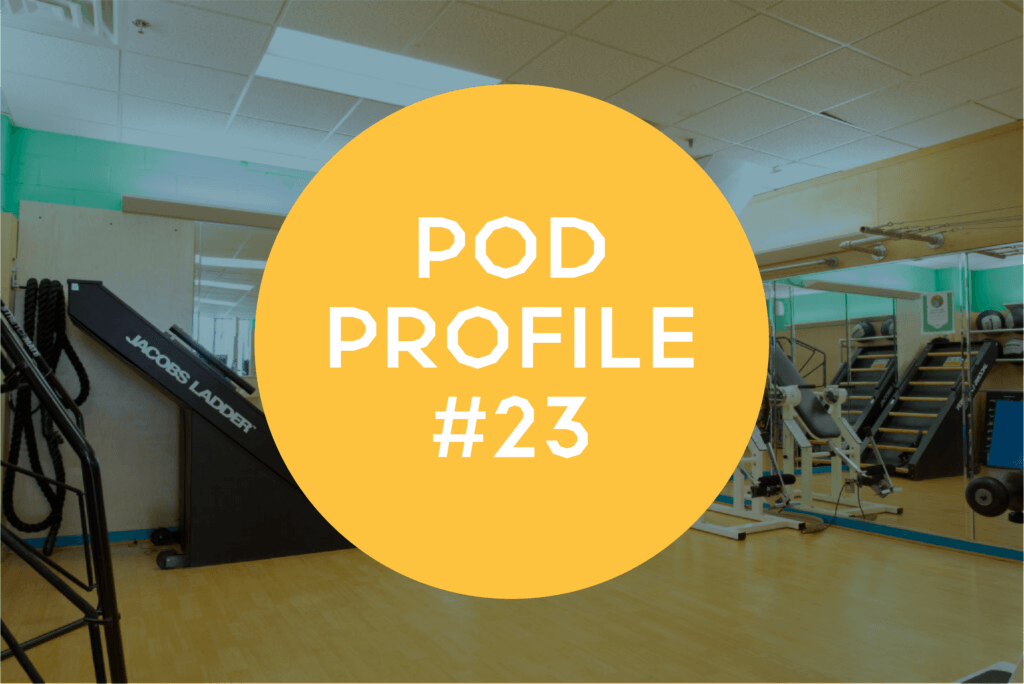 SNEAK A PEEK 
At Castle Hill Fitness, we're known for doing things a little differently than others. When a pandemic changed the landscape of indoor fitness, we changed right along with it! We went all-in on reinventing the indoor gym experience, so your commitment to your health and fitness doesn't have to skip a beat. Our Workout Pods have everything you need for a complete workout, and then some – variety of equipment, sanitizing supplies, HEPA air filters, physical barrier walls for social distancing, and health and safety measures in our facilities that go beyond recommended guidelines. We have over 100 Workout Pods between our two locations that are as multifaceted as our talented team of professionals! In this Pod Profile, get a closer look inside our unique Workout Pods. 
POD PROFILE: STRETCH ROOM POD 23
Each Workout Pod has a selection of specialized equipment – you can narrow down your Pod selections based on what kind of workout you want to do. In this Pod Profile, get an exclusive look inside Stretch Room Pod 23 at our Downtown location, plus a written routine from one of our pros!
What Equipment is in Stretch Room Pod 23?

» Stretchmate
» Inversion Table


» Community Props Area 


» Plyo Box/Step


This specific Pod is great for a full-body workout, functional fitness, low-impact, mobility, rehabilitation, strength and cardio workouts. With the available equipment, you can target all of the following:
Need a Little Inspiration? 
Yoga Instructor, Erin Feil has a stretch routine you can do in Stretch Room Pod 23! Erin uses the Stretchmate to work out the lower body – perfect for after a leg day routine! You'll target all major joints and muscle groups, all planes of movement, and will feel a deep stretch in the legs and lower back, and it'll take you less than 10 minutes.
ERIN'S LOWER BODY STRETCH ROUTINE
Hold each pose for 5-10 deep breaths. 
ADDUCTOR STRETCH
each side. See the video below for a movement variation!

IT BAND STRETCH + DEEP TWIST
each side
STANDING ONE-LEGGED HAMSTRINGS STRETCH
each side
FORWARD FOLD
upward, underhand grip, put weight into toes

STANDING PIGEON (OUTER HIP STRETCH)
each side

STANDING SIDE STRETCH WITH A GRIP
each side. See the video below for a movement variation!
| | |
| --- | --- |
| | |
| ADDUCTOR STRETCH MOVEMENT VARIATION | SIDE STRETCH MOVEMENT VARIATION |
Your Pod Workout is done. Spray down everything you touched using the hospital-grade disinfectants provided in your Sanitation Station, return and spray down any props you used, wash your hands, and you are done! 
READY TO GET YOUR BOD IN A POD?
Reserve your very own Workout Pod at our Downtown location with just a few clicks of your mouse! 
---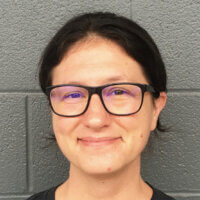 Erin's sessions are full of laughter, learning, and sweat. She leaves room in her classes for questions, making them a wonderful opportunity to deepen one's practice, improve posture and movement off the mat, or feed the inner kinesiology geek. While her classes are peppered with restorative and core conditioning poses, her heart belongs to the Vinyasa flow style, so expect focus on the joining of breath and movement.
Erin teaches on our virtual class schedule, as well as a LIVE! Slow Flow Yoga. Click here to see her classes and to register online!