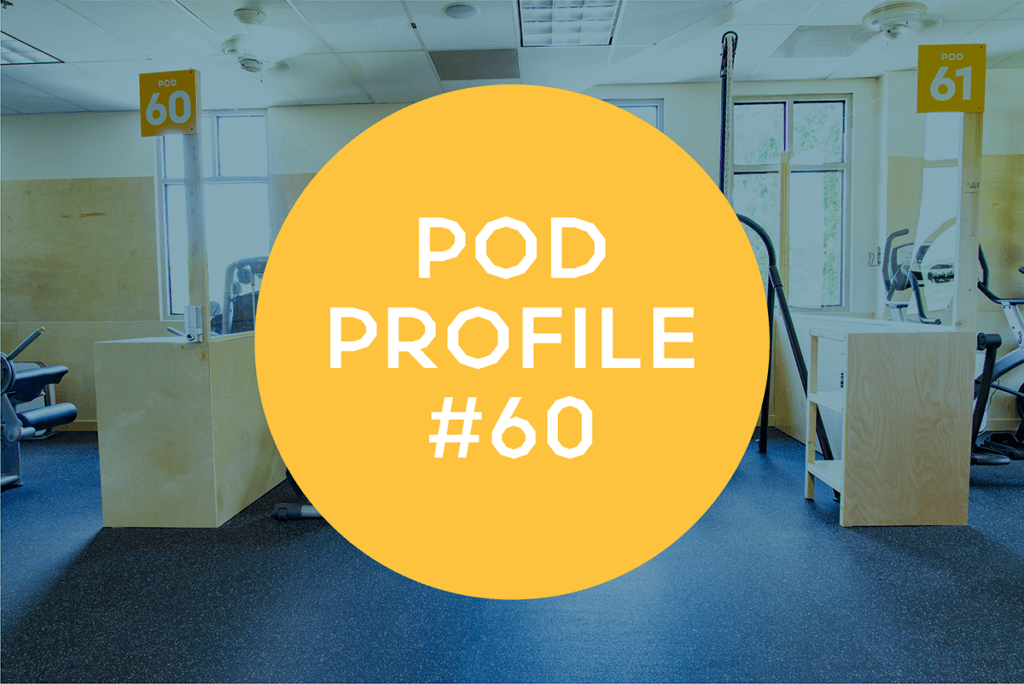 SNEAK A PEEK 
At Castle Hill Fitness, we're known for doing things a little differently than others. When a pandemic changed the landscape of indoor fitness, we changed right along with it! We went all-in on reinventing the indoor gym experience, so your commitment to your health and fitness doesn't have to skip a beat. Our Workout Pods have everything you need for a complete workout, and then some – variety of equipment, sanitizing supplies, HEPA air filters, physical barrier walls for social distancing, and health and safety measures in our facilities that go beyond recommended guidelines. We have over 100 Workout Pods between our two locations that are as multifaceted as our talented team of professionals! In this Pod Profile, get a closer look inside our unique Workout Pods. 
POD PROFILE: MAIN GYM POD 60
Each Workout Pod has a selection of specialized equipment – you can narrow down your Pod selections based on what kind of workout you want to do. In this Pod Profile, get an exclusive look inside Main Gym Pod 60 at our 360 location, plus a written routine from one of our pros!
What Equipment is in Main Gym Pod 60?

» Total Gym
» Adjustable Bench


» Community Props Area 


» Decline Bench
» Stall Wall


This specific Pod is great for a full-body workout, an upper body workout, and strength and cardio workouts. With the available equipment, you can target all of the following:
Need a Little Inspiration? 
Yoga Instructor and Personal Trainer, Erin Feil is going to show you the magic of the Stall Wall in Main Gym Pod 60! Use this great piece of equipment for stretching and strength-building work, enhancing your yoga practice, and to build grip strength. Learn a few Stall Wall moves below!
ERIN'S STALL WALL EXERCISES
3 sets of 5, or 3 sets of 10 – whatever feels best to you!
ENHANCED CHALLENGES
MODIFIED BRIDGE: ONE LEG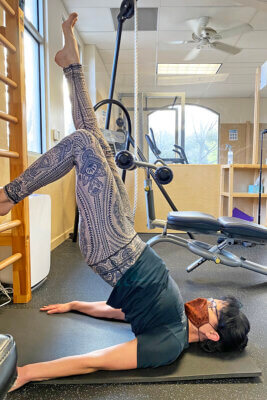 | | |
| --- | --- |
| MOUNTAIN CLIMBERS | PLANK SHOULDER TAPS |
| | |
| | |
| --- | --- |
| DRAGON LEVER | MODIFIED DRAGON LEVER: ONE LEG |
| | |
MODIFIED/ASSISTED EXERCISES
| | |
| --- | --- |
| ASSISTED CALF RAISES | OPTION: ONE-LEGGED |
| | |
ASSISTED PULL UP/LET DOWNS
STRETCHES
| | |
| --- | --- |
| RAISED CHILD'S POSE | STANDING PIGEON |
| | |
| | |
| --- | --- |
| CRESCENT MOON SIDE STRETCHES | FORWARD FOLD WITH UNDERHAND GRIP |
| | |
Your Pod Workout is done. Spray down everything you touched using the hospital-grade disinfectants provided in your Sanitation Station, return and spray down any props you used, wash your hands, and you are done! 
READY TO GET YOUR BOD IN A POD?
Reserve your very own Workout Pod at our 360 location with just a few clicks of your mouse! 
---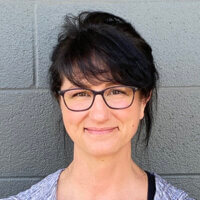 As a 500-RYT yoga instructor and an ACE certified personal trainer, Erin combines yogic principles such as mindful movement and breathwork with other physical disciplines. Her sessions are full of laughter, learning, sweat, and meditation – running the gamut from restorative gentle practices to more robust core-conditioning and balance work. 
Erin teaches yoga classes on our virtual class schedule and our in-person schedule, or book a personal training session with Erin for exclusive attention and tailored workouts! Click here for Erin's classes and to reach out for personal training!