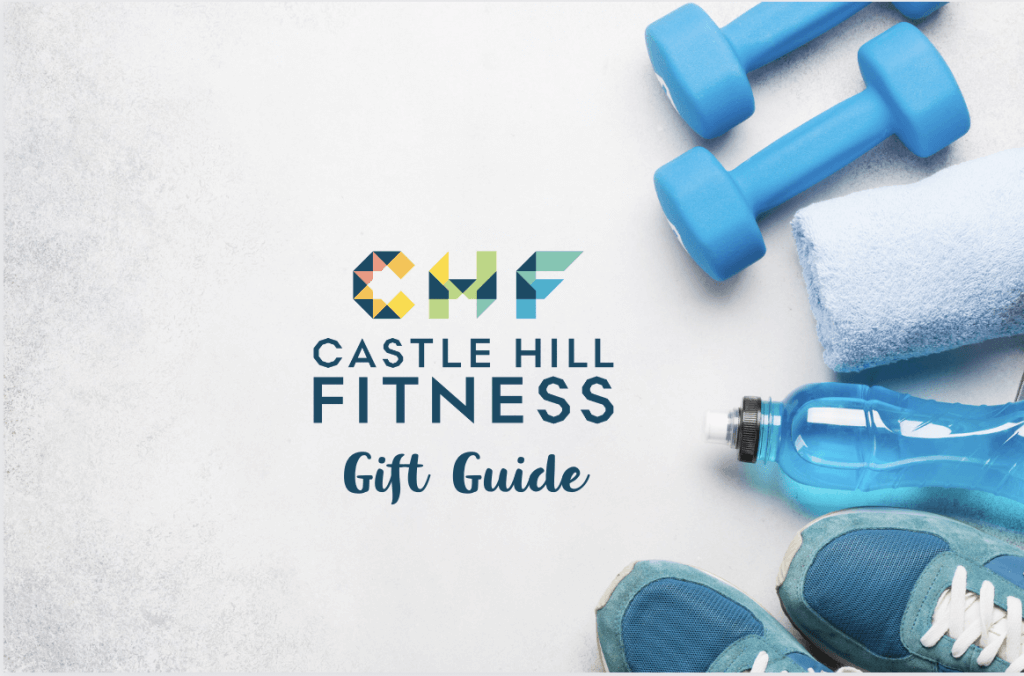 A HOLIDAY GIFT GUIDE WITH SOMETHING FOR EVERYONE
The gift of health and wellness never goes out of style! At Castle Hill Fitness we have all our bases covered to offer your loved ones a thoughtful, life-enriching gift this holiday season. From personal training to locally made treats, this Holiday Gift Guide has something that all your dearest people will enjoy!
Reminder: Members receive additional discounts on prices listed in this gift guide, including on retail, a la carte passes, and services.
Experiential Gifts Are So Hot Right Now
According to Pinterest and our other trusted sources, experiential gifting is the 2022 way! Luckily, our gym has a plethora of experiences choose from!
Community, especially the CHF community, is one of the best gifts you can receive! The Castle is so much more than a place to workout. 

Our no-commitment memberships grant access to a positive community with a variety of exercise disciplines. With 4 membership types, there's something for everyone! Depending on the membership, benefits include unlimited gym access, fitness classes galore, discounts to training and Spa services, and so much more! 

$89.00-$219.00.
This perfect gift comes with a great discount right now – a limited-time membership special AND no enrollment fees ($149 savings!)


Personal Training is the perfect gift for any loved one that wants to take their fitness to the next level! A personalized gift, that feels a little lux, at a down-to-earth gym; it doesn't get much better than that!

Our talented team of trainers will help achieve any and all health and fitness goals – with either virtual or in-person training! To be the best accounta-bili-buddy, you can even purchase duo sessions and make the most epic training squad.

Price Varies depending on Trainer level, duration, and membership status.

The best starts are the discounted kind, so take advantage of our $25 off your first training session promotion!  
Small Treats With Big Impact
The last stop on the holiday list is stocking stuffer! Don't let the shopping brain fog get you down. We have perfect stocking stuffers to make anyone go "Wow"!
Candylabs | Cars & Trucks from JOY At Castle Hill 

JOY at Castle Hill is the ecletic's dream boutique! With cozy and handmade wares, this is the destination for all things cute, inviting, and unique.

One of our current favorites are the Cars and Trucks by Candylabs made of premium wood and perfect for both children and adults alike. Browse all the wonders this shop of treasures has to offer here. ⁠⁠

$30.00

Available for purchase online or in-store at JOY at Castle Hill .

For anyone with a sweet tooth, these delious treats offer all the best of an energy bar and a candy bar! More than just a snack, chocolate that loves you back. Try Functional Chocolate today for all of your health realities!

$6.99

Available for purchase at Peoples Rx.
Lettermade 12 days of Christmas Napkins

These whimsical embroidered cocktail napkins make every affair a little more special. Each napkin includes a different motif from "The Twelve Days of Christmas." Sold in a set of 12.
Treat your lashes to a spa day of their own with Revitalash Advanced. These lash and brow serums have stood the test of time. Beauty fads fade, but healthy, strong lashes and brows stay year after year. 

Available for purchase at Castle Hill Fitness.

For the Cozy Friend
The holidays are a stressful time! Help out your cozy friends by gifting them one of these relaxation-inducing treats!
I don't know ANYONE who would turn down a Spa Day. Let one of our pros work their magic in our cozy Spa at Downtown ! We offer a wide range of Massage styles – ranging from Deep Tissue to Ashiatsu – that will deliver that amazing relaxation. A trip to our sauna will only take your relaxation experience to new heights.

Pricing varies depending on duration and membership status.

Bring some playfulness into any room with these beautifully handwoven 100% wool rugs. With a quirky range of lovable characters from the animal kingdom that will make you smile every time.

$55.00 – $250.00

Available for purchase at JOY at Castle Hill.
+PlusCBD Reserve Collection Hemp Extract Gummies offer consistent servings of CBD in delicious fruity flavors that are sure to make your mouth water. These gummies are available in a 10:1 CBD to THC ratio for a balanced cannabinoid supplement. Experience less sleeplessness, quicker recovery, deeper relaxation, and a brighter mood with +PlusCBD Full Spectrum Hemp Extract Gummies.

$41.24

Available for purchase at Peoples Rx.

  
Inflammation? Injury? Tension, tired Muscles? Chiki chill your pain away with our #1 selling all-natural pain relieving balm! There is no end to the uses for this amazing anti-inflammatory. Containing arnica, magnesium and our synergistic blend of 8 essential oils, this balm will take you on a vacation from pain.

$35.99

Available for purchase at Peoples Rx.
Still stumped on what to get your besties? Give the gift of choice with one of our  Gift Cards, and let your loved one pick from one of our many services! When in doubt, a gift card is always the answer!
HAPPY HOLIDAYS!