It might be an unlikely pairing - a spa in a gym. Yet it's our belief that caring for your body is more than just breaking a sweat or achieving a PR. In our spa, you will find a group of professionals with extensive education in their fields. Our focus is healing and recovery - so that you can stay active and injury-free for years to come! And what better place for it than inside your gym? At Castle Hill Fitness Gym and Spa, we are your one-stop for optimal health in Austin, Texas.
Our downtown spa location features four treatment rooms, online booking for most services, hot tea bar, and a central location that is easy to access any time of day. You do not need to be a member of Castle Hill to book spa services, but members receive discounts on spa services and packages.
Structural Integration aligns & balances the body by lengthening & repositioning the fascia. When restricted fascia is released, the muscles move more fluidly & efficiently, allowing the body to return to its aligned & balanced state. Do you need Structural Integration?
Thai massage is performed on a mat on the floor. This therapeutic style of massage combines soft tissue manipulation techniques, assisted yoga postures, breathing and meditation to bring the body into a state of deep relaxation and overall wellbeing. Discover Thai Massage...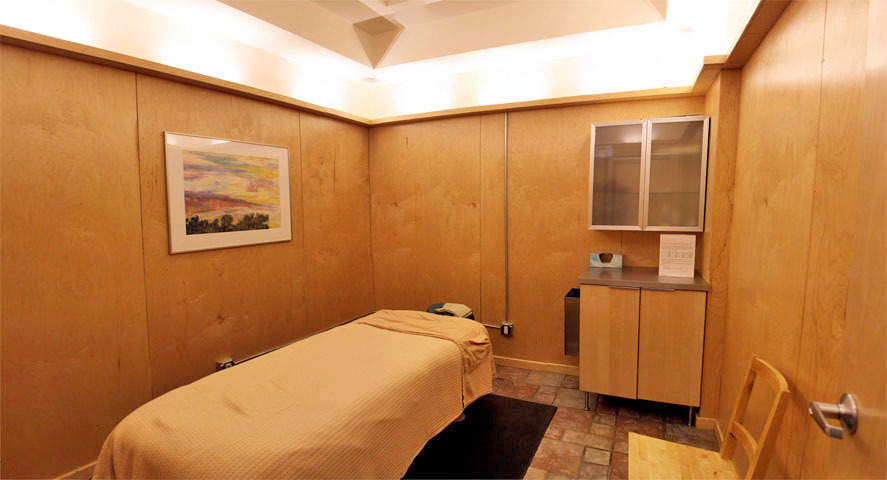 The Spa at Castle Hill Fitness downtown is nestled in the heart of the building. As you enter the cozy waiting space help yourself to the hot tea bar. The spa features four treatment rooms - one for skin care, one for acupuncture, and two dedicated for massage and structural integration. A restroom is conveniently nearby. The downtown location has two infrared saunas - one in each locker room. Guests are invited to use the locker room, sauna, and showers before or after service.
| | | |
| --- | --- | --- |
| | Member | Walk-in |
| 60 minute session | $85 | $90 |
| 5-session package | $400 | $425 |
| | | |
| --- | --- | --- |
| | Member | Walk-in |
| Initial assessment (60 minutes) | $100 | $105 |
| Follow up session (30 minutes) | $65 | $65 |
| Add-on (to massage) | | $15 |
| | | |
| --- | --- | --- |
| | Member | Walk-in |
| 30 minutes | $60 | $65 |
|    5-session package | $275 | $300 |
| 45 minutes | $75 | $85 |
|    5-session package | $350 | $400 |
| 60 minutes | $90 | $100 |
|    5-session package | $425 | $475 |
| 75 minutes | $110 | $120 |
|    5-session package | $525 | $575 |
| 90 minutes | $130 | $140 |
|    5-session package | $625 | $675 |
| 120 minutes | $190 | $195 |
|    5-session package | $925 | $950 |
| | | |
| --- | --- | --- |
| | Member | Walk-in |
| 75 minutes | $125 | $130 |
|    5-session package | $600 | $625 |
| | | |
| --- | --- | --- |
| | Member | Walk-in |
| Lash lift (40 minutes) | $75 | $80 |
| Lash lift + tint (55 minutes) | $90 | $95 |
| Brow tint | $30 | $35 |
| Eye lash tint | $35 | $40 |
| Brow + lash tint | $50 | $55 |
| | | |
| --- | --- | --- |
| | Member | Walk-in |
| 60 minutes | $175 | $185 |
| | | |
| --- | --- | --- |
| | Member | Walk-in |
| 30 minutes | $75 | $80 |
| 50 minutes | $125 | $135 |
| | | |
| --- | --- | --- |
| | Member | Walk-in |
| 50 minutes | $125 | $135 |
| | | |
| --- | --- | --- |
| | Member | Walk-in |
| 30 minutes | $60 | $65 |
|    5-session package | $275 | $300 |
| 50 minutes | $115 | $125 |
|    3-session package | $325 | $340 |
| 75 minutes | $155 | $160 |
|    3-session package | $435 | $450 |
| | | |
| --- | --- | --- |
| | Member | Walk-in |
| 30 minutes | $75 | $80 |
|    5-session package | $350 | $380 |
| 50 minutes | $150 | $160 |
|    3-session package | $430 | $455 |
| 75 minutes | $180 | $190 |
|    3-session package | $520 | $550 |
| | | |
| --- | --- | --- |
| | Member | Walk-in |
| Microcurrent treatment | $100 | $110 |
|    5-session package | $450 | $475 |
|    10-session package | $850 | $900 |
| | | |
| --- | --- | --- |
| | Member | Walk-in |
| Arm, half | $30 | $35 |
| Arm, full | $45 | $50 |
| Back | $60 | $65 |
| Bikini | $40 | $45 |
| Bikini + full leg | $95 | $105 |
| Brazilian (women only) | $60 | $65 |
| Brazilian + full leg | $110 | $120 |
| Brow | $20 | $25 |
| Chest (men only) | $60 | $65 |
| Leg, half | $45 | $50 |
| Leg, full | $60 | $65 |
| Lip | $15 | $18 |
| Underarm | $20 | $25 |