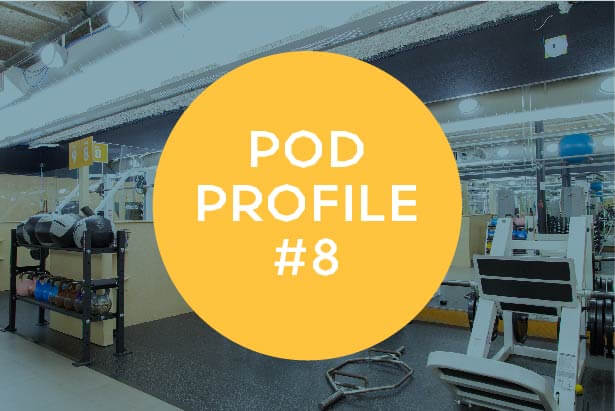 SNEAK A PEEK 
At Castle Hill Fitness, we're known for doing things a little differently than others. When a pandemic changed the landscape of indoor fitness, we changed right along with it! We went all-in on reinventing the indoor gym experience, so your commitment to your health and fitness doesn't have to skip a beat. Our Workout Pods have everything you need for a complete workout, and then some – variety of equipment, sanitizing supplies, HEPA air filters, physical barrier walls for social distancing, and health and safety measures in our facilities that go beyond recommended guidelines. We have over 100 Workout Pods between our two locations that are as multifaceted as our talented team of professionals! In this Pod Profile, get a closer look inside our unique Workout Pods. 
POD PROFILE: MAIN GYM POD 8
Each Workout Pod comes equipped with its own equipment – you can narrow down your Pod selections based on what kind of workout you want to do. In this Pod Profile, get an exclusive look inside Main Gym Pod 8 at our Downtown location, plus a written workout from one of our pros!
What Equipment is in Main Gym Pod 8?

» Bench


» Community Props Area 


» Decline Bench


This specific Pod is great for strength training, weightlifting, and lower body and full-body workouts. With the available machines, you can target all of the following:
Need a Little Inspiration? 
Personal Trainer, Alex Dotte shares his workout for Main Gym Pod 8! Alex made use of the Decline Bench, the Smith Machine, and a kettlebell from the Community Props area. Make this workout spicier by opting for the higher number of repetitions! 
ALEX'S POD 8 WORKOUT
TRISET 1
x2 rounds. 
» Kettlebell Goblet Squat x10 
» Kettlebell Clean & Press x10 
» Kettlebell Lunge (alternating legs) x10 

TRISET 2
x2-3 rounds. On the Decline Bench. 
» Decline Situp (with optional twist) x10-20
» Pushup with Hands on Smith Bar x10-20 
» Supine Row with Hands on Smith Bar x10-20
TRISET 3
x2-3 rounds. 
» Bent-Arm Pullover (supine on bench) x10-15
» Standing Bicep Curls x10-15 
» Standing Stork Stance Dumbbell Fly x10-15 each side
SUPERSET (OPTIONAL)
x2-3 rounds. Use padding under your ankles.
» Side Plank with Adductor Raise x5-10
» Plank with Alternating Knee Tuck x5-10 per side

And presto! 
Your Pod Workout is done. Spray down everything you touched using the hospital-grade disinfectants provided in your Sanitation Station, return and spray down any props you used, wash your hands, and you are done! 
READY TO GET YOUR BOD IN A POD?
Reserve your very own Workout Pod at our Downtown location with just a few clicks of your mouse!