2 MONTHS FOR THE PRICE OF 1
Better than turtle doves – we're offering Austin Fit Magazine readers 2 months of VIP all-access membership for the price of 1 (a $139 savings)! Working out in this local gym is a true gift with our HEPA-filtered partitioned workout pods, physically distant indoor and outdoor classes, and virtual workouts on-demand. 
Enjoy our unique fitness community from the safety of your own home. See the perks of our VIP-All Access membership and click the button below to snag this deal! 
VIP ALL-ACCESS MEMBERSHIP INCLUDES: 
10% Off Workshops & Series
Complimentary Freezes
Birthday Service Discount
Training Service Discounts
Spa Service Discounts

Locker Room Access
Sauna* & Steam Access
Pool & Hot Tub Access
Towel Service
On-Site Parking
Offer available until December 31, 2020
ABOUT US
Castle Hill Fitness is a locally owned multipurpose gym and spa with two locations in Austin, TX, and a whole Virtual menu! Your health is more than just a fitness goal – it's about community, variety, refueling, recovering, and challenging your mind and body. When you join Castle Hill Fitness, you gain access to a greater quality of life with seasoned professionals, varied programs and disciplines, and conscious living principles. In the current landscape of indoor fitness, we adapted to create a safer gym experience. We have reorganized our gyms to construct Personal Workout Pods for fully-equipped, physically distant workouts. Our Virtual Program was built to cover all the bases of healthy living. 
VIRTUAL SERVICES
Our Virtual services include 60+ weekly live-stream classes, On Demand classes, and Virtual Personal Training. Enjoy our vibrant community from the safety of your own living room! 
WORKOUT PODS
Our locations in Downtown Austin and Westlake have been divided to create personal Workout Pods. Each personal workout pod contains a variety of equipment, sanitizing supplies, HEPA air filters, and physical barrier walls, and are available for 30 minutes at a time. We even have Steam Room, Dry Sauna, and Hot Tub Pods at 360 for you to relax in!
We have over 100 Workout Pods to fit all your exercise needs! Workout Pods host a variety of equipment that are good for cardio, weight-lifting, Pilates, yoga, barre, stretching, and full-body workouts. Use our interactive Pod Map to browse the Workout Pods at each location below!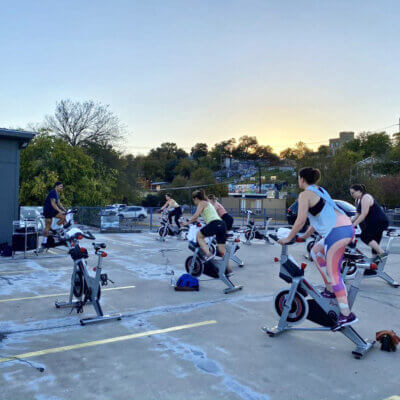 Our Small Group Pod Classes give you an in-person class experience in the safety of our Workout Pods, while our Outdoor classes offer you the option of no mask!
JOIN OUR COMMUNITY TODAY
Offer available until December 31, 2020
OUR HEALTH AND SAFETY MEASURES
We are serious about protecting our community, and we're serious about promoting physical and mental health wellness through exercise and self-care. Find more details about what we're doing at the button below. 
WATCH THESE SHORT VIDEOS ABOUT OUR SAFETY FEATURES