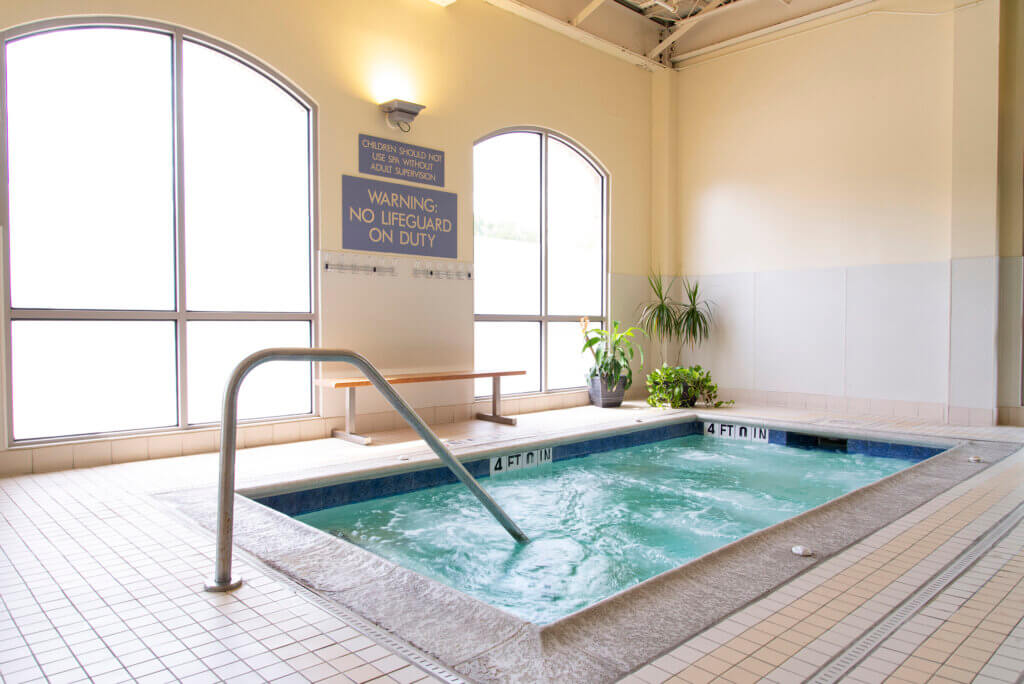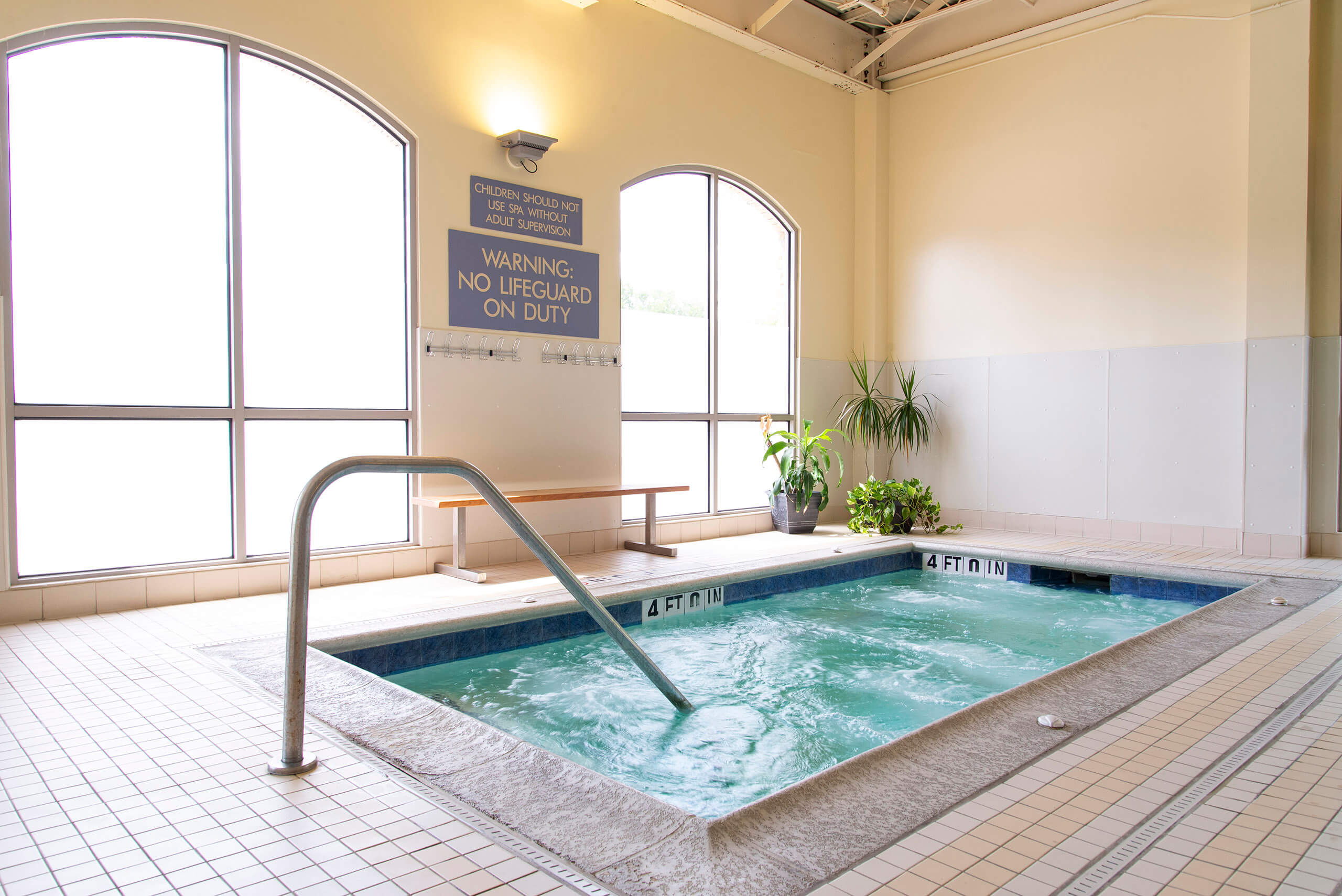 BOOK YOUR RELAXATION RETREAT IN OUR RECOVERY PODS
The Eucalyptus Steam Room, Hot Tub, and Dry Sauna are available as bookable, single-occupancy Recovery Pods at our
360 location
. Book online or in the CHF app, just like our Workout Pods! These amenities are found on the 1st floor of our Pods Map, under Wet Areas.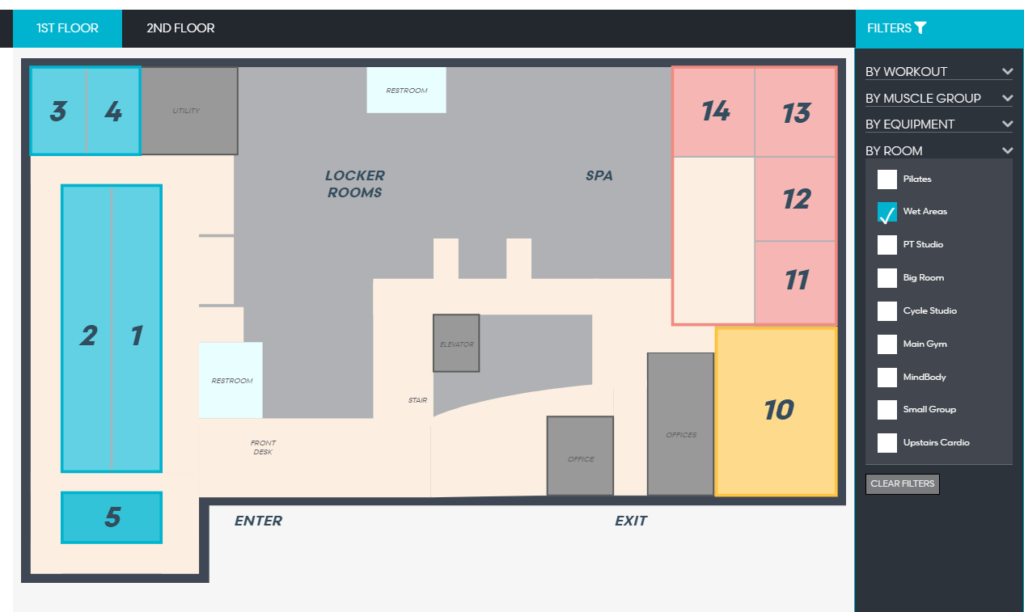 GUIDELINES FOR RECOVERY POD USE
» Bathing suits are required.
» Sauna and Steam Pods are available for 20-minute intervals.
» Complimentary towels are available at the front desk.
» We recommend rinsing off in the shower before entering the Steam Room and Sauna.
» With swimsuit on, exit the locker room into the wet area. The steam room is always on during the club's hours of operations, however, the steam function is on a timer. Set the timer to the length of your stay.
» The Sauna and Steam Rooms are fog-disinfected after every client.
» Masks are required when moving to/from your Recovery Pod, but can be removed when inside your enclosed Pod.
» The Pool is by reservation only – please use the showers to cool off after your session.
Pod reservations can be made up to six days in advance and up to 30-minutes prior to your planned arrival. Do you have a last-minute need to book a Recovery Pod? No problem, just give us a call and we can put you in an available pod!
BOOK YOUR RECOVERY PODS TODAY
We can't wait to welcome you back to enjoy the benefits of these relaxing amenities. Book these Pods for a revitalizing pre-workout warm-up, post-workout detox, or just a soothing decompression session! 
BENEFITS OF THE DRY SAUNA
The Dry Sauna at CHF 360 provides a heated environment that has low humidity, with a maximum temperature of 180 degrees Fahrenheit. A sauna session provides the following benefits: 

start exercise recovery of the muscles
stress relief
flush toxins from the body through sweat
improve skin clarity by opening pores and clearing waste
lower your risk of Alzheimer's disease. Hear us out: the University of Eastern Finland conducted a study of middle-aged men over 20 years. In the study, they found that those who went to a sauna 4-7 times a week for at least 19 minutes a day had a 65% lower incidence of Alzheimer's and dementia.
BENEFITS OF THE STEAM ROOM
Steam rooms have been enjoyed around the world for centuries! The Steam Room at CHF 360 has a max temperature of 117 degrees Fahrenheit and a humidity level that is close, if not at, 100%. Additionally, our steam room also has eucalyptus essential oil sprays available for use! Eucalyptus is an anti-viral and anti-bacterial essential oil that aids in fighting infection. The most common way to benefit from eucalyptus essential oils is by vapor inhalation – exactly the environment in a steam room! Additional Steam Room benefits include: 

start exercise recovery of the muscles
cleanse the body of toxins
improve skin clarity by opening pores and clearing waste
clear nasal passages and congestion (bye-bye Austin cedar allergies!)
evoke a sense of relaxation
BENEFITS OF THE HOT TUB
The age-old practice of hot tubbing has been recorded as far back as 4th century BC, with records of civilizations such as the Ancient Egyptians, Greeks, Romans, and Japanese incorporating it into their daily lives, culture, and infrastructure. Soaking in warm water encourages the blood vessels to widen, allowing blood to flow through the body more freely. This helps circulate waste out of body tissue and reduces blood pressure. A hot tub increases body temperature, promoting feelings of relaxation and calm while floating in the water takes the pressure off the muscles and joints. Hot tub benefits include: 

Reduced swelling and inflammation
Improved circulation
Eased muscle tension and pain
Reduced stress and anxiety, leading to better sleep
These amenities set the stage for post-workout detox, pre-workout warmup, or a soothing way to end a hectic day!