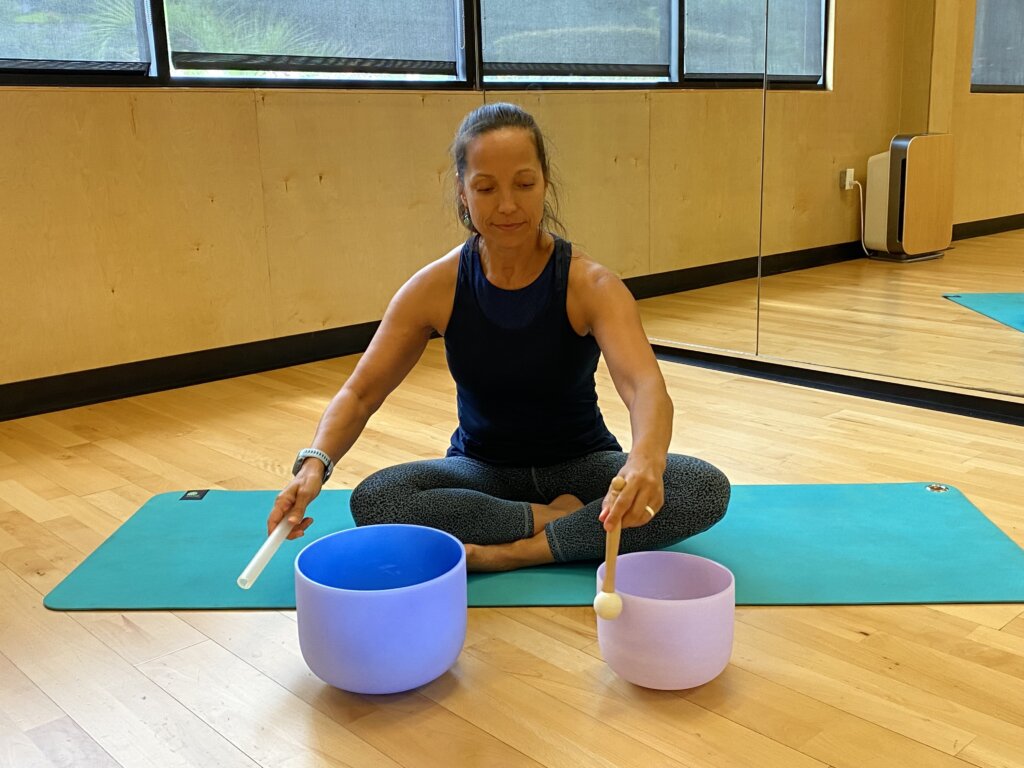 A SOUND BATH FOR ALL THE GOOD VIBES
Have you ever experienced the wonders of a sound bath? We all know and love a regular, cozy bath. Now imagine not needing to soak in a tub, add in beautifully soothing instrumentals, and you've got a sound bath! 
Sound baths are an immersive form of "sound healing", traditionally using musical instruments to stimulate and deepen relaxation. Instruments – typically gongs, Tibetan singing bowls, crystal bowls, and/or bells – are played to emit vibrations that help calm the nervous system and soothe the body and mind. 
A full sound bath session typically lasts 60-90 minutes, but these techniques are also common at the end of a yoga class to deepen savasana. Sound bath sessions normally incorporate meditation and breathwork to deepen the restorative properties. Zero experience is required to participate – just the ability to lie still and close your eyes! 
SNEAK PEEK: 

THE BENEFITS OF SOUND BATHS
The benefits of sound bathing go beyond just relaxation. Studies have linked sessions to physical and mental benefits and decreased
 symptoms associated with conditions such as chronic pain, insomnia, depression, and anxiety. Sessions typically result in decreased tension, stress, and negative moods.
As a sound bath sends the body into a deeper state of relaxation, it elicits the associated physical benefits. How does this work on aphysical level? When the instruments are played, the resulting rhythm and frequency help shift brainwaves into a meditative (also known as 'theta') state. These vibrations then trigger the parasympathetic nervous system, the body's "rest and digest" system. The parasympathetic system helps our bodies return to "normal", reducing heart rate, blood pressure, and cortisol levels.
WHO ARE SOUND BATHS GOOD FOR? 
Because all you need to do is lie there and breathe deeply, sound bathing is a safe and accessible form of self-care for anyone! While not a replacement for medication or therapy, the benefits associated with the practice make it a wonderful complement to any health and wellness routine. 
Castle Hill Fitness has multiple ways to enjoy the restorative properties of sound baths!  
TUNE IN WITH YOURSELF AND QUIET THE MIND IN: 
MONTHLY NEW MOON SOUNDBATH WITH AUDRA SHIMEK
| | |
| --- | --- |
| | Join Audra in her Monthly New Moon Soundbath series to release what no longer serves you while manifesting abundance into your life. Audra will lead you through a guided meditation, followed by a gentle yoga flow and a healing Sound Bath with Quartz crystal bowls. |

MONTHLY BREATHWORK & SOUND BATH CLASS WITH KIRTAN 
This restorative class is only offered on the 2nd Wednesday of each month at

CHF Downtown

!

An

evening of special nurturing and healing through breath and sound. Indulge with Kirtan in a guided meditation flowing in a sound bath with gong,

crystal bowls, and chimes. Leave feeling lighter and more connected to yourself.

WEEKLY YOGA CLASSES
Some classes on our regular yoga schedule feature sound baths to help bring your energy down for a more relaxing savasana. Check out

Audra's

weekly Hatha Yoga or

Kelly's

Power Flow Yoga classes!