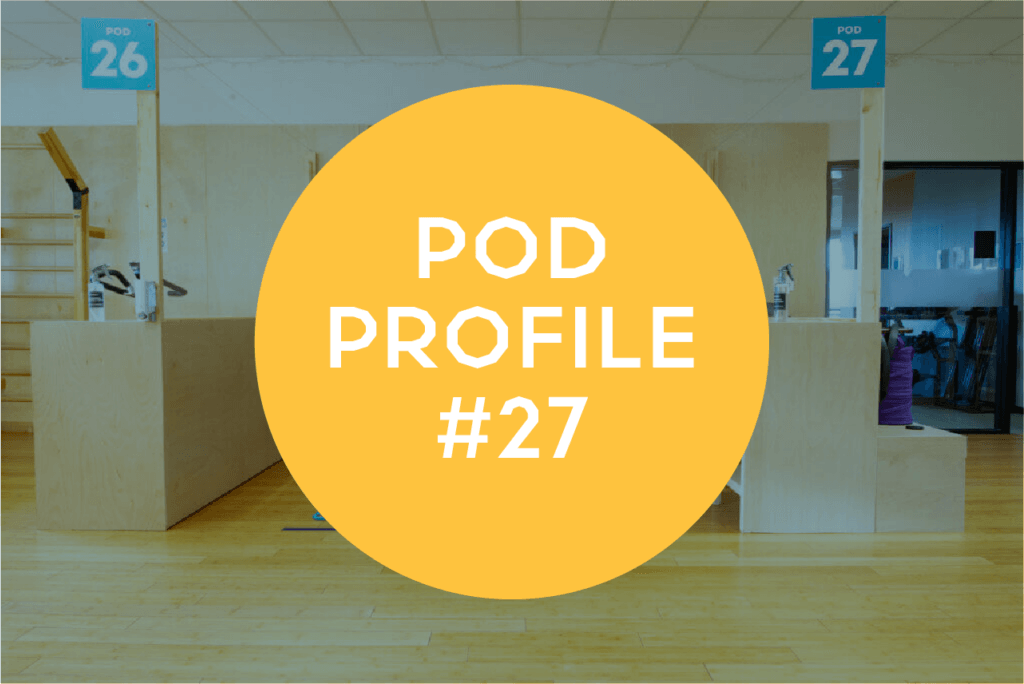 SNEAK A PEEK 
At Castle Hill Fitness, we're known for doing things a little differently than others. When a pandemic changed the landscape of indoor fitness, we changed right along with it! We went all in on reinventing the indoor gym experience, so your commitment to your health and fitness doesn't have to skip a beat. Our Workout Pods have everything you need for a complete workout and then some – variety of equipment, sanitizing supplies, HEPA air filters, physical barrier walls for social distancing, and health and safety measures in our facilities that go beyond recommended guidelines. We have over 100 Workout Pods between our two locations that are as multifaceted as our talented team of professionals! In this Pod Profile, get a closer look inside our unique Workout Pods. 
POD PROFILE: MINDBODY POD 27
Each Workout Pod comes equipped with its own equipment – you can narrow down your Pod selections based on what kind of workout you want to do. In this Pod Profile, get an exclusive look inside MindBody Pod 27 our 360 location, plus a written workout from one of our pros!
What Equipment is in MindBody Pod 27?

» Spin Bike
» Barre
» Community Props – Including Pilates props, bands, and dumbells, yoga blocks, gliders, and mats)
» Stall Wall


This specific Pod is great for a full-body workout, functional fitness, mobility, yoga, and strength and cardio workouts! With the available machines, you can target all of the following:
Need a Little Inspiration? 
Personal Trainer and Class Instructor, Jeff Bowman shares his curated workout for MindBody Pod 27! Jeff's workout makes use of the Elevate Row machine, as well as a TRX, two sets of dumbbells (light/medium or medium/heavy), a Pilates ball, and a resistance band from the Community Prop area. This workout will use up a full 30-minute booking, so book a full 60-minutes to have time for a good stretch afterward!
JEFF'S MINDBODY WORKOUT
WARM UP ON THE ELEVATE ROW
Start at a lower level for the first set, and ramp up the intensity as you get familiar with the movements. Jeff recommends beginning on a lower level of 1-3 (out of 6) for your first time on the machine. Recommended times provided, or count for 10-15 repetitions. 
» Overhand Row- 45 seconds
» Underhand Row – 45 seconds

» Bicep Curl Row – 30 seconds
» Underhand Grip Overhead Row – 30 seconds
» Paddle Row, Right and Left – 30 seconds
CIRCUIT #1
» TRX Step Fly x 8

» TRX Superman x 10-12
» TRX Push-up x 10-12
» Dumbbell 45-degree Front Raise x 10
» Circle Squats x 6 each direction

REPEAT ELEVATE ROW SEQUENCE 

Try raising the incline to increase intensity – start slow and see how your body responds to the new movements.
CIRCUIT #2
» Side Lunge with Reach x 10
» Tricep Dumbbell Kickback x 10 

» Alternating Rotating Overhead Press x 10 
» Chest Fly with Dumbbells x 10 
REPEAT ELEVATE ROW SEQUENCE
CIRCUIT #3
» Bird Dog x 10 

» Jack Knife with a Pilates Ball x 10 
» Staggered Glute Bridge x 10 
» Stretch Hamstring & IT Band with Pilates Ball x 10
Watch a quick video of Jeff's workout: 
And bam! 
Your Pod Workout is done. Spray down everything you touched using the hospital-grade disinfectants provided in your Sanitation Station, return and spray down any props you used, wash your hands, and you are done! 
Saved Time for a Stretch? 
Here are some of Jeff's recommended stretches to work out those legs you just worked! 
READY TO GET YOUR BOD IN A POD?
Reserve your very own Workout Pod at our 360 location with just a few clicks of your mouse! 
---