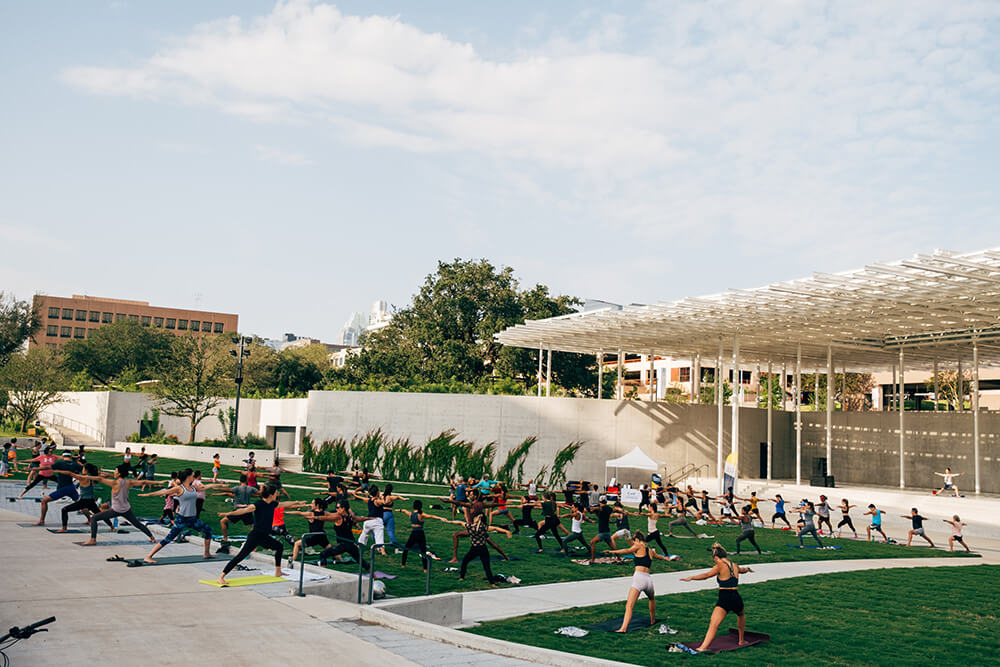 JOIN US FOR FREE WORKOUTS AT WATERLOO GREENWAY
Castle Hill Fitness is once again teaming up with Waterloo Greenway and various studios within our community to offer a series of movement classes this Spring! The Weekly Workouts at Waterloo will run from Tuesday, September 6 to Monday, October 31, 2022. 
Classes will be held Mondays and Tuesdays at 6pm, and Sundays at 9am. Sessions will include a wide variety of movement types for all workout moods. Think yoga with live music, high-energy strength and cardio workouts, dance, Pilates, and soothing Tai Chi! 
WHAT IS WATERLOO GREENWAY?
The Waterloo Greenway is a 1.5 mile park system that meanders along Waller Creek from 15th street along downtown's eastern edge to Lady Bird Lake. In a significant public-private partnership between the City of Austin and the Waterloo Greenway Conservancy, the 35 acres of connected green space is poised to be the park of all parks. All in the heart of downtown Austin. 
STARTING SEPTEMBER 6
A membership to Castle Hill Fitness is not required to attend these workouts. All classes are totally free, and designed to be accessible to people of all fitness levels and abilities! The weekly program includes: 
Yoga + Sound
Mondays 6-7pm
Set some feel-good vibes for the week with mindful movement accompanied by sound therapy. Each week features a different style of yoga and live music. 

Fitness Fun!
Tuesdays 6-7pm
Turn the energy UP with a workout that'll bring on the sweat! End your day on a high note with a variety of fun fitness-based, Dance, or Pilates workouts every Tuesday.
Self-Care Sunday
Sundays 9-10am
Join us for an eclectic mix of mindful movement – from Qi Gong, Yoga & Meditation, and Sound Healing, Self-Care Sunday is all about starting the day grounded and with intention.
Monday and Tuesday sessions are held at the Moody Amphitheater lawn, and Sunday sessions are held at the Meredith Tree Deck. All classes are free to the community – bring your friends, a mat, and a water bottle! Click the button below to view our schedule and RSVP. 
Note: New clients will be prompted to create a profile and place a credit card on file. The credit card is a software requirement, but all Waterloo classes are free and your card will not be charged. 
Guests can find free 2-hour parking at the nearby Capitol Visitors Parking garage located at 1201 San Jacinto Blvd. and State Garage 5. Click here for more information about parking at Waterloo.