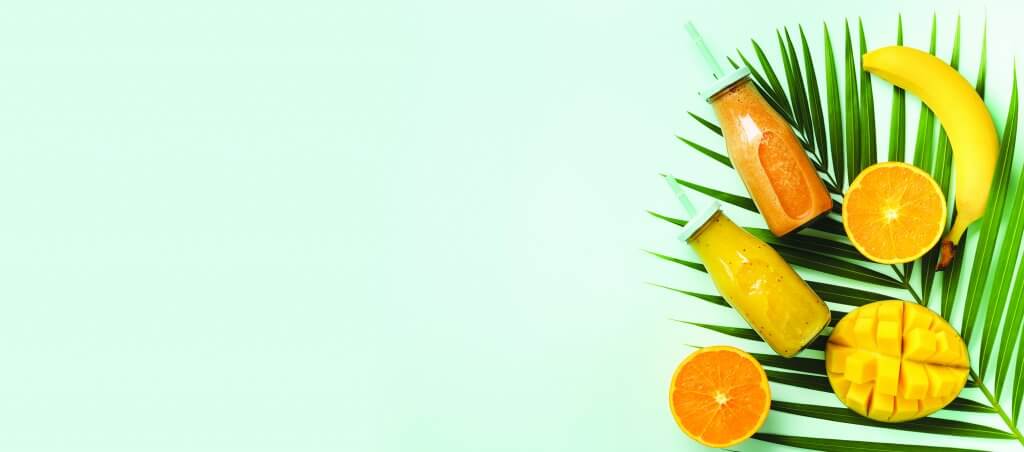 A HEALTHY START TO YOUR DAY
If there's one thing shelter-in-place has given you, it's time, even if you're still working from home. You no longer have to skip breakfast or rely on a quick grab-n-go treat while rushing out the door – you can actually dedicate time to a nutritious start to your day. As we've previously discussed, maintaining a healthy, nutritious diet is especially important now, in order to keep the body and immune system strong. 
You don't need to go out to get your healthy eats, either. These tasty smoothie and snack recipes from Health Coach Sherri Lepley use simple and nutrient-dense ingredients that will keep you powered up for hours! These recipes are super easy to throw together – a few minutes of time yields high rewards. 
PROTEIN POWER SMOOTHIE
INGREDIENTS
This is a versatile recipe! Use any flavored protein powder and
fruit/greens combinations of your choice.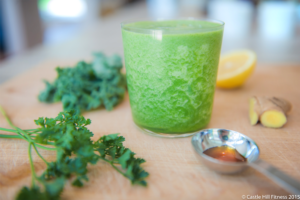 » 1 cup UNSWEETENED MILK OF CHOICE (or half water/half milk)
» ½-1 cup FROZEN FRUIT (banana, cherries, berries, mango, pineapple)
» 1-2 cup FRESH OR FROZEN GREENS (spinach, kale, arugula)
» 1 heaping scoop PROTEIN POWDER (vanilla or chocolate)
» ½ AVOCADO
» 1-2 tablespoons SEEDS (flaxseed, chia seeds, hemp seeds)
» OPTIONAL 1 tsp. Amazing Greens superfood green powder
» OPTIONAL 1 tablespoon almond butter
DIRECTIONS
In a Vitamix, Blender or Nutrabullet layer the greens, fruit, protein
powder, avocado, seeds and liquid. Blend until very smooth.
This recipe makes 2 cups.


PROTEIN NUT BUTTER ENERGY BALLS
INGREDIENTS
»

1 ½ cups OLD FASHIONED OATS


»

¾ cup NUT BUTTER (almond, cashew or sunflower seed)


»

½ cup UNSWEETENED VANILLA ALMOND MILK (or milk of

»

choice)


»

1 teaspoon VANILLA


»

¼ cup COCONUT OIL


»

1 heaping scoop PROTEIN POWDER (vanilla or chocolate)


»

3 tablespoons sweetener (honey, brown rice or maple syrup)
OR 1 tablespoon stevia
OPTIONAL ADD-INS


»

1 tsp. superfood green powder


»

2 T. cacao nibs


»

¼ cup chopped nuts


»

½ cup shredded coconut


»

1 T. chia, flax or hemp seeds

DIRECTIONS
In a large saucepan, mix the sweetener, coconut oil and almond milk. Warm to melt
coconut oil and stir to mix thoroughly. Remove from heat and add nut butter and vanilla,
stirring until nut butter is melted. Stir in the oats, protein powder and rest of the desired
ingredients until well combined. Quickly drop teaspoonful sized balls on a sheet of wax
paper and cool completely in fridge.
---
MEET SHERRI LEPLEY
Sherri began her career as an anesthesia technician in New Orleans. She got her Personal Trainer and Nutrition certification in 1999 after coworkers would often ask her for advice on their own wellness routines. Her life goal is to share, educate, and guide others. Sherri's approach is holistic and tailored to the individual's needs. She consistently works to expand her knowledge so she may continue empowering her clients to achieve optimal fitness and wellness. 
Click here to connect with Sherri for Virtual Training and Health Consultations! 
MEET THE REST OF THE CASTLE HILL FITNESS HEALTH COACHING DEPARTMENT