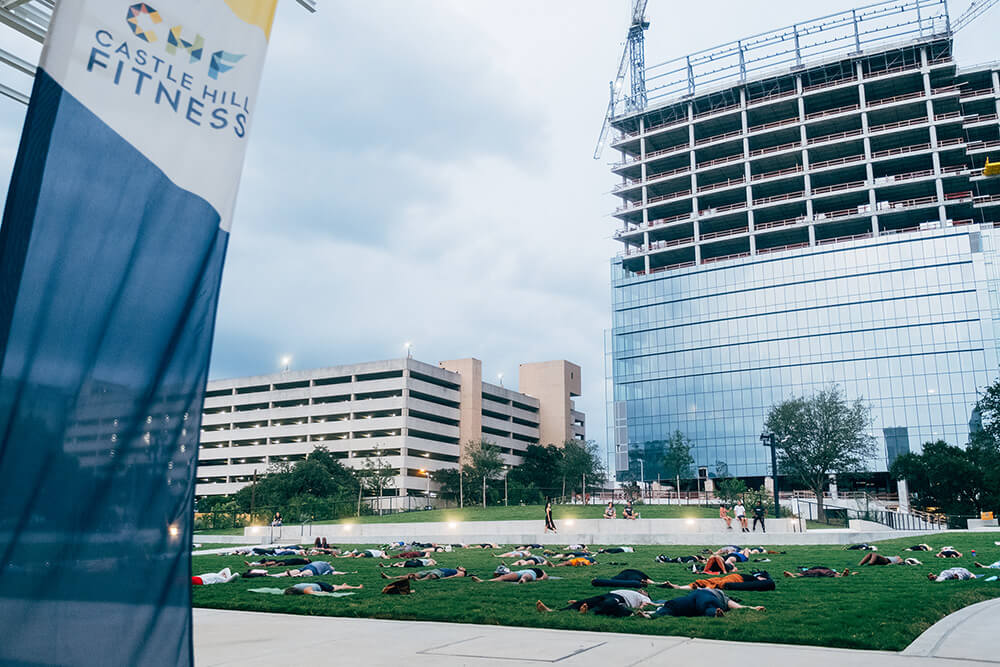 WEEKLY WORKOUTS AT WATERLOO GREENWAY POSTPONED
Due to scheduling conflicts beyond our control,

 

we need to postpone the

 

Weekly Waterloo Workouts

 

until Sunday, September 19

. While we are disappointed in this outcome, we understand that the park is a new, multi-use space that is shared among many parties across the City. Rest assured, we will all get our free yoga and workouts when we restart classes on September 19!  Read on for our adjusted schedule. 
WEEKLY WORKOUTS ARE BACK SEPTEMBER 19
Sunday, 9/19 at 10am: Fitness Fusion with Michele. 
Part of our Sunday Moves program, Fitness Fusion is a unique and playful fitness-based class that will work your brain and your body. 
Monday, 9/20 at 6:30pm: Yoga, Primal Movement, and Sound with Kewal.
Part of Monday's Yoga + Sound program, this unique class will r
elease the stress of your day with yoga-inspired movement and an interactive sound experience. 
Tuesday, 9/21 at 6:30pm: All Level Yoga Flow + Ambient Guitar with Collette and Cory.
 
G
et out of your head and into your body. Collette will guide you through a flowing all-level Hatha yoga practice cooling down with a guided meditation. A specially curated live ambient Guitarist set by Cory will leave you with all the feels! 
Wednesday, 9/22 DOUBLE HITTER
6:30pm Strength & Cardio AND 7:30pm Yoga Bliss. 
We are welcoming the Autumn Equinox with 2 FREE workouts on the first day of Fall. At 6:30pm, join Jeremy for a Strength and Cardio workout using quick pace bodyweight exercises. End the evening at 7:30pm with Yoga Bliss: a fluid motion experience that will wind you down and leave you refreshed for the rest of your evening. 
Address:
Moody Amphitheater
1401 Trinity St.
Austin, TX 78701
RSVP ONLINE
Browse and sign up for each week's schedule using the calendar icon.