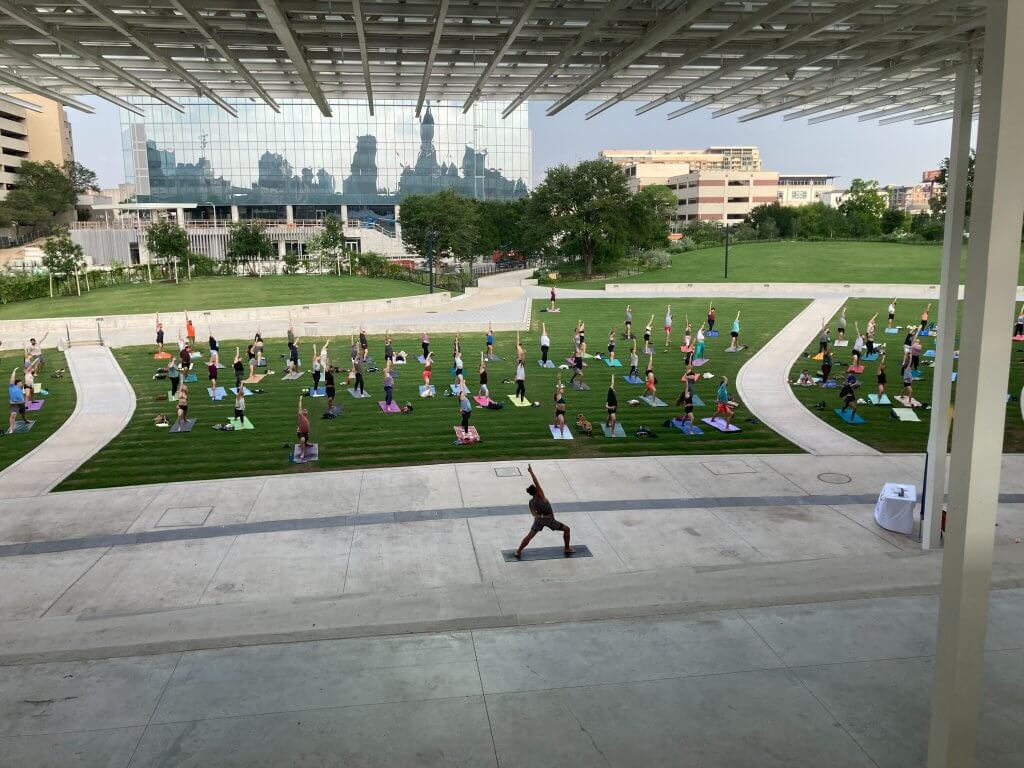 FREE WORKOUTS AT WATERLOO GREENWAY RETURN SEPTEMBER 10
We are absolutely delighted announce that Castle Hill Fitness is joining forces again with Waterloo Greenway to present another series of movement classes set amidst the stunning park grounds this Fall! The Weekly Workouts at Waterloo will run from September 10 – October 31 and are free to the public.
Classes will be held Mondays and Tuesdays at 6pm, and Sundays at 9am. Sessions include a wide variety of movement types. Think yoga with live music, high-energy dance, and family-friendly activities like recess-type games. All set at the beautiful Moody Amphitheater lawn and the Meredith Heritage Tree Deck!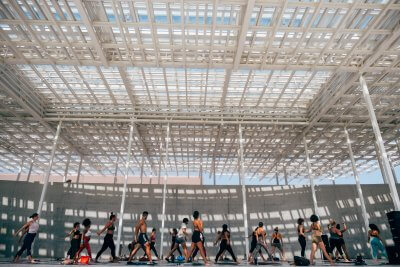 WHAT IS WATERLOO GREENWAY?
Waterloo Greenway, a park system stretching across 1.5 miles, meanders along Waller Creek, tracing a path from 15th street along the eastern fringes of downtown to the serene Lady Bird Lake. This expansive green space, spanning 35 acres, embodies a noteworthy public-private partnership between the City of Austin and the Waterloo Greenway Conservancy. Envisioned as the ultimate urban park, this interconnected haven promises to encapsulate the essence of all parks, right in the heart of downtown Austin.
Jesús Aguirre, CEO of Waterloo Greenway, on Weekly Workouts at Waterloo said  "This fall, we can't wait to celebrate the return of cooler weather and beloved Waterloo Park programs like Weekly Workouts, Día de los Muertos, and Creek Show. All Waterloo Greenway community programming is free and open for all to enjoy – grab your friends and family and come join us at Waterloo Park soon."
STARTING SEPTEMBER 10
The autumnal workshops commence on Monday, September 10, featuring Self-Care Sundays at 9am – an eclectic mix of mindful movement. New to our class lineup is Cardio Dance, on Tuesdays from 6-7pm, a rotating dance party  schedule that will cover all types of dance. The schedule is rounded out by Yoga + Sound – these classes include mindful movement accompanied by sound therapy on Mondays from 6-7pm.
A membership to Castle Hill Fitness is not required to attend. All classes are designed to be accessible to people of all fitness levels and abilities. 
For further insights into the programs commencing this September, simply click the button below. Secure your spot in advance through online registration, and come join us for a journey of fitness and fun amidst the breathtaking outdoors!