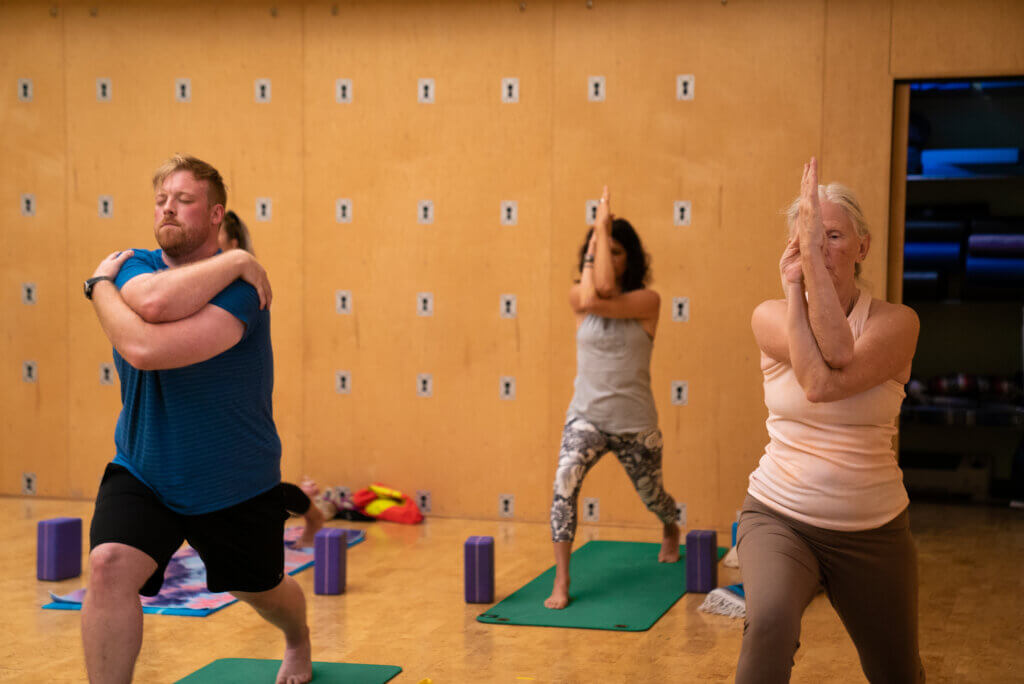 Who is Yoga Good For? (Hint: Everyone!)
The world of yoga is a vast one! Yoga is an ancient movement practice that has many different benefits, including feeling grounded and more connected to yourself, increasing balance and flexibility, and even easing symptoms of arthritis and back pain. There are many different styles, and it's a practice that everyone can benefit from adding to their routines. A yoga class can be the perfect active recovery session between days of harder training or heavier lifting, stress relief to add to your self-care routine, and even a fitness workout all in itself! It is a practice for people of all fitness and mobility levels and ages.  
At Castle Hill Fitness, we offer a variety of weekly in-person or virtual yoga classes fit for everyone, from the seasoned yogi to the curious beginner. Our instructors strive to create a welcoming, inclusive, and supportive environment to empower you to get the most out of your practice. 
Choosing a Yoga Class
With so many choices, it can be daunting to know where to start! Determining which yoga class to take should depend on several things: what you're looking to get out of your practice, your schedule, and what you feel your body needs. These key points will help you figure out what intensity level and speed of class to take.  
How fast (or slow) is this yoga class?
Our yoga classes can be divided into three different categories: Fast-paced Flow, Moderate & Form Focused, and Slow & Stable. 
Fast-paced Flow
In these classes, movements flow quickly from one to the next, using your breath as a guide. Flow classes also provide a unique light-intensity cardiovascular element. Don't be surprised if you work up a sweat! If you're looking to get out of your head and lose yourself in movement – this yoga class is for you. Additional benefits include increased endurance and strength, improved stability and balance, and lower stress and anxiety levels. 
Classes to look for on our schedule: Vinyasa Flow Yoga, Hatha Flow Yoga, Yoga Tone 
Moderate & Form-focused
In this type of yoga class, the focus is on longer-held forms or postures and slower transitions. Some of these classes might be more prop-heavy and use straps and blocks. Form-focused styles help deepen your awareness of your body and alignment. A truly centering experience! Benefits can also include increased muscle flexibility and joint range of motion, improved posture, and reduced depression symptoms.
Classes to look for on our schedule: Alignment/Iyengar Yoga, Ashtanga Yoga, Vin/Yin Yoga, Wellness in Motion, Yoga Wall 
Slow & Stable
While all types of yoga classes can result in overall relaxation and promote better sleep patterns, there are types that provide an even greater sense of peacefulness and restoration. These classes feature stable, longer-held positions on the floor, often made even more comfortable with props like yoga blankets and bolsters. Perfect for the end of a long day! Benefits can include increased circulation, release and deep stretching of connective tissue like the fascia, and balanced emotions.  

Classes to look for on our schedule: Candlelight Yin Yoga, Immunity Yoga, Restorative Yoga, Yin Yoga 
Which Yoga Class Are You Going to Take First? 
No matter which yoga class you opt for, you'll get to practice with one of our wonderful, experienced yoga instructors, so you can't go wrong! Our in-person classes are open to all levels, and our instructors can provide modifications, whether to challenge the seasoned practitioner, guide the beginner, or accommodate injuries.
Yoga classes are open to all- they are included with VIP memberships or are available to purchase a la carte.