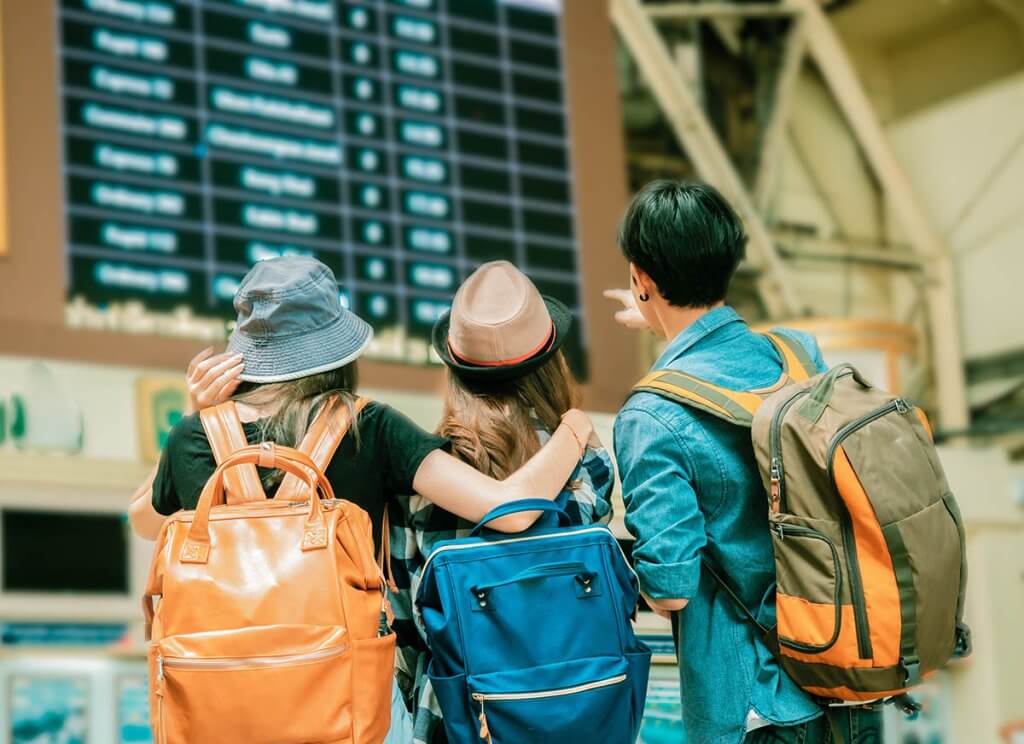 AN ESTHETICIAN'S TRAVEL-FRIENDLY SKIN CARE TIPS
YOU may be living your best life on your holiday vacay, but your skin may be pining for your home routine. It happens – try as you might, wellness habits may take a bit of a vacation themselves! Whether it's basic and barebones, or a 12-step process, travel can be a big disruptor in your skin care routine. Thankfully, the most important thing your skin needs, no matter your destination, is as travel-friendly as it comes: hydration. 
From low-humidity airplanes that'll suck the moisture right out of you, to environmental changes and different sleep and eating habits, travel can quickly lead to dryness, tightness, and irritations. Keeping your skin healthy is as simple as packing a few key products and remembering one simple, but oh-so-important, habit. Our Wellness Spa Manager and licensed Esthetician, Ciara Conway, has the tips to keep that'll keep your face's happy glow going. And don't worry, these travel-sized products won't take up any of your valuable luggage space!
CIARA'S TOP TRAVEL-FRIENDLY RECOMMENDATIONS TO KEEP SKIN HYDRATED
Keeping your skin hydrated involves more than just piling on the moisturizer. Be sure to include these heavy-hitting, travel-friendly essentials when you pack: 
OSMOSIS BOOST

This toner will not only help your Osmosis serums penetrate into the skin more efficiently, but is also great to use on the go to instantly increase the skin's hydration levels. With its TSA-friendly 3.4 oz spray bottle, it's perfect to pack in your carry-on bag! Give your face a spritz for a refreshing pick-me-up. 

LIP BALM

Keeping your lips hydrated is important, too. (Nothing like a chapped smile to ruin your vacation selfie.) Most lip-hydrating products will do the trick – just make sure it's free of petroleum and mineral oil. Those two ingredients will actually further dehydrate your lips. 

LIRA BIO CAVIAR CRÈME

This decadent hydrating crème will keep your skin pampered, soft, and utterly radiant with an advanced peptide complex, brightening botanicals, Caviar, Macadamia and Kukui oils, Colloidal Silver, and Gold and Madonna Lily Plant Stem Cells. Use it either in the morning or evening to nourish your skin with hydration.
Of course, always pack your sunscreen. 
AND TO BE REALLY OBVIOUS ABOUT IT…
DRINK WATER. Hydration has to go beyond the surface level! So don't forget to squeeze in a few (or a lot) sips of water in between beachside piña coladas. Maintaining your daily recommended water intake is key to making sure your skin is getting the crucial moisture it needs to stay soft and supple. The rest of your body will thank you for it too – staying properly hydrated will keep you functioning at your personal best so you can tackle all your vacation activities!
BONUS! POST-TRAVEL TIPS TO KEEP YOU IN HOLIDAY MODE
When you return from your trip, draw yourself a relaxing Epsom Salt bath and then slather your face, neck, and décolletage with the Osmosis Tropical Mango mask. Not only does it smell delicious, but the blend of nut and fruit butters and oils will nourish, hydrate, and restore your skin's delicate lipid barrier. This mask is rich in vitamins, mineral, and anti-inflammatory properties that will leave the skin soothed and replenished. 
Then lock in that post-vacation glow by booking a facial appointment! 
STOCK UP
These products are available for sale in our Lobby Shop (and members receive an additional discount on retail)! Head to our gym to stock up on your skin's travel essentials!