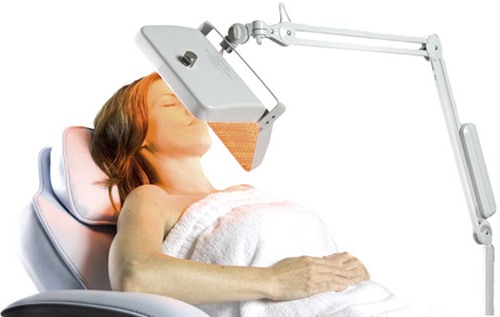 Everyone is talking about what LED Light Therapy can do for you!
What is LED Light Therapy and how does it work?

It is the same process as photosynthesis in plants. Exact wavelengths of light emitted from LED's stimulate and energize cellular activity, which in turn creates Collagen and Elastin for Anti-Aging benefits. For Acne, certain wavelengths of LED light help to kill the bacteria that causes Acne.
Is there any scientific proof of LED Light Therapy? Unlike many devices on the market today, LED Light Therapy has been thoroughly tested, evaluated and validated by hundreds of Universities, Medical Labs and most importantly NASA. There have actually been over 2000 reports and documents written on this technology.
Is LED Light Therapy safe?
Yes it is safe and completely non-invasive. It has been used for years in numerous medical procedures, medical spas, the offices of estheticians and Dermatologists and consumers around the world.
Does LED Light Therapy cause any pain at all? No it does not cause ANY pain at all. Quite the opposite actually, as it has a very soothing and calming effect.
How long will it take to see results? Each person responds at different speeds to the LightStim System. Some much quicker than others, depending on their current physical conditions, age, skin condition, diet, alcohol consumption, smoking habits, etc. That said, most people see

initial results

in 4 to 8 weeks, but many see results in as short as 1 to 3 weeks. A few people will take as long as 9 to 11 weeks, but this is more unusual. Some actually see results overnight! The most important things to remember are: 1) this technology works, so it's just a matter of "How long will it take?" and 2) it is very important to take a picture before you start using your light so that you can see the difference clearly in the weeks to come.
Can I use skin care products in conjunction with my LightStim? Yes, in fact your results will happen faster and be more dramatic if used with a high quality anti-aging or moisturizing skin care product.
What about using acne products with my LightStim? Yes, your results will definitely be faster if you use a high quality

topical

acne product. An acne product should not be used prior to using your LightStim, but can be applied afterward.
What types of results do people see with this form of skin care? The first and most reported results happen in the area of fine lines, wrinkles, reduced pore size and skin becoming softer, smoother and less dry. Then after continued usage our customers report that looser skin begins to firm up. Age spots and hyper-pigmentation can also be improved but generally take a much longer time.
What do experts have to say? "All aspects of wrinkling, skin coarseness, pore size, irregular pigmentation showed visible improvement with LED Light Therapy." -Dermatology Times
"LED Light Therapy treatments…the results are the closet thing to a face lift that I've been able to achieve since becoming an esthetician." -Day Spa Magazine "The treatment is especially effective at improving the appearance of the face, neck and chest, by reducing signs of aging, wrinkles and age spots." -Web M.D. Health "A process called LED Light Therapy can smooth away wrinkles and erase age spots." – ABC's Good Morning America
For more information about LED Light Therapy, visit our organic skin care department, or contact the front desk at Castle Hill to make your appointment.