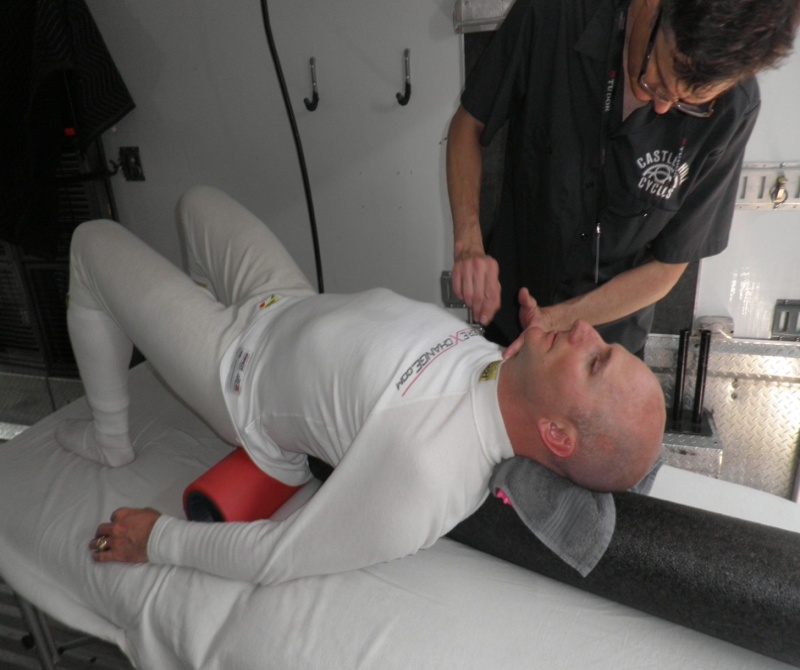 Castle Hill Cycles
in late December and again in early January for comprehensive bike fittings on his
Cervelo RCA
and
R5
road machines. He took up road cycling in 2014 to boost stamina during
IMSA
auto racing endurance events in the U.S. and Canada. Keating was so impressed with the cutting edge and holistic approach to bike fitting and movement assessment, he asked Jerry to accompany the team to the 2015,
24 Hours of Daytona
to work in tandem with Belgian physiotherapist, Jos Sneyers. The goal was to find ways to help team members prepare for and recover between driving stints. Things went well and the #93 Dodge Viper took first place in Daytona. Coming off the massive win in Daytona, the 33 and 93 Dodge Viper SRT GTR-3's rolled into the
63rd Annual 12 Hours of Sebring at the Sebring International Raceway March 18 – 21, 2015
. Like Daytona, this event draws teams/drivers from around the world. The field included machines from Aston Martin, Audi, BMW, Chevrolet, Ferrari, Ford, Honda, Mazda and Porsche. Keating invited Jerry to the Sebring event to apply his unique structural and functional methods again. The event was a dramatic nail-biter with Jeroen Bleekemolen piloting the 33 car almost pulling off the win and Marc Goosens piloting the 93 car to 4
th
place. All said and done at Sebring, the
TI Automotive/ Viper Exchange.com
team leads the Tequila Patrón Endurance Cup Standings. Details on the Sebring event can be seen
here
. Between the Daytona and Sebring events, Jerry assessed and applied his unique skills with:
Ben Keating
– Driver/Viper Exchange Co-Owner Sebastiaan Bleekemolen- Team Driver
Jeroen Bleekemolen
– Team Driver
Marc Goossens
– Team Driver
Dominic Farnbacher
– Team Driver Cameron Lawrence- Team Driver Bernie Katz- Viper Exchange Co-Owner Matt Sheffield- Team Mechanic Jos Sneyers- Team Physiotherapist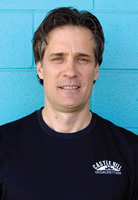 All of Jerry's Comprehensive Fittings come with a 100% money back guarantee. If the client is not satisfied that Jerry did all he could do to sort out the positional issues 90 days post-fitting, all fitting fees will be reimbursed. The idea of true functional and ergonomic change on a bicycle is easy to talk about but tough to execute. Jerry has the knowledge, skills and follow up recommendations to clear the most challenging fitting hurdles. Ready to get started? Have questions for Jerry? E-mail
jerry@castlehillcycles.com
or call 512-466-8464.
Ben Keating visited