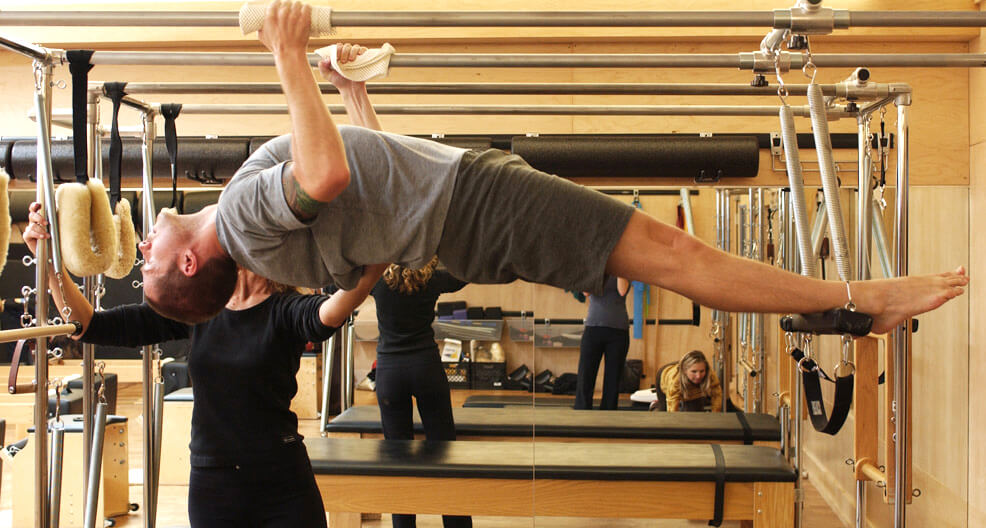 The Full Body Workout Everyone Should Be Doing
Whether or not you are versed in all the fitness lingo, chances are you've heard of celebs and athletes doing Pilates. Pilates has soared in popularity in the past 10-15 years, but its origins actually date further back. Nearly 100 years ago, a gymnast, bodybuilder, boxer, self-defense instructor, and circus performer named Joseph Pilates developed this exercise method to maintain "true health". He defined this as "the attainment and maintenance of a uniformly developed body", including the mind and spirit. 
In a nutshell, Pilates is a series of principles and exercises that address the body as a whole, including the breath and nervous system. Pilates is often performed on specially-designed equipment and props but also can be practiced with just a mat and your body. (See our Pilates Primer for a more in-depth exploration into the Pilates method.)  If you're new to Pilates, diving into a class may seem a bit daunting. Like Yoga, there are many different types of classes. In our Pilates class guide, we'll explain the different types so you can start your journey with confidence! 
The Benefits of Pilates:
» Core Stabilization and Strengthening
» Flexibility
» Coordination
» Balance
» Breath control
» Improved Posture
» Help with lower back problems
The increase of overall fitness and body awareness that stems from Pilates makes it the perfect complement to a cross-training routine! The improved movement patterns and developed uniformity of muscles and joints positively impact other workouts such as running, weight-lifting, cycling, and more. It's even common for professional athletes like NFL players to include it in their routine to supplement their athletic performance. At its core though (pun totally intended), Pilates is meant for everybody and anybody! 
Your Pilates Class Guide
At Castle Hill Fitness, we categorize our classes into 3 different types: Pilates Equipment, Pilates Mat, and Pilates Cardio. 
Pilates Equipment Classes
Experience the full repertoire of the Pilates Equipment – the Pilates reformer, tower, and Wunda Chair. These classes provide a wonderful resistance workout in an accessible environment. You can expect a fun, core-centered class that will tone, lengthen, and improve your range of motion. 
Pilates Mat Classes
These classes will work your legs, stomach, and back from the Pilates mat. The Pilates mat workout builds, sculpts, and stretches the body through a series of floor exercises and props. Improved posture and spinal health are extra benefits of Pilates mat work.  
Pilates Cardio Classes
These classes bridge the Pilates equipment repertoire with a cardio workout. Participants will raise their heart rate and tone the legs using the jumpboard attachment on the Pilates reformer. Some classes use a circuit of stations and intervals to keep the blood pumping and the pace high.
A Class for Every Level
Our classes range by level of experience with the system of Pilates – from beginner to advanced, there is something for everyone! We offer a lot of options between our two locations, so it can be hard knowing where to start. All our classes promise an effective workout, but you don't want to be willy-nilly about what you sign up for. Master Pilates Instructor, Lindsay Lark, offers the following advice for selecting your classes: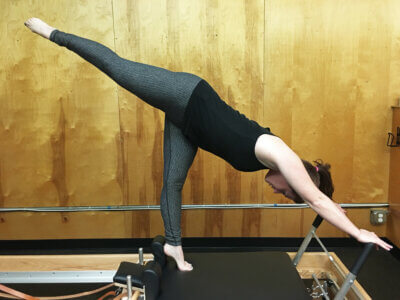 "Choosing the right class can greatly affect your experience with any workout. There is a learning curve when using a new piece of fitness equipment – part of a successful class is understanding how that equipment works. Starting with a beginner Pilates class, even if you are a seasoned fitness professional, can prepare you for an intermediate class. During class, we are working to build muscle and mind/body connections. A slower pace helps solidify those connections, and the teacher has a chance to watch you move and give feedback. The instructor's goal is to give everyone a safe, effective workout. We want all of our clients to feel confident, strong, and tall when they walk out of the Pilates room."
To start you off on a strong foot, we've listed some ideal classes for each level of Pilates practitioner. But you can see the full Pilates class schedule for downtown here, and for 360 here. 
For the Pilates Newbie
BEGINNER MAT PILATES 
WEDNESDAYS 10:45-11:40AM
with Julie at 360
Using your body weight and props, the Pilates mat work delivers you quick gains in strength and body awareness. This class is fiercely focused to tighten the core. 
BEGINNER PILATES EQUIPMENT
SATURDAYS 9-9:55AM
with
Sara
at Downtown 
This class builds upon the Foundational concepts and exercises of the Pilates method. Movements are focused and purposeful as you gain an understanding of the many aspects of the Pilates equipment. 
Once You've Hit the Groove
CARDIO PILATES CIRCUIT
TUESDAYS 6-6:55PM with Deborah
THURSDAYS 6-6:55PM with Heather
Get a unique cardio workout by using the jumpboard and other Pilates equipment to increase your heart rate.
PILATES SCULPT 
MONDAYS 6:30-7:25PM
with Celeste at 360
This class uses the equipment and Classic Pilates exercises to sculpt from head to toe in a fun and lighthearted way. Each week we target something new! Participants should have experience with machines and terminology. 
For the Pilates Pro
ADVANCED MAT PILATES
TUESDAYS 8:30-9:25AM
with Celeste at 360
Dive deep into the advanced Classical Pilates repertoire in a challenging, total body conditioning mat class!
NEXT LEVEL PILATES
SUNDAYS 12-12:55PM 
with Lindsay at Downtown
Bump up the volume with this class format designed to take you into advanced level Pilates workouts. 
Your Key to Success
We hope you enjoyed our Pilates Class Guide, and remember: Repetition is the key to success-  attending two to three weekly classes will ensure quicker and more consistent results. Members enjoy free monthly classes (unlimited for VIP/VIP Plus) or are available a la carte. With our vast schedule and highly qualified instructors, you can develop a strong, well-rounded Pilates practice! 
For a more in-depth education of specialized Pilates techniques, we recommend the Best Start Package of private lessons, or our class series and workshops.
Learn more about our Pilates instructor teams at our Downtown or 360 locations by clicking the headshots below. 
Our Team