We are committed to reducing the spread of COVID-19* and other illnesses, and we are also committed to promoting fitness and mental health wellness through exercise and self-care. We have adopted a multi-prong approach that is aligned with the CDC and state and local recommendations. Read more about our on-site health and safety measures: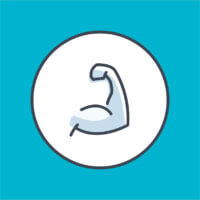 AIR FILTRATION & CIRCULATION
We have upgraded to MERV-13 air filters at our clubs, ASHRAE's recommended filter for reducing airborne infectious aerosol exposure. We have purchased and installed HEPA filter air purifiers throughout our buildings that run 24/7. HEPA filters are known to abate allergens, bacteria, and viruses in the air. Each workout space and treatment room features a purifier that filters 350-1300 square feet of air every 30-minutes, making our indoor air better filtered than most other places. In keeping with our core values of environmental sustainability – each of the air purifiers we selected is certified Energy Star rated.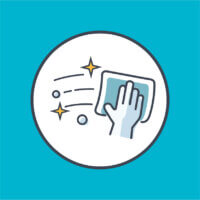 SANITIZING & CLEANING 
We have increased the amount of cleaning and sanitizing throughout the day. Household disinfectant sprays bring harsh VOCs into an indoor environment. Our chosen disinfectant, Rejuvenate, is a hospital-grade accelerated hydrogen peroxide disinfectant approved by the EPA. AHP® is a trusted and reliable disinfectant that rapidly kills harmful pathogens, yet is non-toxic, non-irritating, and has no harsh chemical smell.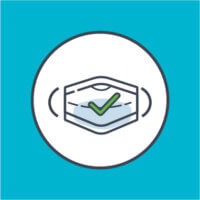 PERSONAL PROTECTION 
Masks: Masks are optional for clients and staff. Disposable masks are available at our front desk if you would like one.
Gloves: If you would like gloves, we offer disposable ones at our front desk - just ask our staff to provide you with some!
Personal Hygiene: Our hand sanitizer is a mix of 70% isopropyl alcohol and is available throughout the gym.  
*The health and safety of our members and guests is our highest priority. While our policies are designed to help protect you, 
Castle Hill Fitness cannot remove all risk or guarantee or promise that you will not sustain any injuries or damages from viruses, communicable diseases, or other health hazards
associated with your use of

 
Castle Hill Fitne
s
s 
facilities, equipment, services, activities or products
, including exposure, transmission, infection, illness, sickness, disease or death with respect COVID-19 and the virus that causes it, SARS-CoV-2. To help protect our community,

w
e encourage

 
all

 
patrons
 

to refrain from
 

visiting Castle Hill Fitness
 

if they have symptoms of COVID-19
 and
 

maintain social/physical distance at all times from others with whom you do not share regular contact
.