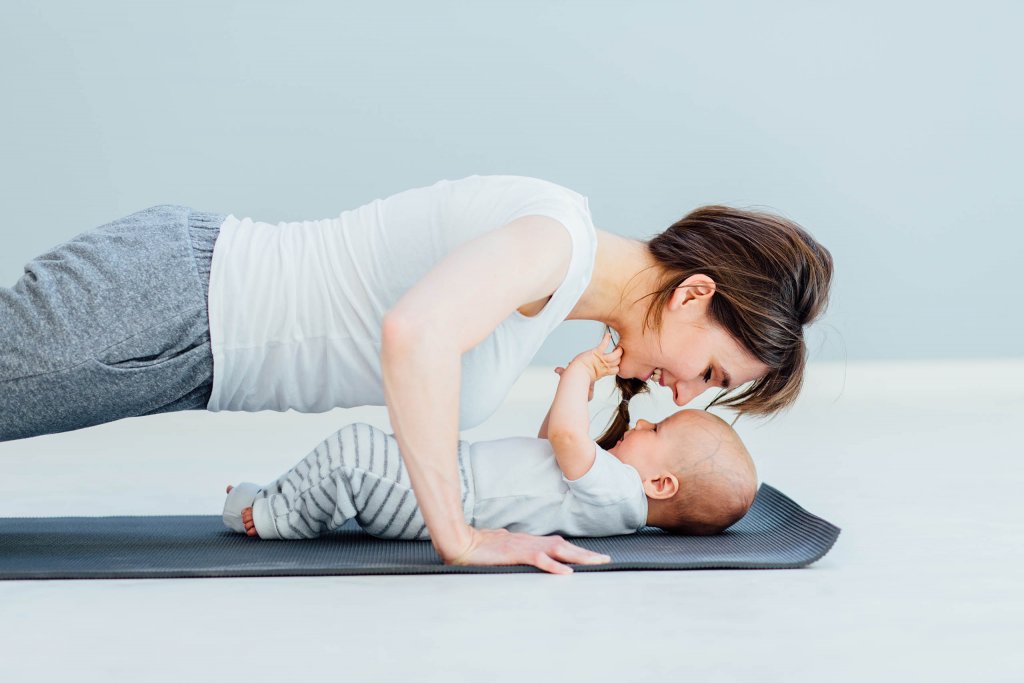 Mothers are the center of the household…and the walls, and the foundation, and the roof – and we get it, it's exhausting! But no fear mama, we got you! Our fitness trainers and instructors have the experience and training to design programs with the specific needs, requirements and considerations of you in mind. Whether you want to prepare for the healthiest pregnancy, bring your newborn with you, spend time without your babe, or simply connect with other mothers – here's the rundown on how to connect in and outside the Castle:
Your Healthy Pregnancy Plan
Growing another human is a big deal, and unfortunately, much of the responsibility relies on the grower (aka mom-to-be) to see that through. While we can't take on your sleepless nights for you, we can help reduce some of the discomforts you may experience during the next nine months. 
Find Relief with Prenatal Massage
Prenatal massage is an essential way to relieve common aches and discomforts of pregnancy and can prepare your body for labor, birth, and postpartum. Receiving the passive support of a massage isn't just luxurious, it can greatly improve a sense of calm, reduce anxiety, help with sleep – it's pretty much a necessity! Summer Greenlees is a massage therapist on our team who specializes in Pregnancy Massage, and has received the "Best Massage Therapist" award from the Austin Birth Awards in 2013.
MEET OUR PREGNANCY MASSAGE EXPERTS
Yoga to Stay Centered 
Participating in yoga before, during, and after pregnancy has a wealth of benefits. The practice of yoga has helped mothers for centuries find strength and balance. Besides learning stretches and performing exercises to prevent pain and discomfort, yoga incorporates breathing techniques that are a great addition to the expectant mother's mental and emotional toolbox. Again, Summer is a great resource for expectant mothers looking for Prenatal specific yoga, however, many of our yoga teachers at Castle Hill Fitness have experience working with prenatal students. If you are new to yoga and also pregnant, look for All Levels or Beginner level classes. We offer a dozen different styles of yoga, but try those classes with the words Alignment, Gentle, Hatha, Iyengar, Restorative, or Yin in the title. 
Keep Up with the Routine
Having a bun in the oven doesn't mean that your fitness routine has to be put on hold for the next 9 months. In fact, regular exercise during your pregnancy can help with some of the common discomforts such as backaches and fatigue, and maintaining endurance (you'll want this when it comes to labor). The American College of Obstetricians and Gynecologists suggests expecting moms get at least 30 minutes or more of moderate exercise per day. For the most part, expecting mamas can still do most exercises, while toning down the intensity and impact level, so you can still attend your preferred Fitness and Pilates classes. Whether in classes or in private training sessions, our instructors will offer workout modifications so you can still get your gains, in a way that's best suited for you and baby. 
MEET OUR PRE-NATAL & POST-NATAL FITNESS SPECIALISTS
Be PREPARED for What's Next
The PREPARED Childbirth curriculum was founded by Yogi, Mother, and Registered Nurse, Jill Birt. These recurring series and workshops draw on Prenatal Yoga and the practices of mindfulness, meditation, and movement, along with Jill's fifteen years of experience as a labor and delivery nurse, to prepare mind, body, and spirit for the process of labor. 
Take a Dip in our Pool
Swimming is a low-impact cardiovascular exercise that is enjoyed by all ages, but for expectant mamas, the benefits of the water are huge! Taking time in the pool gives your joints and ligaments a much needed break from gravity. Floating in water has also been shown to decrease cortisol levels, otherwise known as the stress hormone. The pool at our 360 location is sanitized with bromine, a solution that is gentler on your skin than chlorine, and the pool is heated for year-round enjoyment and use. Pool use is included in all membership levels and a la carte day passes are also available for purchase. 
Bring Your Child to Work(out)
You brought a new life into this word – congrats, that's a huge accomplishment! When you're ready to get back into the gym, but maybe not ready to be without baby, we have options to bring your child to your workout: 
Onsite Childcare
Let us take care of your kids while you take care of your fitness! The Castle Kids childcare room at our 360 location has safe and natural toys from Melissa & Doug, books, and play areas for infants 6 weeks and older. Childcare is an amenity that is included in membership. Premier level members have 6 visits per month, while VIP members have unlimited visits. Our non-member clients also have access to our childcare services for an additional fee. 
Mama Strong
This special 55-minute class on our 360 schedule makes space for moms-to-be, new moms and their pre-crawling babies. Ali will take you through body-weight exercises and quick cardio blasts to keep your heart rate up, all with baby right beside to you. Mama Strong is available three times a week – Mondays, Wednesdays, and Fridays at 10:45am!
Mama Strong Yoga
Yoga instructor Anne Woods Miller has been teaching yoga for over a decade and is certified in prenatal yoga. In her Mama Strong Yoga series, new mothers can bring their babies with them to enjoy a strengthening yoga practice in a welcoming, empowering community. Strengthen the body and the bond with baby, reduce stress, achieve better sleep and digestion for both mom and baby, and bask in the power of community. Reach out to deb.peterson@castlehillfitness.com to learn more about the next installment of this series. 
Pilates for the Pelvic Floor 
To combat the strain that is placed on the pelvic floor during pregnancy, it is important to focus on exercises that aim to strengthen it. Pilates is an effective means of strengthening the pelvic floor, with its specific exercises that focus on precise control and developing the core.  The system of Pilates improves overall stamina, corrects muscular imbalances, and slows the process of aging by bringing flexibility to the spine. We offer three different types of Pilates classes on our schedule – Equipment, Mat, and Cardio – that all can assist with pelvic floor strengthening, or focus directly on it in a private one-on-one Pilates session with any of our highly trained instructors.  
Connect with Other Women
You've got the family thing down. Play groups, childcare, career, household, spouse – you are doing it all and you are NAILING IT. For the times when you need to check out and focus on YOU, we've got options to surround yourself with a fabulous squad of powerful women. 
Women's Fitness 
Master Trainer and Super Mom of three, Hilary Chung, leads an Early Morning Boot Camp series to start your day off right! You and a group of fantastic ladies can enjoy a powerful workout session on Tuesday, Wednesdays, and/or Thursdays where you will build your strength AND your community. Whatever stage you're in, pregnant or postnatal, Hilary can adapt the program to whatever your needs are. 
Self-Defense Workshops for Women
You're already kick-ass, but now learn to literally kick ass. Robert Reed, Elite personal trainer, 5th generation 7th degree black belt in Kajukenbo and 2nd degree black belt in American Kenpo, leads Women's Self Defense Workshop year round – grab your girlfriends and learn crucial self defense techniques. In this empowering class, you will learn the most lethal aspects of karate, judo, kiu jitsu, Chinese kenpo, and kung fu – get ready to feel unstoppable. 
Women-Only Yoga Workshops
Yoga instructor, Maricarmen Wilson, is deeply committed to empowering women to positively affect change in their lives and the world through yoga. In this upcoming women's workshop on Sunday, March 10, she partners with Tarot Reader, 'La Mystica', to lead you in a Tarot and Yoga workshop that will offer you the opportunity to look deep within and create an empowering narrative of self. This 3-hour event includes an Inspired Shakti™ flow, quick-start tips on how to read the Tarot and how to incorporate Tarot meditations on the  yoga mat, and free, delicious goodies.
Workshops on Diastasis Recti 
Since giving birth, you might notice you've developed a lil' "mom pooch". Of course, your body will have experienced many changes, but it's very possible that this change in your belly is Diastasis Recti, a separation that occurs in the abs during pregnancy. Statistics show that 98% of women experience ab separation immediately postpartum – while for some, it may heal naturally, up to two-thirds of women go on with this condition without ever being diagnosed. This condition can be healed, however – Elite Trainer, Jessica Appel, has treated her own Diastasis Recti – learn how to identify the symptoms of this common condition and how you can treat it on our blog – and has led workshops on how to heal this common condition. 
In keeping with our mission to foster a community that celebrates a person's individual journey towards a higher quality of life, we aim to provide you with everything you need – from pregnancy to motherhood – so you never have to sacrifice your health and fitness routines amid the growing changes in your life.