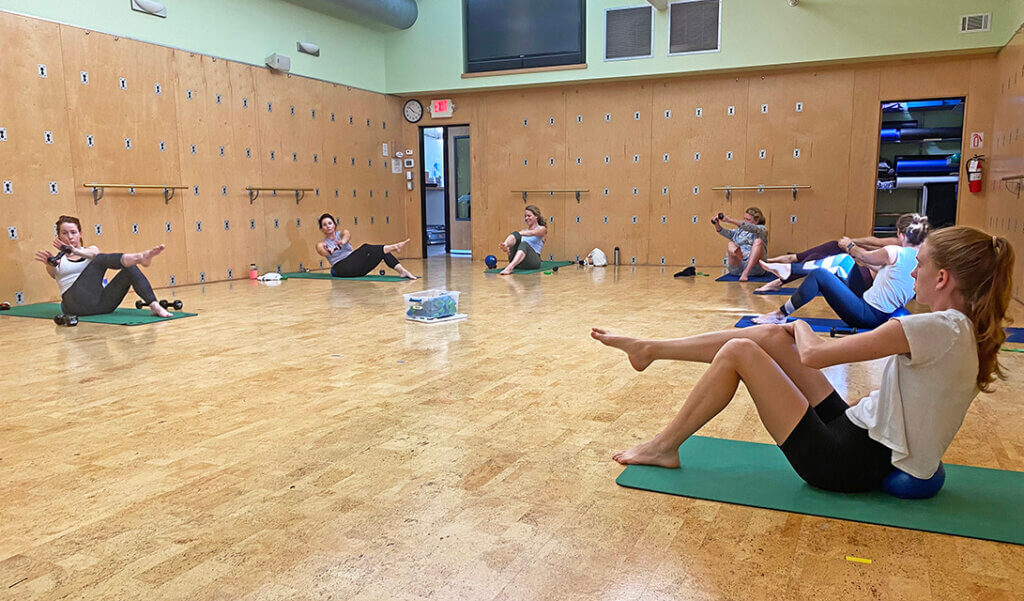 KICK YOUR WEEKEND INTO HIGH GEAR
It may have 'work' in the name, but we don't think workouts should be limited to just Monday to Friday. Weekends are the time to relax and recharge – and exercising can help with that! Not quite sure about giving up your days to lounge around? Here are a few reasons to try out a weekend workout: 
More time! If you've got the standard Monday-Friday workweek, then you don't need to schedule around your job to get your sweat on. No waking up early to beat the rush hour or hustling to fit it all into your lunch hour. Workout at a slower pace, for longer if you want to. Take the longest relaxing shower after! Enjoy exercising at your ideal time.   
Decompress and Recharge. Yes, working out is the ticket to a more relaxing weekend! Exercise is scientifically proven to regulate and improve your mood. The boosted endorphins that result from exercising can ease anxiety, depression, and negative moods, and improve cognitive function. Practices such as yoga and Tai Chi are also known for their calming and restorative properties. That post-workout high will add the boost every weekend needs. 
Make it a social activity. Saturdays and Sundays are normally when your friends are available, too. You don't need to sacrifice your socializing time to exercise! Get your friends in on it! Making plans to exercise with friends will not only make the workout more fun but can help you stay consistent. Make it a double-decker hangout – hit up a fitness class, then head right into brunch together.
WEEKEND WARRIOR CLASSES
Our schedule features virtual and in-person classes to match whatever kind of vibe you need, even if it's a rest day. Calm your nervous system after a long week in a grounding yoga class, or let out any of your pent-up energy in fast-paced strength and cardio classes! Pilates and barre classes are always a surefire way to light up your weekend. 
A membership to Castle Hill Fitness isn't even required, with a la carte passes and class package cards available. 
POWER RIDE | 8:15-9:15AM with Bryan at 360 
Ready to get sweaty? These rides pack a punch! Dig deep, explore the limits, and get in the zone using your heart rate as a guide. 
BEGINNER PILATES EQUIPMENT | 9-9:55AM with Heather at Downtown 
This class builds upon the Foundational concepts and exercises of the Pilates method. Movements are focused and purposeful as you gain an understanding of the many aspects of Pilates on the reformer, chair, and tower.
INDOOR CYCLE | 9-9:45AM with Sonya at Downtown 
Whether you're a cyclist wanting to improve performance or simply looking for a motivating cardio workout, this class bridges the gap between fun and challenging.
AQUA FIT | 9:30-10:15AM with Jay at 360
Join us for fitness in the water with this fast-paced cardio class set to upbeat music. Low-impact and easy on the joints, but not for the faint at heart!
LIVE! CASTLE BARRE | 9:30-10:20AM with Veronica M. at Downtown & Virtual
Join this energetic workout to tone and sculpt your entire body. Expect a deep muscle burn with low impact and easily modifiable moves!

LIVE! CORE FUSION | 9:30-10:30AM with Celeste at 360 & Virtual
Wake up your core with a blend of low-impact and easily modifiable Pilates and strength moves!

INTERMEDIATE PILATES EQUIPMENT | 10-10:55AM with Heather at Downtown 
Rotate among the chair, the reformer, the wall unit and the mat. This is a fast-paced class, knowledge of Pilates principles, equipment, and terms are expected.
TOTAL BODY CONDITIONING | 10-10:45AM with Sonya at Downtown 
This full-body strength workout targets every major muscle group using weights, bodyweight, and more. Class includes cardio conditioning blocks that complement the lifts.

LIVE! HILO CARDIO STRENGTH CIRCUIT | 10:15-11AM with Jeremy at 360 & Virtual
Get a little bit of everything in this high-speed, low-weight strength and cardio class. Jeremy will mix bodyweight exercises to keep the body guessing!
ALL LEVELS PILATES EQUIPMENT | 10:30-11:30AM with Celeste at 360

Create strength, balance, and flexibility while exploring the Pilates repertoire on all our equipment. This total body workout emphasizing the core throughout is ideal for beginner to advanced students.

HATHA FLOW YOGA | 10:30-11:30AM with Leti at Downtown

This yoga class follows an arc that will include centering, being embodied in a challenging and replenishing way then followed by time to calm the nervous system. You will leave you feeling both energized and peaceful. Variations offered for both beginner and intermediate students.

YIN YOGA | 10:30-11:30AM with Kate on Virtual

A long, relaxed stretch practice of the connective tissue with an emphasis on the spine, hips, and legs. The practice promotes joint mobility, de-stressing, pain management, and a calm mind. Suitable for yogis and athletes alike.

LADIES WHO LIFT *separate program pass* | 11AM-12PM with Tara at CHF Downtown
This small group will educate, challenge, and inspire! With Tara's guidance, learn how to execute fundamental barbell lifts properly and with good form. Drop into a session for a great strength workout, or attend regularly and watch your lifting gains soar! Go about the rest of your day feeling unstoppable. Whether you're a barbell master or new to the practice - all levels are welcome and will benefit. 
YOGA TONE | 10-10:45AM with Erin on Virtual
Yoga Tone combines basic yoga postures and light to moderate hand weights to get your om and your tone in one! Combine the fitness benefits of yoga and weightlifting in this 45-minute class.
ALL LEVELS PILATES EQUIPMENT | 11-11:55AM with Celeste at Downtown
Create strength, balance, and flexibility while exploring the Pilates repertoire on all our equipment. This total body workout emphasizing the core throughout is ideal for beginner to advanced students.
SHRED | 11-11:45AM with Clark at Downtown
Strength. HIIT. Resistance. Endurance. Determination. Shake up your routine with Clark's high-intensity circuit class. Get ready to conquer explosive cardio and powerful strength moves designed to ignite your inner athlete.
ALIGNMENT/IYENGAR | 12:30-2PM with Devon on Virtual
An intermediate/advanced level Iyengar class. We ask for basic strength and flexibility in Iyengar poses (or the experience to know how to adjust for your limitations). This class is meant to make more challenging the poses you think of as easy, and to then make easier the poses you think of as challenging.
See you this weekend? Sign up for one of our exercises classes online as early as 6 days in advance, or up to 30-minutes before class start time.