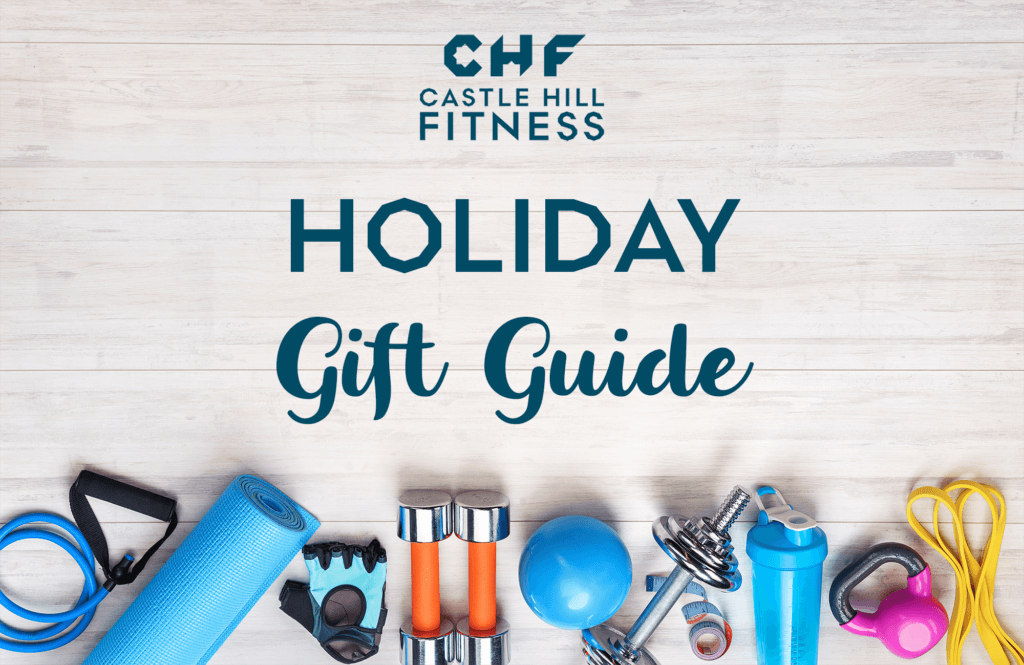 A HOLIDAY GIFT GUIDE WITH SOMETHING FOR EVERYONE
This year, in particular, the gift of healthy living has deeper importance. As your one-stop-shop for all things health and wellness, we've got you covered on thoughtful gifts for your loved ones. The feel-good options on our Holiday Gift Guide have something that everyone (and you!) in your life will appreciate! 
For the Aspiring Fitness Buff 
For the friend who's been meaning to make a deeper commitment to their workouts! These gifts will be the perfect nudge – and may gain you a new Pod Squad-workout buddy! 
Everything you need for kickstarting the at-home strength-building journey. Our Fitness Bundle from our Prop Shop has equipment that will help target all areas of the body, and are the perfect accompaniments to our virtual classes.  

$44.00

A no-commitment membership to our health and fitness community will help lock in those healthy habits. Premier Pod or VIP-level Memberships grant unlimited access to Workout and Recovery Pods for all the fitness possibilities! 

$89.00-$199.00.
This perfect gift comes with a nice discount right now – no enrollment fees! (That's a savings of $149).

Health and Fitness Planner

The Health and Fitness Planner from the local print shop, May Designs, will help your loved ones stay on track with their #goals! Use this notebook to set your motivation and track your daily exercise routine, meals, and water intake. 

$23.00. Available for in-store purchase at our Downtown location.

Who better to assist in the start of a fitness journey than one of our experienced fitness professionals? Our talented team of trainers will help achieve any and all health and fitness goals – with either virtual or in-person training! To be the best accounta-bili-buddy, you can even purchase duo sessions and make the most epic Pod Squad.

To make every second in a Workout Pod count, our Pod Program Package offers 3 workouts in 3 Pods with the guidance of one of our trainers. 

Price Varies depending on Trainer level, duration, and membership status.
For all the TLC
Hugs are a little harder to give nowadays, but these gifts are a cozy and loving stand-in.
The portable, 3″ Hypersphere Mini targets your tightest areas with precision to help you move better wherever you roam. 

$99.00

Honestly, who doesn't need a relaxing Spa Day? Let one of our pros work their magic in our cozy Spas at Downtown or 360! We offer a wide range of Massage styles – ranging from Deep Tissue to Ashiatsu – that will deliver that amazing gift of relaxation.

Pricing varies depending on duration and membership status.

Skin Care for the Ultimate At-Home Spa Day

This will have your loved ones glowing with happiness. Choose from our in-house product lines – Lira Clinical, Osmosis, Revitalash, and Skin Script – and give the gift of a proper Pamper session with luxurious moisturizers, face masks, cleansers, sunscreens, mascaras, and so much more. Pro Tip: the seasons are changing – our Esthetician's Top 3 Winter Skin Products will keep your friends' skin hydrated and radiant all winter long. 

Prices Vary. Available for purchase at our Downtown location. 

Tension and soreness can hit at any time – the Recovery Bundle is the answer to quick self-myofascial release, any time it's needed! The bundle includes a high-density foam roller, Trigger Point therapy balls, and a multi-functional mat to make all the rolling around on the floor more stable and comfortable! 

Recovery Bundle – $55.00

For the Gadget Lover
Let technology take your techie friend's fitness and wellness habits to the very next level! 
The ultimate tool for warmups and recovery – the Hypervolt uses QuietGlide™ technology to deliver three speeds of rapid percussion almost silently. Use the Hypervolt to warmup, improve range of motion and flexibility, reduce muscle soreness, and enhance muscle performance. Use Bluetooth to connect for free to the Hyperice App for guided protocols, personalized recommendations for routines based on your activity, and more!

$349.00

Myzone Chest Strap

The Myzone fitness tracking system is the most accurate, wearable technology available to monitor heart rate, log workouts, and motivate you towards your goal. Use the Myzone Chest Strap and app to create a comprehensive log-book of training sessions and performance intensity to monitor progress and improvements!

$99.00. Available for purchase at Castle Hill Fitness 360. 
For the Traveler
If life takes your loved ones away from home most of the time, these portable gifts will help them carry their fitness and health routines with them! 
Our sparkling fitness community is now more accessible than ever. With our Premier Virtual membership, you can tune into the gym from the comfort of your own home. Gain unlimited access to virtual classes and On Demand classes, and enjoy discounts on services and a la carte Workout Pod add-ons. 

$89.00

A portable self-care companion. The Original Beastie® massage ball is designed to hit smaller muscles with ease, offering endless possibilities for deep myofascial release. 

$26.00

Herban Essentials 

These all-natural, germ-killing essential oil towelettes are perfect for the one on the go. Enjoy the uplifting aromatherapeutic benefits of scents like Lavender, Eucalyptus, Orange, and Lemon while keeping hands clean, soft, and happy! 

$1.10. Available for in-store purchase at both of our locations. 

These exercise bands take up almost no space in the travel bag! The easiest tool to carry anywhere you go and to add an excellent resistance element in rehabilitation, conditioning, and training. 

$4.00-$5.50
For the Homebody
For the one who thrives on staying, these selections will help make their home and even cozier haven.
That's right, our trainers can virtually beam right into your living room to guide you in personal training sessions! Perfect for the homebody – maintaining a healthy routine and human connection, all from the comfort of the home. 

Price varies depending on Trainer level, duration, and membership status.

Gotta work out the MIND as well as the body! These beautiful puzzles from our neighboring gift shop, JOY at Castle Hill, are great fun and relaxing activities. Browse all the wonders this curated gift shop has to offer here. 

$25.00

A Cozy Castle Hill Fitness Sweatshirt

Up the cozy-factor with our Eco-Fleece Castle Hill Fitness sweatshirts. These ultra-soft cotton sweatshirts come in Evergreen or White, and make relaxing at home both stylish AND comfy.

$38.00. Available for in-store purchase at both of our locations.
OR, make gift shopping even easier and purchase one of our Gift Cards, and leave the deciding part up to the giftee! You can never go wrong with a gift card. 
HAPPY HOLIDAYS!
This season, supporting your local businesses is more important than ever. Thank you for supporting your local gem of a gym with your gift shopping!