Step out of your hectic day and into a spa experience dedicated to total rejuvenation. At the Castle Hill Fitness 360 spa, you will find a group of professionals with extensive education in their fields. Our focus is healing and recovery - so that you can stay active and injury-free for years to come! You do not need to be a member of Castle Hill to book spa services, but members receive discounts on spa services and packages.Spa guests are invited to enjoy the hot tub, sauna and steam room prior to or after treatment.
Our 360 spa location features three treatment rooms, on-site childcare, online booking for most services, coffee bar, and a luxurious locker room with fluffy robes for your use.
Melissa Lipko

Elite Pilates Instructor + M.A.T. Specialist

Melissa was a track and wrestling student athlete before receiving her BFA in Dance. She discovered Pilates after a dislocated knee took her off the dance floor, and she quickly fell in love with the practice, got certified and opened her own Pilates Studio in Seattle, WA. She has since taken years of wide-ranging continuing education courses and Pilates trainings. Melissa loves to teach Pilates because it helps people feel good and move better – both in their other workouts and daily lives. She is always thinking outside the box and expanding her repertoire to enhance her clients' experience.

As part of her repertoire expansion, Melissa became a certified M.A.T. (Muscle Activation Technique) specialist in 2017. Her combination of MAT work and Pilates instruction helps clients correct muscular imbalances, joint instability, and limitations within their bodies.

Certifications:
BFA in Dance from Cornish College of the Arts
SPX Pilates Certification
Certified Aston Patterning Level 1 for Pilates
M.A.T. Certified Specialist

Joined the CHF Team in: 2017

Read more

BOOK A TRAINING SESSION

If you are interested in booking a session, please

contact Melissa

directly
Summer Greenlees

Massage Therapist & Yoga Instructor

Summer Greenlees has been a certified yoga instructor since 1997 and a licensed massage therapist since 1998.

Summer works with clients of all ages and fitness levels, utilizing a holistic approach that supports a healthy lifestyle and incorporates yoga and massage for total wellness. Below are a list of modalities that Summer offers:

Swedish/Relaxation Massage Therapy
Sports Massage
Ashiatsu Oriental Bar Therapy/"Deep Feet" Massage Therapy
Hatha Yoga Instruction
Prenatal and Postnatal Massage
Aquatic Bodywork
Deep Tissue and Myofascial Release
Energy Healing Techniques

Summer spent 12 years attending births as a doula and discovered the amazing benefits of prenatal Yoga during her first pregnancy.  This led her to do extensive training in in prenatal and postnatal yoga and massage therapy.  Summer effectively trains and prepares expecting couples for an optimal, positive birth experience using the tools of yoga and massage therapy along with breathing and movement techniques for moms to decrease stress, reduce pain, and create greater ease during birth.

Summer received the "Best Massage Therapist" award from the Austin Birth Awards in 2013.

Summer's Yoga Classes and Yoga Therapy sessions are based on a somatic approach, strongly inspired by her Yoga teacher, Donna Farhi, and her decades of experience with yoga, bodywork, and maternity support. Summer's yoga therapy practice specializes in movement repatterning for reducing strain and tension in the body during the everyday movements of life as well as movements of the client's exercise and fitness or yoga practice.

Her yoga series classes taught privately or in a small group session provide a foundation for the beginner or seasoned yoga practitioner to discover or re discover his or her own way of moving and being in yoga practice that is truly integrative and supportive of the individuals highest well being and personal wellness goals.

Certifications:

Licensed Massage Therapist

Her additional certifications include:

Reiki III
Bodywork for the Childbearing Year
Advanced Yoga Studies with Donna Farhi
Massage Doula
Infant Massage Instructor
Massage Therapy Instructor
Functional Yoga Therapy
Watsu 1 and 2
Healing Dance 1

Joined the Castle Hill Fitness Team in: 2018

Read more

View Summer's Classes this Week

Online booking for classes opens 48-hours before class start

Thursday

6:30PM - 7:30PM
Yoga Fundamentals
CHF 360
DETAILS

18 of 18 open

Room

: Mind/Body Studio

Start your week with a strong, alignment-focused class that will allow you to dive deeper into your yoga practice in an intelligent way. This class is appropriate for new and seasoned practitioners alike.

Saturday

9:15AM - 10:30AM
Yoga Shred
CHF 360
DETAILS

18 of 18 open

Room

: Mind/Body Studio

Blend yoga mindfulness with high intensity interval training (HIIT). This flow class is low impact and will increase flexibility and balance while giving you a metabolic boost that delivers results in a safe way.

Show all classes

BOOK A TRAINING SESSION

One-on-one sessions are only available to book online at this time. To book a duo, trio, or group please

contact Summer

.
Melissa Murphy

Massage Therapist

Originally from Lake Charles, LA, Melissa attended massage school in the early 90's after discovering the powerful effects of reflexology from her mother. She moved to Austin a few years later and has been practicing massage ever since, spending over a decade at Lake Austin Spa and more recently was the Spa manager at Yoga Yoga. When she's not working, Melissa enjoys Yoga, walking, and hanging out at Barton Springs.

Melissa believes in the benefits of having a meditative experience during massage. Her sessions incorporate deep work and ayuervedic methodologies, including using herbal infused oils, to help clients relax and let go.

Certifications:

Licensed Massage Therapist

Joined the Castle Hill Fitness Team in: 2019

BOOK A SPA SESSION

Book online up to 12 hours before your session start time. For last minute appointments call the spa:

(512) 478-4567
Marcie Howell

Acupuncturist

For the past 20+ years, Marcie has enjoyed helping many people in the health, fitness, nutrition, and healing industries. This includes working as a licensed acupuncturist and herbalist for more than a decade and as a shiatsu massage therapist and yoga instructor for over 15 years. Marcie's love of yoga and healthy living began approximately 25 years ago when her grandmother taught her yoga, meditation, healthy eating and inspired her interest in healthy lifestyle choices and wellness.

Marcie has a Masters of science in Oriental medicine, acupuncture, Chinese herbs, and

a shiatsu massage bodywork degree from The Academy of Oriental Medicine at Austin.

In her free time, Marcie enjoys playing with her sweet dog Cricket, practicing yoga, walking, hiking with good friends, dancing and listening to live music, and swimming at Barton Springs and Lake Austin.

Joined the Castle Hill Fitness Team in: 2019

BOOK A SPA SESSION

Book online up to 12 hours before your session start time. For last minute appointments call the spa:

(512) 478-4567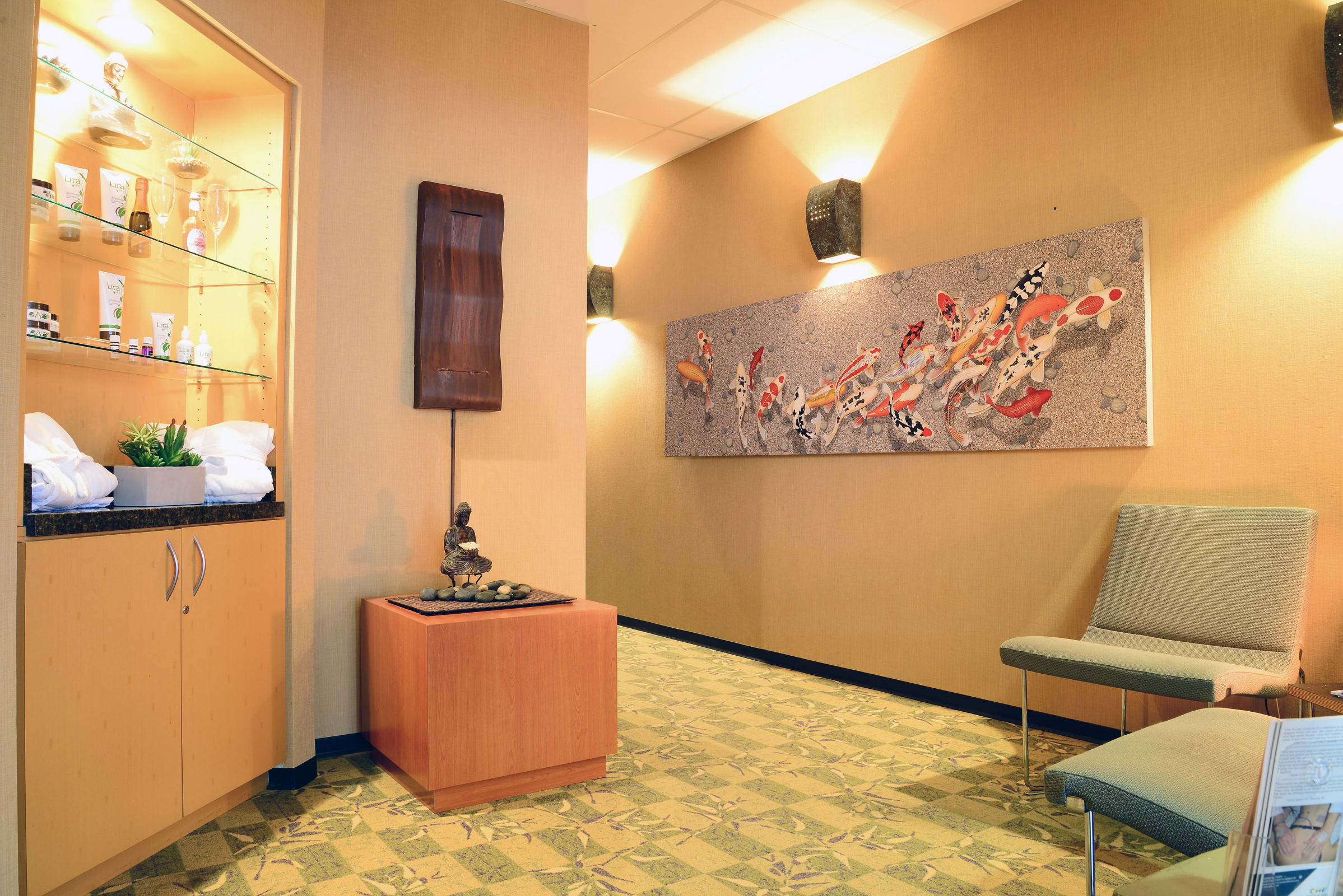 The Spa at Castle Hill Fitness 360 has three treatment rooms, one outfitted with Ashiatsu Massage ceiling bars and one tailored for Acupuncture and Herbal Consultations. Relax in our spacious waiting room in a fluffy white robe or step into the steam room.
All spa guests are invited to enjoy the co-ed hot tub, sauna, and steam room before or after treatment. Bring a swimsuit to enjoy these amenities.
After your service, you are welcome to the complimentary espresso coffee and tea bar in our lobby.