Thai Massage Stretch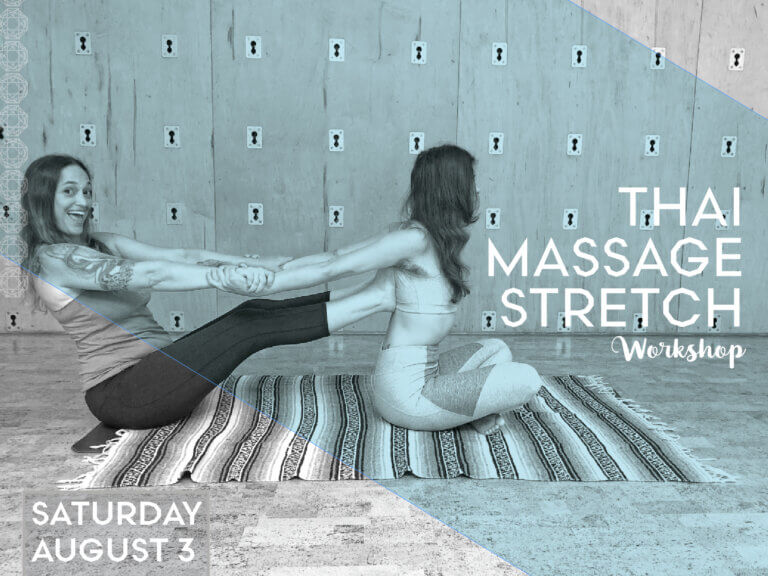 Saturday at 2pm
A unique and ancient practice, Thai Massage enhances strength and flexibility, relaxes sore or tense muscles, and can help calm a busy mind. It is done in pairs, cultivating a deep sense of connectivity and mutual healing between partners.

In this workshop, Grace will guide you through a flow of applied yoga stretches, interwoven with rhythmic pressure using hands, elbows, knees and feet. We will explore the basic elements of Thai Massage and how they can be of practical use in everyday life. You will work as a team, both giving and receiving. Each participant will enjoy a 45-minute massage experience.

No need to sign up with a partner. No previous massage or yoga experience is necessary, just the ability to kneel and sit on the floor.

Come wearing comfy clothes. All levels welcome. If you have questions email grace@castlehillfitness.com

Saturday, August 3 2-4pm in the Studio

min 4, max 30

$25 per member $30 per non-member VIP members extra 10% OFF

About Grace Grace is a licensed massage therapist who has been aware of the magic of self-healing from an early age. With over 15 years of experience, Grace has studied and practiced multiple modalities including Thai Massage, Swedish Massage, Deep Tissue, Corrective Therapies, and Myofascial release techniques.