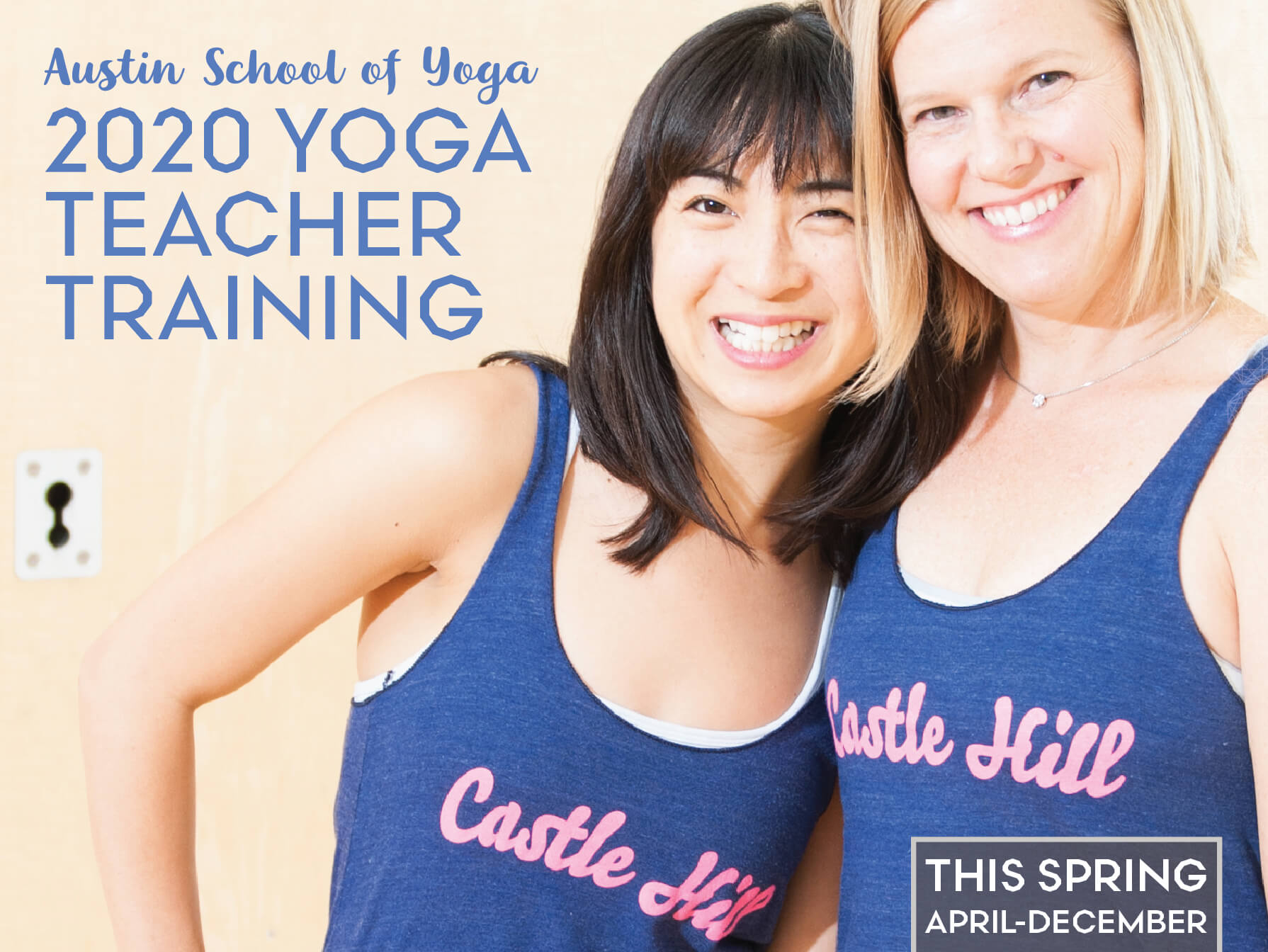 WITH Austin School of Yoga
Saturdays and Sundays at 9am
AUSTIN SCHOOL OF YOGA - 200 HOUR TEACHER TRAINING
A 200-hour Yoga Alliance-certified teacher training designed with the cornerstones of self-care, awareness, curiosity, and compassion to discover your own voice, whether or not you plan to teach. We meet 9 weekend for an exquisite combination of yoga (asana, breath work, meditation, self-massage, philosophy), personal development processes, embodied anatomy, and empowering teaching methods. 
Training Dates: 
Weekend 1: April 25-26
Weekend 2: May 16-17
Weekend 3: June 27-28
Weekend 4: July 25-26
Weekend 5: August 29-30
Weekend 6: September 26-27
Weekend 7: October 24-25
Weekend 8: November 14-15
Weekend 9: December 5-6
Meet one weekend a month. Saturdays and Sundays, 9am-7pm
in the Studio
Email questions to: info@austinschoolofyoga.com
Pricing: 
Save $300 when you sign up before April 1, 2020
Non-refundable deposit = $500
Total Training Cost = $3,500 payment plan option or $3,200 (paid in full)
Payment plan is no more than 8 payments of $375 and must be paid off by the end of training - December 5, 2020. 
Questions? Contact deb.peterson@castlehillfitness.com
Refunds: We will give a refund minus the non-refundable deposit for cancellations 2 weeks or more in advance. No refunds will be given for no-shows. Castle Hill Fitness reserves the right to cancel programs at anytime to which we offer full refunds.
Attendance: 100% is required with no make up dates.

Meet Ashley Cheng, 500 E-RYT & Tracey Silverman, 200 E-RYT
Our training is based on our heritage in Forrest Yoga, Yoga Tune Up®, Yoga Therapy, and Alignment-based Vinyasa. We have curated what we love best of these practices and adapted it into our own unique style. 
http://www.austinschoolofyoga.com/