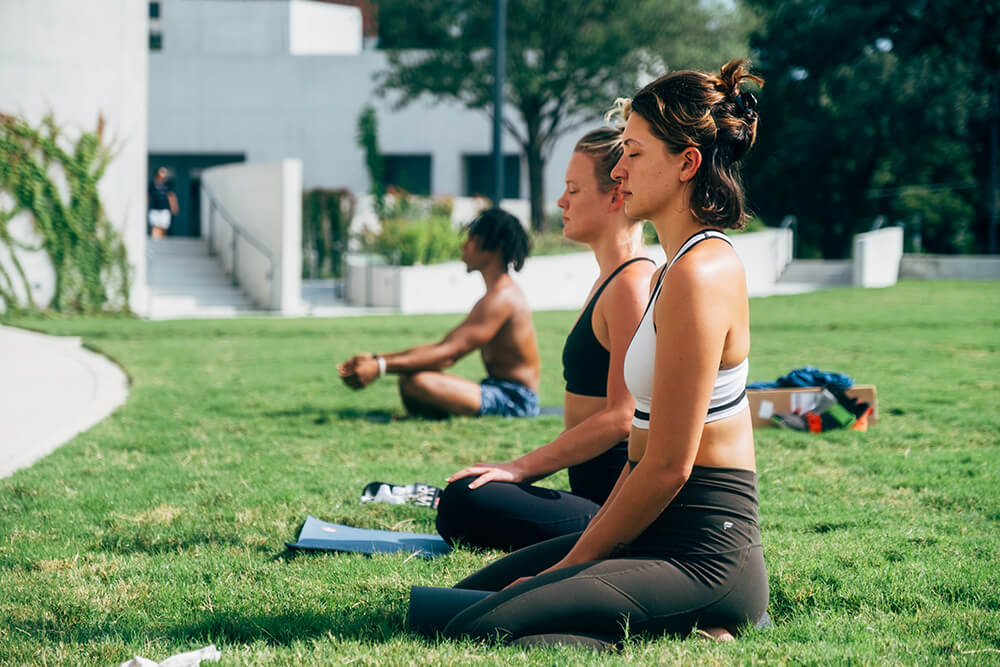 At Castle Hill Fitness, we've talked a lot about tending to mental health. We've discussed why it's so important to focus on, and shared our top recommendations for cultivating wellness rituals. Everyone has different experiences with their own mental wellness, and ways to best support it. What works for one person may not necessarily work for another! But having some sort of dedicated self-care practice is something everyone should do. 
Identifying the importance of self-care is one thing, incorporating it into your daily life is another task! Just like with a fitness routine, even the smallest action taken to care for yourself is enough. Building wellness rituals for your mental health can be as simple as incorporating little habits into your day. Even a few minutes can be enough to help you feel at ease! Again, just like exercise, consistency is key. 
TIPS FOR BUILDING YOUR OWN SELF-CARE ROUTINE
The best way to determine what kind of habits can best serve you is to identify your intention. Do you want to start the day off feeling calmer? Do you need more time to devote to your interests, such as having time to read? Or perhaps you want to feel more energized and recharged? 
Once you've determined your needs, you can pick activities to help support that, and determine how to best incorporate them. Perhaps you make the concentrated effort to wake up thirty minutes earlier than you're used to, so you can enjoy a relaxing walk outside before you tackle your day? If you have trouble getting to bed on time because you're still amped from the day, maybe you set a reminder for when it's time to put away your phone and try meditating, with a hot, cozy beverage nearby. 
It's important to identify what's most sustainable for you. Remember, it's a self-care routine – building this habit shouldn't stress you out. 
WELLNESS RITUALS FROM OUR STAFF
We've turned the mic over to our talented team of professionals to see what daily habits they practice to help bring ease to their day! Maybe you'll find some inspiration from our pros that you can apply to your own wellness rituals! 
Jerry

 

has worked with cyclists and triathletes for decades, gym clients for over 15 years, and delved into the world of endurance auto racing with effective ergonomic suggestions, functional movement remediation, and foot correction techniques. His knowledge, experience, and truly unique techniques combined with a passion for improved function, posture, and performance have improved the lives of hundreds of local, national, and international clients. 

Alexis is originally from Corpus Christie, TX, but came North to get her degree in Exercise Sport Science degree from Texas State University. She's been surrounded by athletics her entire life: she did cross-country and track, and her father was a swim coach. She is passionate about health and fitness and wants to help encourage others to work out as a personal trainer one day!
Every morning and every evening before bed, I step outside into my garden. I put my feet in the earth, I water my plants, I look up at the sky, and I just spend that time in nature. It helps me to feel grounded, and connected to the earth. 

Laurie has been personal training since 1992, and loves making people feel better by showing them they are strong and have the endurance to get them through their lives. She aims to make her sessions nurturing and supportive of others' self-care. She's previously volunteered for Danskin Team Survivor where she trained breast cancer survivors and those in treatment to compete in triathlons. Laurie was also one of the founding members of the Texas Rollergirls and made flat-track roller derby happen in Austin! 
As seen among our own diverse staff members, everyone has their own unique wellness rituals that work for them. What small habits will you try incorporating into your day?