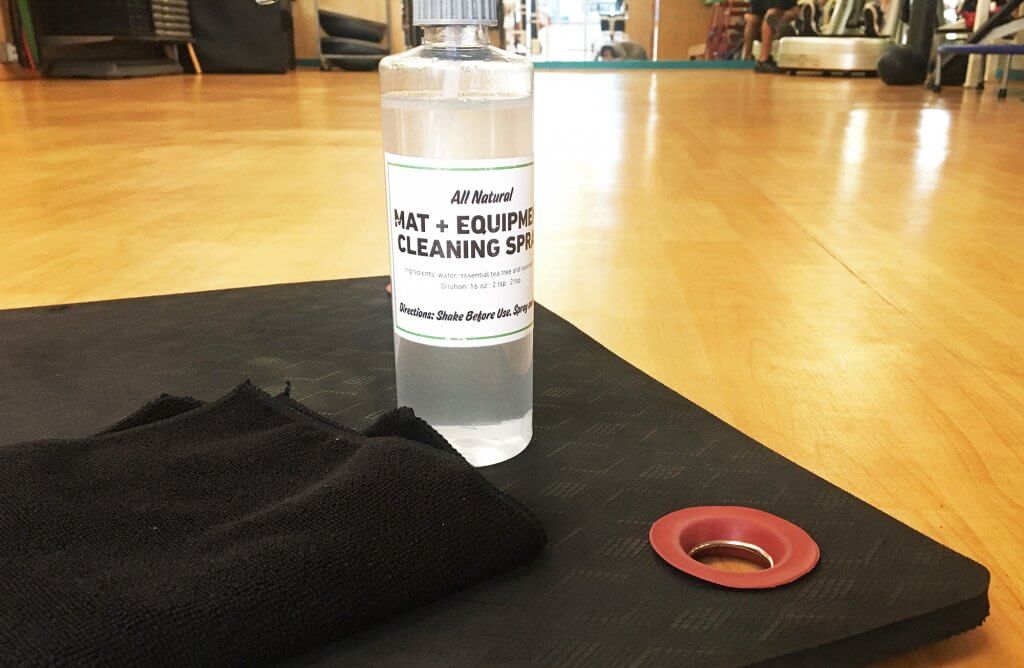 Maybe you're sick of hearing this…but it's flu season, and it's a nasty one this year! The CDC has reported high levels of widespread flu activity in Texas this year, and we've still got a few more weeks of flu season. As appealing as it may sound to not leave your home during this time…alas, go out, you must. However, as you know, keeping you healthy is our utmost priority at Castle Hill Fitness, and we consider more than just your fitness level. We understand that in coming to the gym, being in close proximity to people is part of the deal. But we've got you! Here are just some of the everyday measures we take to ensure your health while you're here. 
House-Made Sprays
We hand-make our own, 100% natural equipment cleaning spray with a specific ratio of water, tea tree oil, and lavender oil. Our sprays are effectively anti-fungal, antibacterial, and antimicrobial properties of the oil, and will kill staphylococcus. A best practice is to spray down your exercise mats and equipment before AND after you use them, for a clean workout for yourself and the next person. 
Never a Dirty Towel
Our provided towels, linens, and black exercise-cleaning rags are collected and washed daily, multiple times a day. An added bonus, our detergents are fragrance-free and made of plant-based, biodegradable ingredients. (Because keeping the Earth healthy is keeping YOU healthy too!)
Never Worry About Dirty Hands
While the CDC recommends hand-washing as your primary method of keeping hands clean as it's more effective at removing all types of germs present, an alcohol-based hand sanitizer is the next best thing! This is why you will find hand sanitizer present at almost every corner of our facilities. Make sure to rub the sanitizing solution vigorously all over the surface areas of your hands, until they are dry. 
Help from Our Pros
As we've mentioned before, our mission is to support the full picture of health and wellness. At a basic level, just the act of regular physical exercise can improve your immune system and fight off infections. But exercise is not the only way you can build your immune system at Castle Hill Fitness!
Our Spa offers more than just recovery from a hard workout or relaxation from a stressful day: specific services within our Spa will boost your immune system as well. One of the types of Massage we offer, Lymphatic Massage, specifically works to stimulate the lymphatic system- a critical component of the immune system. You can learn more about how the Lymphatic system works, and a self-massage procedure to aid in respiratory relief, on our blog here!  
MEET OUR LYMPHATIC MASSAGE SPECIALISTS
Acupuncture has been proven to be an effective method of strengthening your immunity. This service is performed by inserting fine needles into the skin and other superficial tissues and is used to produce a wide range of therapeutic effects. Scheduling sessions with our Acupuncturists will help your body stay in a healthy, infection-fighting shape! 
MEET OUR ACUPUNCTURISTS
Nutrition plays a large role in maintaining overall health. How you feed your body determines how well it can fight off disease and infection. Thankfully, we have a whole department at our Downtown and 360 locations to help you learn just what kind of fuel you need. Schedule a session with any of our Nutrition specialists to get started on creating a delicious, immune-boosting strategy. 
MEET OUR NUTRITIONISTS
The Rest is Up to You
These are the systems we have in place to help you maintain your health while you're with us. It's up to YOU to take the measures to ensure the health of you and those around you. In addition to taking advantage of what we provide, please follow the standard flu-prevention protocol: 
» 
Regularly wash your hands with soap or alcohol-based solution (at least 60% alcohol) for 20 seconds.
» 
Cover your coughs and sneezes – use a tissue or your elbow, and avoid your hands.
» 
Avoid touching your eyes, nose, or mouth.
» 
Limit contact with those who are sick.

» If you're not feeling well, please stay home to avoid infecting others! Don't try to sweat out your cold – it ain't a thing.