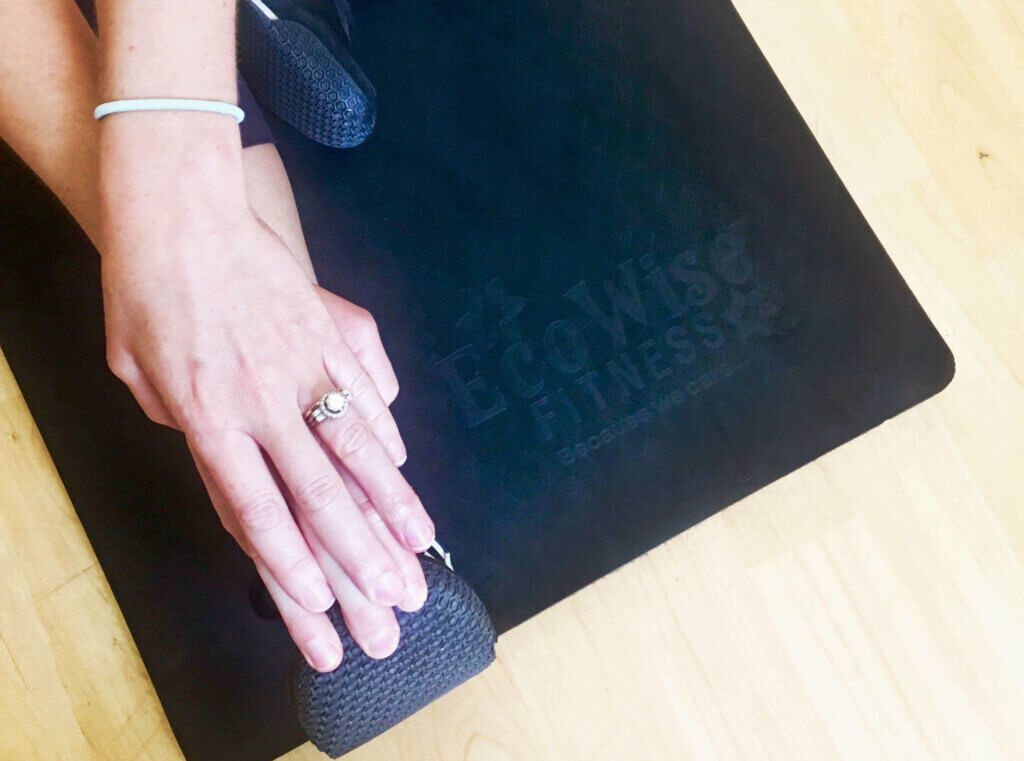 Here at Castle Hill Fitness, we define health as more than just exercise and diet. As we say in our Mission Statement, "we EMPOWER our clients towards a greater quality of life with seasoned professionals, varied programs and disciplines, and conscious living principles all under one roof". The environment we live in matters just as much (ok, more) than the amount of time spent on the treadmill. That's where our conscious living principles come in.  Since we've opened, we have constantly worked to improve our buildings in order to operate with the least possible amount of consumption. We always strive to choose materials and products that are health-conscious, sustainable, and earth-friendly. Below are just seven of the ways we live up to our status as Platinum Level Green Business Leaders and put conscious living principles into action at the Castle: 
Exercise Mats
We provide exercise and yoga mats in many of our spaces, from Kulae, Aeromat, and Manduka. All of these durable mats not only offer comfort for floor exercises, but are also free of latex, free of hormone-disrupting like phthalates, and are 100% recyclable. You're going to be on those mats sweating toxins OUT, we sure as heck don't want any toxins going IN. 
Lighting
Between our two locations, we're open over 190 hours a week. That is a lot of time to keep the lights on. Both our facilities rely on natural lighting whenever possible with ample amounts of windows, skylights, and solar tubes. In 2015, we retrofit all our lights to energy-saving LED inside and outside the building – this installation helped us reduce our power consumption by 8%!
Water Fountains
Our filtered water fountains are quick, clean, and green. They offer easy access to refill your reusable bottle and built-in counter to display how many single-use plastic bottles we are collectively keeping out of the landfill. Installing fountains that allowed for easy water bottle-refilling allowed us to reduce our monthly plastic cup usage, keeping us on track with Austin Resource Recovery's Zero Waste by 2040 agenda.
Reduce, Reuse, Recycle (COMPOST)
We are currently Austin's only gym that composts. By offering a full composting and recycling program within our facilities, we were able to reduce our landfill pick-up to just once a week! All of our paper products – toilet paper, paper towels, copy paper – are post-consumer recycled. When our in-house yoga mats have run their lifespan, we give them a second life by donating them to local dog kennels like Austin Pets Alive for extra padding for their pups. 
Shower Products
We work with a product provider in Dallas, Texas to stock our locker rooms with shampoo, body wash, and conditioner. We've taken care to select products that have no parabens, gluten, phthalates, petroleum, benzene, or SLS (sodium lauryl sulfates), and are vegan and not tested on animals. 
Cleaning Products
We have disinfectant sprays available all throughout our facilities and in each of our Workout Pods. Most household disinfectant sprays bring harsh VOCs into an indoor environment. Our chosen disinfectant, Rejuvenate, is a hospital-grade accelerated hydrogen peroxide disinfectant that is non-toxic, EPA-approved, and doesn't irritate your skin or nose with harsh chemical smells! 
Air Quality
Air quality is an important aspect of health! The HEPA filters we've installed throughout our facilities are all certified Energy Star-rated!
As a locally owned business, we make decisions every day that have the possibility to affect our community and environment. These are just some of the ways those choices work to improve YOUR health, quality of life and the planet's – because those two really do go hand in hand.