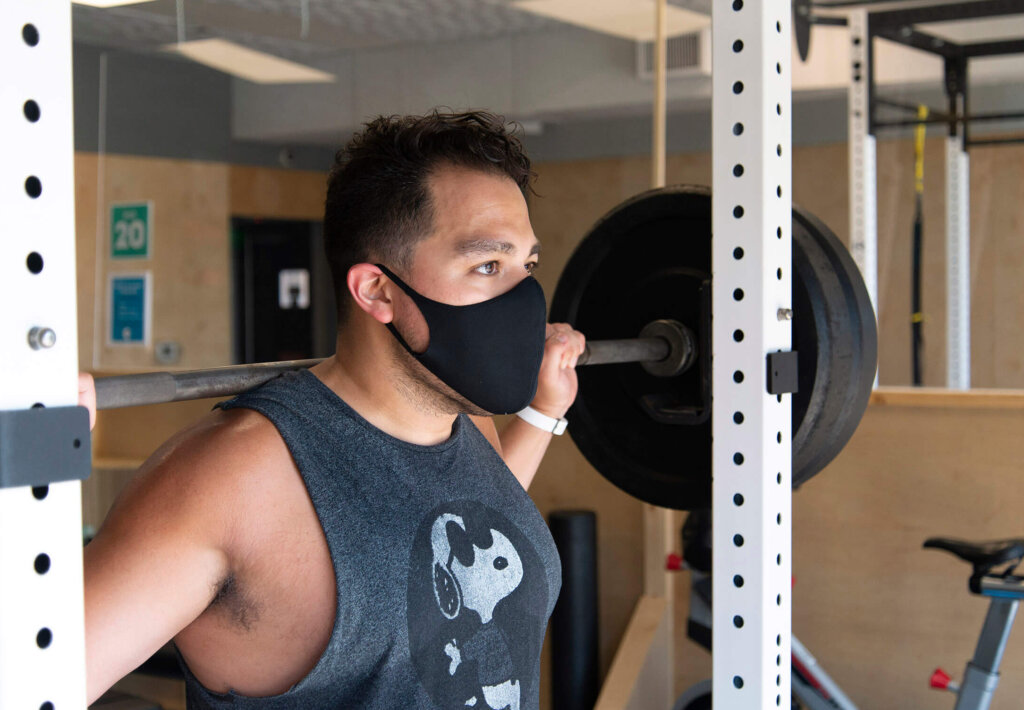 Why Working Out in a Mask Really isn't THAT Bad 
By now, all Texas gyms and fitness studios are requiring masks indoors (or should be!). So now that face masks are the hottest new fitness gear, is that yet another hurdle to the gym experience during the COVID-19 pandemic? REAL TALK: Not at all. Take it from the fitness pros!
You look to your trainer for fitness guidance, and so we got their advice on working out with masks. Is it possible, and is it worth it – heck yes! Our trainers have put in the work on exercising with masks, learned what works and what doesn't, and are ready to guide you. If you've been avoiding a gym workout because you believe masks are too hard to exercise in, it's likely you've been using the wrong type of mask or have been going too hard, too fast with your effort. Think of it like buying athletic shoes! When buying shoes, you have to look at the style, fabric, and sizing that fits the type of workout you want to do. For instance, wear the wrong type of shoe to go running, and you may wind up with some serious shin splints! The right mask is all you need.
THE BENEFITS. SO WORTH IT. 
While you can exercise outside or at home with relative ease, there's something to be said for the equipment found in the gym. Unless you've got a full home gym, your home workouts will miss out on a whole variety of benefits the equipment offers. Equipment-based workouts, like weight lifting and Pilates, streamline and maximize the benefits of strength training like increased muscle mass, decreased risk of osteoporosis and cardiovascular diseases, increased metabolism and immune response, and more. 
Keep reading to see what tips and tricks our trainers have to get you acclimated to masked workouts so you can get back to rocking your gym workouts with ease!  
Trainer Tips on Masked Workouts

Jerry Gerlich
Elite Trainer + Bike Fit Specialist

"Exercising with a mask requires more nasal breathing. This warms and humidifies the air going into the lungs, improving the air quality. Breathing through your nose increases dopamine and serotonin production (the pleasure hormones), whereas mouth breathing increases cortisol and adrenaline, the stress hormones. 

Consider training with a mask like hypoxic training – you're allowing the body to learn how to process oxygen more efficiently! It may be more challenging to exert energy with a mask, the benefits all arrive once you take it off."


Ali Granryd
360 Manager + Fitness Instructor

"Don't be afraid to try it! Just like you would ease yourself back into a routine, ease yourself into your workouts in a mask. You will get stronger. It will get easier. But you have to condition your body. 

Have a fresh mask ready to change into after your workout. I feel so fresh and new once I have that new mask on!"


Bryan Lepley
Elite Trainer

"Take it slow, and be present and super focused on breathing through your nose to start. This will help stimulate the parasympathetic nervous system and help you relax as you start this new method of training. I recommend wearing a heart rate monitor so you can really see how your body is responding – it's very similar to training at altitude. In the beginning, it will bring added stress to your training (more than you would think).

If you're hesitant to try working out in a mask, I highly recommend consulting a trainer to help you through the challenges in the beginning. If done correctly, you'll be off and running in about two weeks with little trouble! Like any new training, our bodies will always take some time, but will eventually adapt to the training."


Juan Anguiano
Yoga Instructor + Personal Trainer

"Your mask should fit securely around the face but not push down on the mouth and nostrils, which from my experience causes more sweating in that area and feelings of being in a sauna. I prefer masks that don't sit directly against my mouth and nostrils." 


Keith Kohanek
Personal Trainer

"My recommended masks are: 

Adidas Face Covers – These are super sporty, stylish, and are made from recycled materials (love an opportunity to go green with my purchases). These masks go on and off easily with over-ear loops, have a built-in pocket for adding a disposable filter, and are available in 2 colors and sizes. The price is right too, with a 3-pack costing $16. Hint: These sell out frequently so if you find them in stock, buy them! 

HOMAGE Cloth Mask: You know that t-shirt in your dresser that's 25 years old, maybe has a few holes, and you'll never get rid of because it's the softest cloth you've ever put on your body? Yeah, Homage got a bunch of that fabric – sans holes – and they're using that to make these double-layered cloth masks. I find this mask to be the most breathable and ideal for HIIT workouts or cardio sessions. "


Cassandra Henkiel
Elite Personal Trainer

"I have found that the one-use disposable masks that we hand out at the gym work well. They're thinner and I find them more comfortable when working out than any of my thicker, handmade cotton masks.

Like with any change to your fitness routine, give your body some time to adjust and adapt to the changes in air flow. In time, you'll be able to do most of your regular exercise activities – but always make sure to monitor how you're feeling. Slow down or stop if you start to feel dizzy or lightheaded."


Michele Melkerson-Granryd
General Manager 

"I've tried a number of masks – paper is the winner, every time. If you tie the ends together, you can create a little "pooch" so your mouth doesn't touch the mask, and you won't suck it in when you inhale. (Watch this video for Michele's Mask Hack.) Have an extra mask handy – change it out halfway through your workout if your mask starts to get damp, or once you're done!" 
Sara demonstrates her easy hydration hack!
You've heard it from the pros, and you have all the info you need to rock your masked workout. Browse our available Workout Pods and book today!