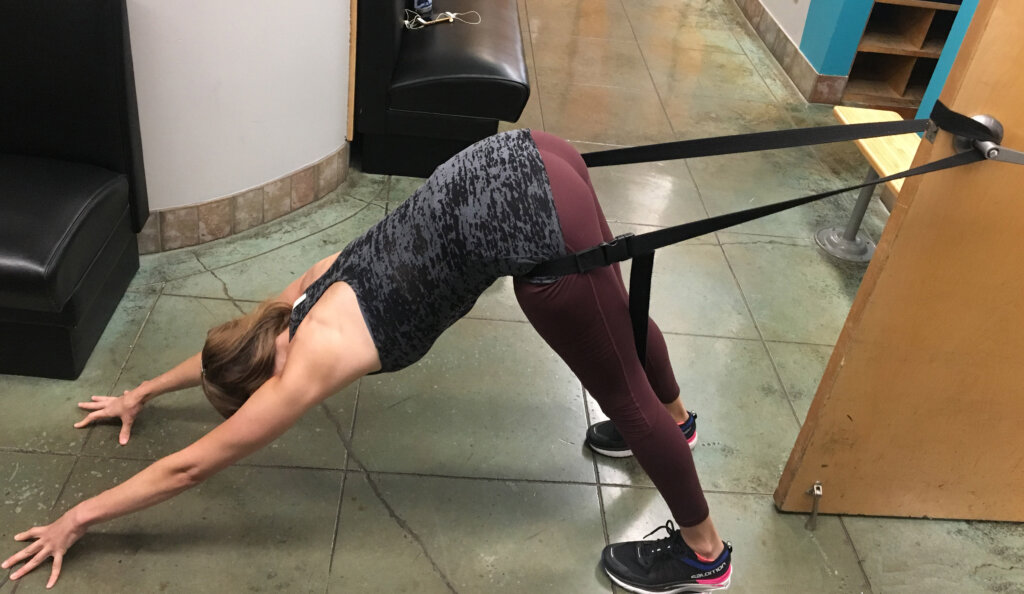 Go Deeper in Downward Dog on the Door
You don't need a fancy yoga wall to enjoy the benefits of a supported yoga posture! Yoga Instructor, Anna Gieselman, is here to show you that even a simple door handle can help deepen your downward dog for some awesome restorative benefits. 
Find a door that has handles that you can securely loop a strap around. Loop the straps around both sides, as pictured: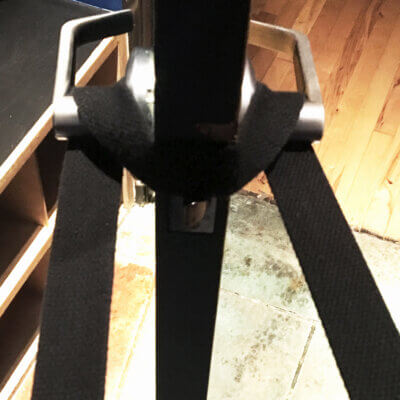 Make sure your strap loop isn't coming undone or slipping open. A wide yoga strap is better to use than a narrow rope, for instance, as that may be uncomfortable.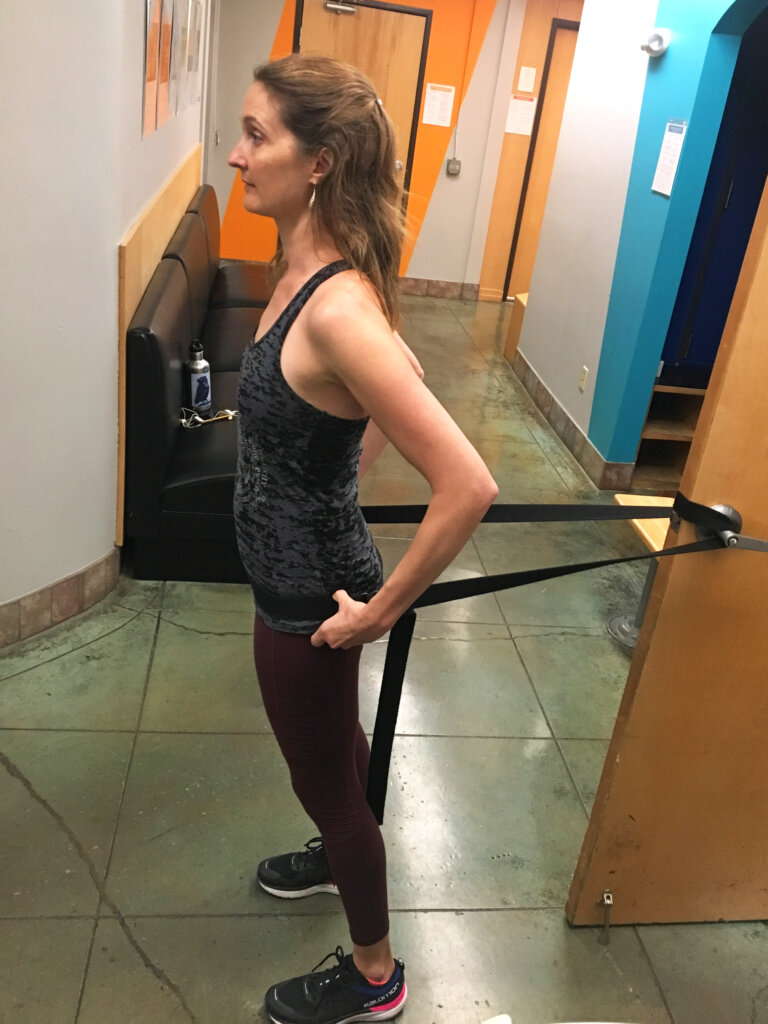 Loop the strap over your head and make sure it is resting around the crease of your hips, not over your belly or lower on the legs. If it feels too sharp on your hips, try adding a blanket or towel in between you and the strap. 
Forward fold over the strap into a downward dog position by walking your hands ahead of you and keep your feet back and pressing your heels towards the floor. Bend your knees as much as you need to make this position comfortable for you. The strap should be carrying most of your weight.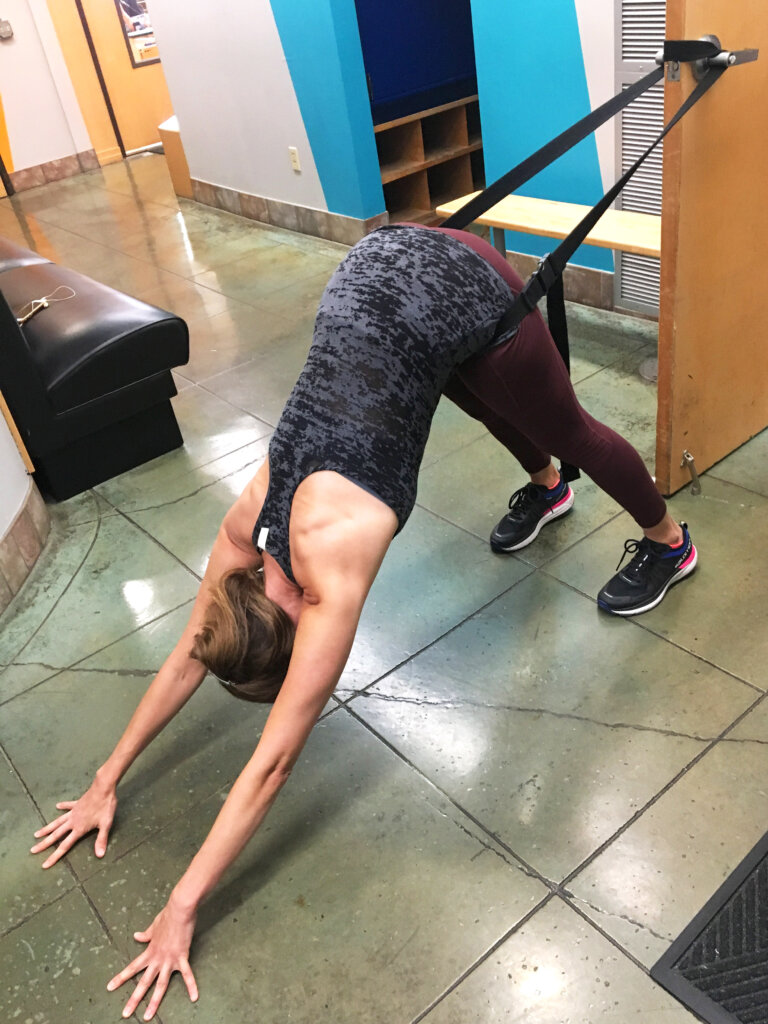 By supporting your hips with the yoga strap, you are elongating your upper body and spine, and giving your arms a break. It's the most wonderful feeling! You can literally hang in down dog for minutes with little to no effort in your arms, all while receiving the benefits of inverting such as de-compacting your gut, moving blood into your lungs, and moving lymph fluid to its exit points in your upper chest. Adding that traction to your spine can also make your lower back feel great! 
Pro tips:
If you're feeling super tight in the hamstrings, have a yoga block under each hand.  Use a yoga mat under your hands and feet so you don't slip on the floor.
---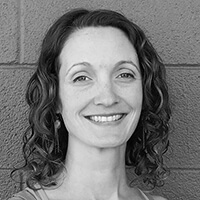 Anna began her yoga studies in 2004 and continues to enjoy learning new aspects of yoga therapy and wisdom training. She received her 200 and 500 hour yoga teacher certification in Prajna Yoga in Sante Fe, NM. She is a committed student of Tias Little, with whom she studies therapeutic yoga with a focus on anatomy and physiology, yogic wisdom, and Zen meditation. Anna has studied yoga for women's health, and is pre and post natal yoga certified. 
With skillful alignment and ample use of props, Anna hopes to guide students towards a more open and peaceful place in their bodies and mind. Her classes are inspired by her daily journey through the rhythms of life and living in the human body. A typical class will include meditation, pranayama (breath work), and therapeutic asanas (postures) with the goal of becoming more mindful, grounded, and aware of the inner workings of the body. 
Anna teaches yoga three times a week on our Downtown class schedule, and is also available for private yoga instruction! 
GET STARTED WITH ANNA