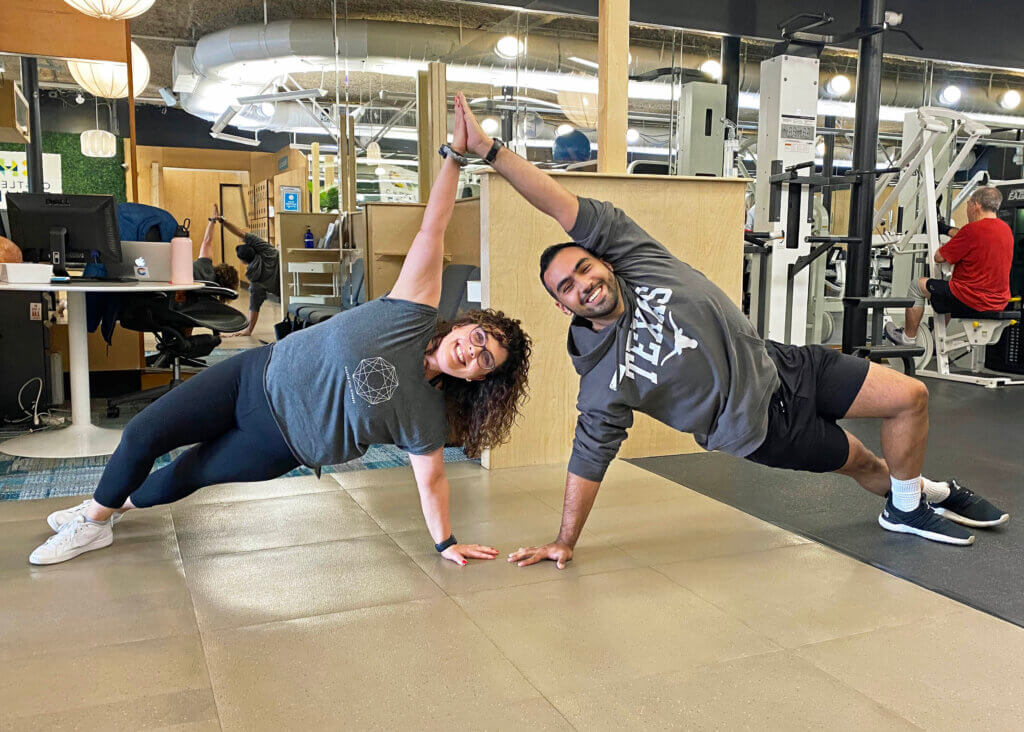 HAPPY PLANKSGIVING!
We've got a lot to be grateful for. Our amazing team of kind, powerful superstars, the joys of being able to follow our passion for healthy living together, and for YOU, our wonderful community! This year, our class instructors and trainers put together a little extra something for you to take with you into the Thanksgiving season. We're enjoying a special celebration of Planksgiving – a collection of our team's favorite plank variations! 
GIVING THANKS AND DOING PLANKS
This quick plank workout will feature the core work we know and love with planks, while variations add extra strengthening for the rest of your body. 
It's perfect for before the holiday feast*, when you need "me-time" from your family, or as a family activity! Or try this core-centric workout the day after Thanksgiving – it's the perfect "I don't really want to move around" kind of workout. No special equipment or workout attire needed – just space on the ground to plank it up. 
*We don't recommend attempting this workout on a belly full of turkey! 
PLANKSGIVING WORKOUT
A special series of Plank variations. Perform each pose for one minute. Repeat the series twice – or more, if you're up for it! Most exrcises can be modified to be on your forearms if it serves you better. New to planks? Perform each exercise for 30 seconds, or whatever time interval feels challenging to you. 

PLANK JACKS with Audra Shimek

Get some cardio in with your planks! Start in a standard plank position. Jump your legs out wide, then jump them back in. Repeat, going as quickly as you can without letting your hips hike up. 

Modification: If the jumping motion isn't for you, you can step one foot out at a time. Move one leg out to the side, bring it back in, and repeat on the other side. Can be done from a forearm plank.

SHOULDER TAPS with Danny Brooks

Lift a hand off the ground and tap your opposite shoulder. Place it back down, and repeat on opposite side. Continue, going as quickly as you can without rotating your hips.

Modification: You can widen your feet if it's too difficult to not rotate. Can also be done on your knees. 

DUMBBELL PULL ACROSS with Jeremy Sims

Start with the dumbbell on one side. Reach the opposite arm underneath to grab the dumbbell and pull it across to the other side. Place the hand you just used back on the ground, and use the other hand to grab the dumbbell and pull it back across. Keep a straight spine, and don't let your hips rotate. 

MODIFICATION: Can be done on your knees. No dumbbell at home? Use a wine bottle, water bottle, or even a laundry detergent bottle. Widen your feet apart if your hips rotate too much. 

SPIDERMANS with Maria Milekhina

Keep your hips level, back straight, and core engaged. Bend one leg and bring your knee as close as possible to your elbow. Pause there, then return leg to starting position. Repeat on other side. Continue alternating sides. 

MODIFICATION: Can be done as a forearm plank.

BIRD DOG with Sonya Latinovic

From your plank, extend and lift one leg and the opposite arm at the same time, until parallel to the floor. Lower back down to the ground, repeat on other side. Continue alternating sides. Keep your spine head, and neck neutral and aligned, and keep your back flat and hips level when you lift your limbs – one straight line from finger tips to heel!

MODIFICATION: Bird Dog can be done from a table top position.
WILD THING (SIDE PLANK VARIATION) with Collette Ouseley-Moynan

From a plank position, move into a side plank. Slowly bend your top leg and step it behind you, touching the ball of your foot to the ground. Don't let your hips drop. Reach your top arm overhead, and let your head fall back. Stay in this pose for 30 seconds, come back carefully to plank, and repeat on other side. 

Modification: You can perform this with your bottom leg on the ground.
BONUS! FRIENDSGIVING PLANK
PARTNER PLANK CLAPS with Jeremy Sims and Danny Brooks

Grab a partner, and plank it up opposite each other (head to head). Reach one arm out in front, and clap the opposite hand of your partner. Return to starting position, and repeat on other side. Aim for speed, without losing form.

MODIFICATION: Can be done from forearm plank.
---
MEET YOUR PLANK STARS
AUDRA SHIMEK

Audra is a yoga and fitness instructor, and loves to teach and share tools that will help her clients feel strong and confident, in mind and body. She belives in the power of movement therapy, and that every day is a chance to start where you are! 

Audra teaches at both of our locations, virtually, and is available for private Yoga Instruction. Click here for Audra's class schedule, and to connect with her here! 

COLLETTE OUSELEY-MOYNAN

Collette is a 500hr E-RYT yoga teacher and mindfulness guide who has been teaching in Austin for the last 10 years. In her classes, you'll experience a light-hearted, dynamic, mindful, and fun flow-based practice. Bring your sense of adventure and a smile! 

DANNY BROOKS

A former corporate recruiter, Danny fell in love with fitness after seeing how well strength training assisted in his recovery after an injury. He became a personal trainer and committed himself full-time to supporting others' journeys to health and wellness. Danny enjoys working with all populations, especially those new to strength training or getting back into the swing of things.

JEREMY SIMS

Jeremy is a former combat rescue swimmer for the U.S. Navy. As a personal trainer and class instructor, Jeremy makes it a point for you to enjoy your workout and makes pushing your boundaries fun. Your cheeks will burn from smiling as much as everything else!

Find Jeremy teaching classes and personal training at both locations and virtually. Click here for his full schedule, and to book a training session with him online!

MARIA MILEKHINA

Maria is passionate about leading clients through strength and cardio workouts that challenge and empower. She is a huge believer in the importance of safety – prioritizing self-care, recovery, and mind-body awareness to prevent injury and pain. 

SONYA LATINOVIC

Sonya is a certified Personal Trainer, group fitness and StrongFirst instructor, and has her Precision Nutrition certification. She believes She believes that aging is about getting stronger, not older! Resistance training, fueling the body with nutrition, and optimizing practices for a healthy lifestyle will support lifelong skills.

Sonya is a new fitness instructor with castle Hill Fitness – learn more about her here! Look for exciting new classes with Sonya to start on the class schedule in the new year.