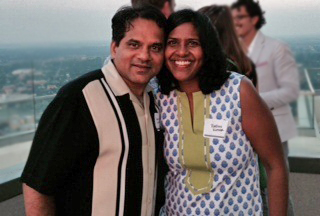 Meet Pradeep and Rushmi Kumar – our first double Member Spotlight! This couple manages to balance work, family life and a regular fitness program. We love having them at Castle Hill and enjoyed this opportunity to learn a little bit more about their life inside and outside the gym!
How long have you been members at Castle Hill Fitness?
Pradeep
: I've been a member 8 years since 2008
Rushmi
: I was a member in 2008 when you still had those treadmill "swimming pools" because I needed an indoor place to swim. I think I ended up only using those pools twice during my membership that year! I rejoined in 2013.
What does your regular routine at Castle Hill look like?
Pradeep
: I usually do cardio two days a week for an hour a piece. On Wednesdays I work out with a trainer on resistance exercises.
Rushmi
: I have 30 minutes of
personal training
and I try to get one or two short runs and a class in every week.
What changes have you made in your Health and Fitness lifestyle since becoming members of Castle Hill?
Pradeep
: Since joining Castle Hill, I've learned to incorporate resistance work into my routine.
Rushmi
: I am much more efficient with my time. I used to think that if I could not get a solid hour or so to work out, it was not worth getting a workout. But, I have learned that 20-30 minutes is better than nothing at all and often better than some of those longer workouts.
Do you take any of our classes? Who is your favorite class instructor?
Pradeep
. I do take classes from time to time. I like the weekend
Spin classes
. I also like taking
Pilates
with
Deborah West
.
Rushmi
: Yes!
Hilary Chung
– any of her classes! But I tend to do her
Castle Barre
class a lot. I also like
Maricarmen's
Shakti Flow
yoga class.
Do you currently work with a personal trainer?
Pradeep
: I work out with
George Centeno
on Wednesdays. He keeps things close to the chest, but he's a great trainer.
Rushmi
: Yes – Hilary. I've learned a lot from working out with her. We are also both mommies of young kids, so her knowledge and approach have been a really great fit for me.
What motivates you to stay on track?
Pradeep
: I am personally motivated to stay on track, but my family plays a big role. I have a wife and 3 young kids and I want to be active with them and I need to be physically and emotionally healthy for their sake as well as my own.
Rushmi
: I like taking care of my health
What have been your biggest obstacles with fitness?
Pradeep
: The biggest obstacles are also the biggest rewards: my family. Finding the balance of time spent with family, work, and time for fitness is a heavy juggling trick.
Rushmi
:  Time constraints. We have 3 kids all aged five and under, and I like spending time with them! They can use up a lot of my time, so I need to make sure I have a plan each week and blocked out to get to those workouts and classes.

What aspect of your fitness life are you most proud of?
Pradeep
: I am most proud of my consistency. Despite the changes in my life, I have always incorporated exercise since age 28 and I've rarely flagged my commitment.
Rushmi
: I am really proud that Pradeep & I prioritize fitness enough to incorporate it into our date-nights. We will often start out our date by going to the gym, getting a workout, and then we'll get ready at the gym and head out on the town.
What's your greatest health and fitness achievement?
Pradeep
: My greatest health achievements include losing the weight I gained after shoulder surgery last year and running the Aloha Run in Hawaii 10 years ago of 8+ miles.
Rushmi
: Running the Chicago marathon in 1999 and becoming a yoga instructor in 2004.
Are there any areas you are still working on?
Pradeep
: The area I am working on now is diet. Finding the right balance of caloric intake, fruit/veggie intake, and eating styles that keep me fit.
Rushmi
: Definitely!! This is a lifetime commitment, especially since my mind and body will always be evolving and changing.
When you are not working out at Castle Hill what do you do?
Pradeep
: When not at Castle Hill, for exercise I like to bike around Lady Bird Lake and I am getting back into running. Other than exercise, my family and profession take up most of the rest of my time.
Rushmi
: I like to spend time exploring Austin with my hubby! I enjoy raising our 3 kids and exploring Austin with them. I also volunteer for a few non-profit organizations.
Any thoughts you can leave us with?
Pradeep
: A lesson I can leave you with that I learned this year: an hour a week of planning your meals is work it's caloric equivalent in a work out. Also I'll leave you with the idea that at a gym, and at Castle Hill in particular, people come to do something positive for themselves: take care of their health. There is little more valuable than that. That energy conveys and it's always the positive vibe at Castle Hill that I appreciate.
Rushmi
: Castle Hill is a great place to be a member. I really enjoy coming to the gym because of the community that you have built. I love that everyone is friendly from the moment I walk in the door!