A COZY AND NUTRIENT-PACKED RECIPE FOR THE SEASON
Hello, soup season! On a chilly night, a simple bowl of hot, delicious soup can feel like the equivalent of wrapping ourselves in a fluffy, cozy blanket. That this meal can so easily be packed full of soup-er foods makes it even more of a wintertime hero!
When the temperatures start to drop, CHF Elite Personal Trainer and Health Coach Sherri Lepley makes her go-to: Butternut Squash with Bacon and Apples. Not only does the flavor of butternut squash evoke instant cozy vibes, but it's also a nutritional powerhouse. The orange-hued vegetable is chock-full of vitamins A and C, as well as Potassium and Fiber. Her recipe has the added bonus of being simple to make – another ideal trait for a wintertime meal. It's the perfect starter for a holiday meal or a great addition to the weekly rotation during the fall and winter seasons. 
Get Sherri's favorite recipe, and stay warm and fueled for the colder nights ahead!
BUTTERNUT SQUASH SOUP WITH BACON & APPLES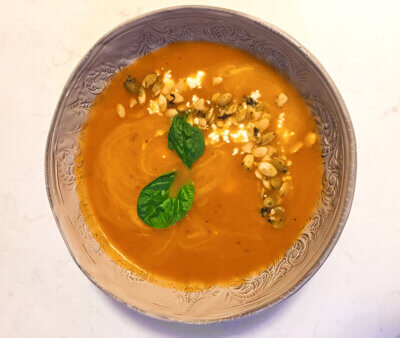 INGREDIENTS
» 4 slices

BACON OR TURKEY BACON


» 1 MEDIUM ONION, finely chopped




» 2 GARLIC CLOVES, finely chopped




» 2 

DRIED BAY LEAVES


» 

1 MEDIUM TO LARGE BUTTERNUT SQUASH


» 1 HONEYCRISP APPLE




» 4 cups LOW-SODIUM CHICKEN OR VEGETABLE BROTH

» 2 cups WATER (for thinning soup as needed)
» 4 cups LOW-SODIUM CHICKEN OR VEGETABLE BROTH
» 2 Tbsp. BUTTER, COCONUT OIL, OR OLIVE OIL
» 1 tsp. CINNAMON
» SALT & BLACK PEPPER to taste
» 1/4 cup HALF AND HALF or CRÈME FRAICHE

DIRECTIONS
Peel butternut squash, remove the seeds, and cut into cubes
Peel the apple, remove the core, and chop into cubes
In a heavy stockpot, cook bacon on medium-high heat until crisp. Remove, crumble into small pieces, and set aside. 
Wipe excess bacon oil from the pot. 
Heat oil of choice and cook the onion and garlic on medium-high heat until soft, stirring often. 
Once the onion is softened and translucent, add the squash, apple, broth, 1 cup of water, bay leaves, cinnamon, salt, and pepper. Bring the mixture to a boil, then cover and reduce heat until the mixture comes to a simmer. 
Simmer until the squash is very tender and can be easily pierced with a fork – about 30 minutes. 
Remove from heat and discard bay leaves. 
Purèe with an immersion blender, or working in batches, add and purèe in a regular blender until nice and smooth.
Whisk in the half and half or crème fraiche. 
Top with crumbled bacon, and enjoy! 

More Recipes from Sherri Lepley:
A Tonic to Boost Immunity
Healthy Recipes to Power Up Your Day
---
MEET SHERRI LEPLEY
Sherri began her career as an anesthesia technician in New Orleans. She got her Personal Trainer and Nutrition certification in 1999 after coworkers would often ask her for advice on their own wellness routines. Her life goal is to share, educate, and guide others. Sherri's approach is holistic and tailored to the individual's needs. She consistently works to expand her knowledge so she may continue empowering her clients to achieve optimal fitness and wellness. 
Click here to connect with Sherri for Personal Training and Health Consultations.