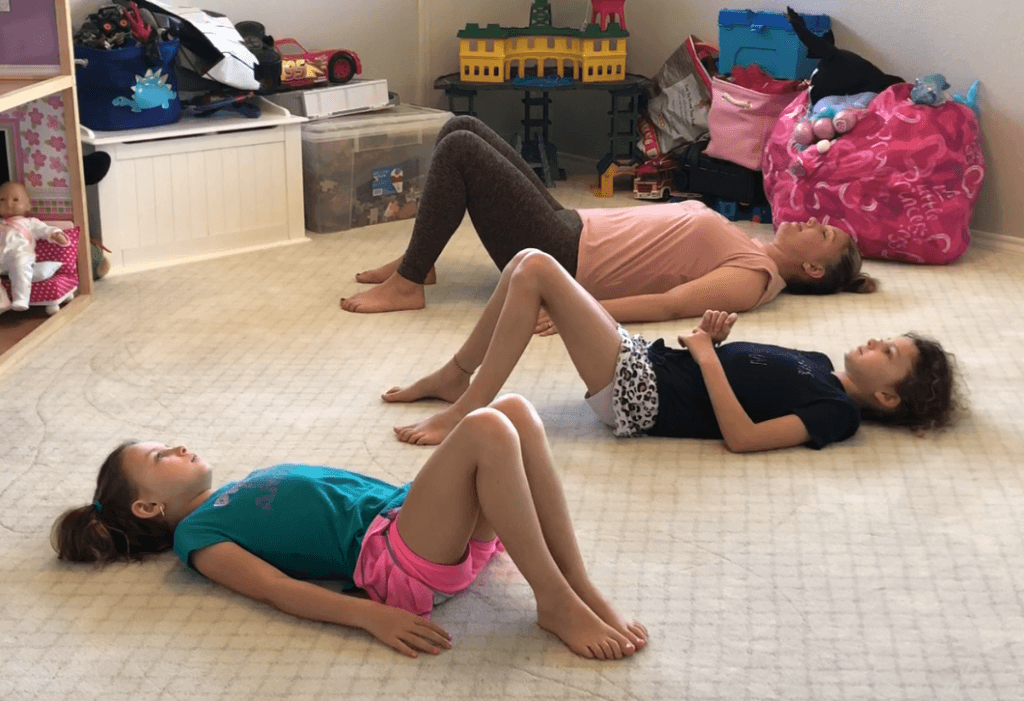 Activities Your Kids Can Do, Any Time
When your little bundle of energy has some steam they need to let off NOW, try these mini-workouts! Restore peace and calm (to everyone) with these quick bouts of activity designed for kids. Check out our free weekly live-stream classes too!
Hilary's Mini-Tabata for Kids
Hilary Chung designed a mini-workout for her kids, for whenever they need to "shake the sillies out". Let your kids try this out any time that energy just can't. be. contained! Maybe even join in on their workout – this set is great for any age!
10 seconds rest between each move.
» 20 seconds running in place
» 20 seconds of push ups
» 20 seconds of jumping jacks 
» 20 seconds of soccer taps
» 20 seconds of Amid-partner squats
Julie Williams' Playroom Pilates
When both you and the kiddos have been cooped all day and need a break – Pilates Instructor Julie Williams has got your back! Grab a mat or find a room with soft carpet, and try out this Playroom Pilates sequence that both you and the kiddos can do. 
Mama Pilates with Jaime Fruge-Walne
Though your baby doesn't need a workout session (yet), Jaime Fruge-Walne has got you mamas with a wonderful Pilates session that you can do with your baby right beside you! Don't worry, she made sure to incorporate plenty of opportunities to give your kiddo loving smooches.  
---
About Our Instructors
| | |
| --- | --- |
| | |
| | Hilary is a lifelong fitness lover, turned collegiate runner, turned super mom of three. With an infectious positive attitude, Hilary assists her classes and clients to achieve their personal bests. If you are a runner, athlete, new or expecting mom, she can show you how to be on top form in all aspects of life! |
| | Julie has a large background in dance with more than 20 years of body movement experience. Julie has been comprehensively certified in the Pilates Methodology with numerous anatomy, physiology, and kinesiology courses. Throughout her years of teaching Julie has instructed in and managed many professional Pilates studios and fitness facilities around the nation. She is a mother of 3 and very excited to be back teaching in Austin, Texas. |
| | Jaime's love of Pilates started with her cross-training as a professional dancer. She offers a challenging and balanced workout focusing on breath, strength, and control. Jaime incorporates full body movements inspired by her dance and choreography background for an intense yet well-rounded flow. Known as a "tough cookie," she motivates her clients to embrace the famous Pilates shake, and after, leaves them feeling more mentally and physically connected. Jaime works with clients of all ages and abilities ranging from dancers and athletes, prenatal and postnatal recoveries, injury prevention and rehabilitation, and seniors. She believes Pilates can transform a person's life by incorporating its somatic principals into daily life and designs each workout based on her client's goals/needs for that specific day. |