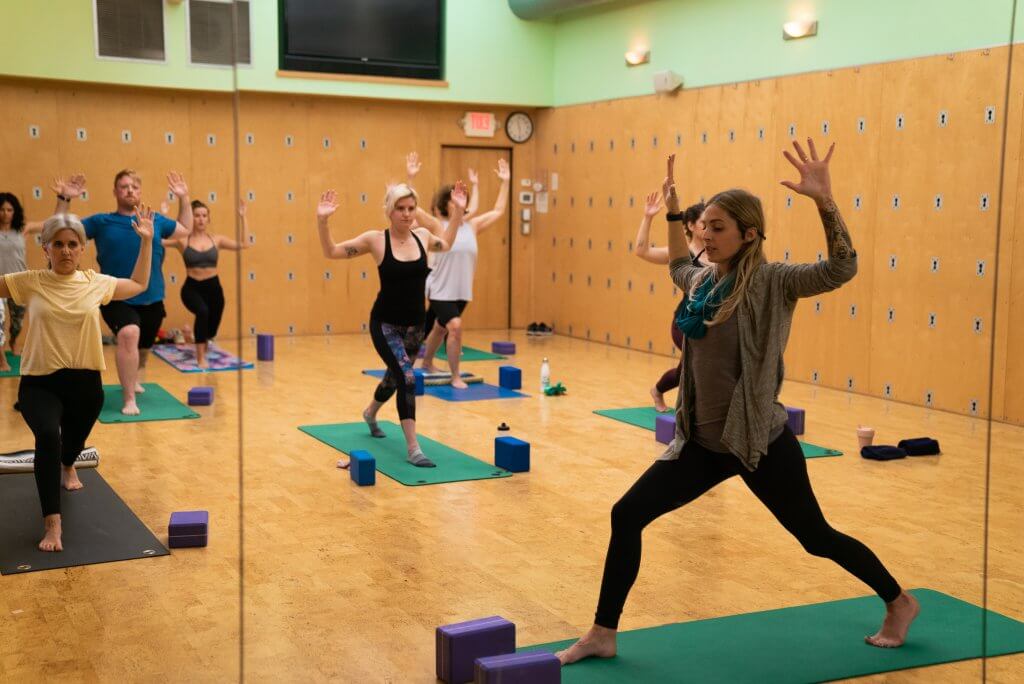 SPECIALLY PRICED CLASSES FOR ALL
Our Community Class program offers various fitness and yoga that are perfect for those on a budget. These accessible exercise options are open to all in our community – both members and non-members alike. This program of special classes is available at a discounted rate – $15 per individual class, or a 10-class package for $100 for even more savings.  
COMMUNITY CLASS SCHEDULE
MONDAYS 12PM | Kickboxing with Robert
This class promotes total body endurance, strength, and agility. Achieve total body contioning with plyometrics and weight work. Gain confidence with mixed martial arts punch/kick combos and groundwork. Colorful language may be used as a motivational tool. 
TUESDAYS 12PM | Wellness in Motion with Mark
A class centered around improving the way you move! Dr. Mark Uridel blends his experience as a physical therapist, yoga instructor, and massage therapist to bring you more in touch with your overall wellbeing. 
WEDNESDAYS 1:15PM | Yoga Tone with Collette
Get your om and tone in one, with basic yoga postures and light to moderate hand weights! combine the fitness benefits of yoga and weightlifting in this 45-minute class. 
THURSDAYS 10:30AM | Recess! with Josh
Inspired by the best part of school. Come ready to PLAY! Expect to use a variety of equipment each week like jump ropes and pool noodles. This full-body, cardio-heavy class is all about the game. From tag to bear crawl races, never the same class twice! 
FRIDAYS 10:15AM | LIT Up: Low Impact Training with Tara
An energizing weight training class designed to give you the intensity you are looking for without the impact. There is no running or jumping in this class. You'll use bands, dumbbells, and bodyweight to build lean muscle. Movements are scalable and appropriate for any fitness level. 
SUNDAYS 1:15PM | Vin/Yin Yoga with Brett
Start your 60-minute practice with a creative Vinyasa flow before winding down with long-held, supported stretches to relax your body and soothe your nervous system. 
BOOK YOUR COMMUNITY CLASSES
Click the button below to view our Community Classes and sign up online. You can register 6 days in advance.