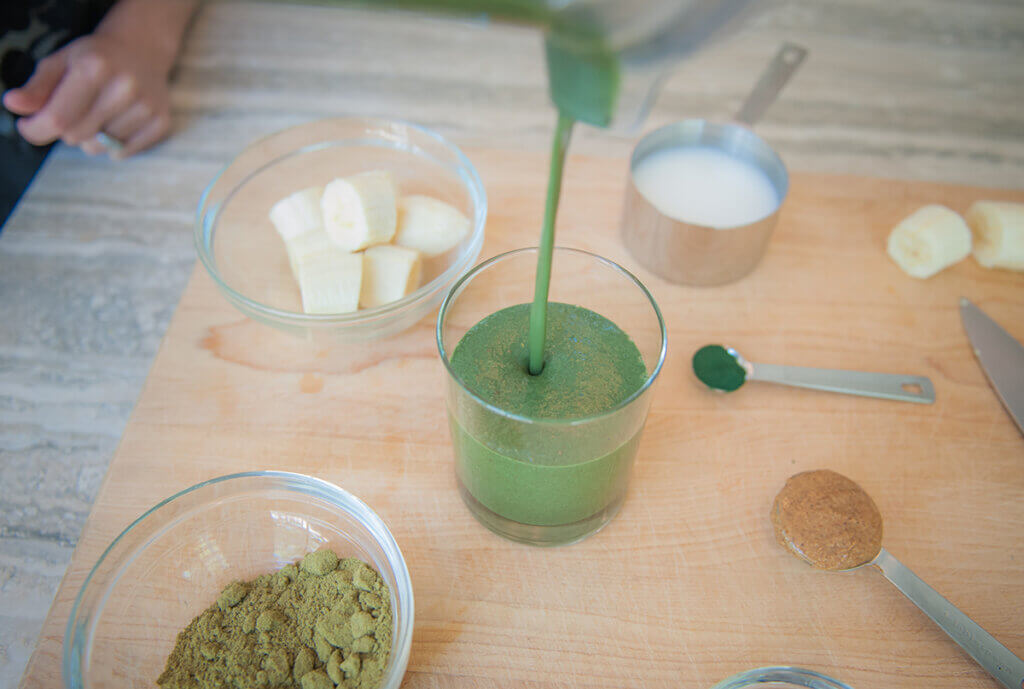 At Castle Hill Fitness, we focus on health as a whole, not just physical fitness. Well-rounded healthy living includes a nutritious and balanced diet. Like with exercise, it requires commitment, thought, and a little bit of help. March is National Nutrition Month, and we're excited to dive deeper this month into the importance of a healthy eating plan.
DRINK TO YOUR HEALTH!
If you've been with Castle Hill Fitness a while, you'll know that we're big smoothie fans around here. What's not to love? They're delicious, customizable, quick to make, and an easy way to boost our nutrient intake. The ability to pack in protein, healthy fats, fiber, and so much other goodness makes them a perfect post-workout drink. In our many years of experience with smoothie-drinking and making (we DID have a smoothie cafe once, after all), we've learned what can take a smoothie from "good" into "superfood good"!
Our favorite smoothie includes 3 factors: Creamy, Protein-rich, and Nutritient-dense. See the easy ways your frozen treat can hit all those notes with the right ingredients, and a few of our go-to recipes. 
FOR A CREAMY SMOOTHIE
Texture is everything, and a watery smoothie can fall short on satisfaction. Here are a couple of basics to help ensure your drink always hits that creamy, dreamy note!
Frozen Fruit: Starting with a base of frozen fruit is the key! This omits the need for ice to keep your beverage cold. (Ice = watery smoothie.) You can buy already-frozen fruit, or put cut-up fruit into a ziploc or reusable bag into the freezer the night before. (Storebought frozen fruit is actually higher in nutritional value than conventional fruit, as it's frozen at its peak ripeness.)
Tip: Bananas are the superheroes of the frozen drink world! Frozen banana blends into a perfectly thick, smooth texture, and is a natural sweetener.
Avocado: If you don't want your smoothie to be heavy on the banana, add in half an avocado. It'll wow you just how much it'll thicken your drink! Avocado's mild flavor won't overshadow any other ingredients you add, so even those who aren't avo-fans won't notice it. It's a great way to get your daily essential fats intake. 
Yogurt: Not only will a tablespoon of yogurt add creaminess, but you're also adding a good dose of probiotics for a happy gut.
FOR A FILLING SMOOTHIE
It's easy to upgrade a smoothie from a beverage-snack to a more wholesome, fulfilling food. Especially after a workout, protein-rich smoothies are an effective and refreshing way to aid in muscle building and recovery. 
For a smoothie that keeps you full and satisfied for longer, focus on adding protein and healthy fats. There are infinite choices for protein powders, whether in flavor profile or protein source (animal or plant-based). It's best to opt for a choice that has minimal ingredients and sugar. Cashews, almonds, peanuts, sesame (in the whole form or as butter) are easy protein add-ins. Chia seeds or hemp seeds are also great choices, as they are also high in essential fatty acids and fiber. Added perk? These will also add to the creaminess of your smoothie! 
FOR A NUTRIENT-PACKED SMOOTHIE
While you can easily make your smoothie a fruit salad in liquid form, balancing fruit with vegetables will significantly boost the nutritional value, and lower the sugar content. Even too much fruit and its natural sugars can send your blood sugars soaring (and your energy levels crashing later). 
With the right ratio of ingredients, you won't even know they're in there. Like with fruit, starting with frozen vegetables will keep your smoothie thick and creamy. You can use most vegetables raw, or steam them before you freeze them (steaming your vegetables will make them easier to digest). Cauliflower and zucchini (peeled and de-seeded) will blend easily, both in consistency and in flavor – especially with bananas, but also without. Up your greens intake by throwing in kale or spinach! Carrots or sweet potatoes are also naturally sweet and will lend delicious autumnal vibes. 
Even the most basic smoothie recipe has the healthy essentials: fruits, vegetables, antioxidants, and fiber. You can make a few simple additions to boost the nutritional content MORE, customized to your needs! Most additions won't add flavor, so for picky eaters, it's camouflaged nutrition. Here are a few more superfoods you can add:
Flax Seeds/Meal: Fiber and omega-3's
Spirulina: A blue-green algae that is high in antioxidants, phycocyanin (plant-based protein), minerals, and chlorophyll.
Matcha: Not just an energy-booster! Matcha is also high in antioxidants, chlorophyll, and the amino acid L-Theanines, which prevents caffeine jitters, promotes calm, and concentration
Cacao: High in antioxidants, and minerals like iron, magnesium, manganese, potassium, and copper. And also, chocolate. Yum. 
Ginger: Anti-inflammatory and aids digestion
Maca: Iron and Vitamin-C rich, and aids in balancing hormones, promoting calm, and boosting energy
Turmeric: Anti-inflammatory – pair it with black pepper to increase the body's ability to absorb it
Coconut Water: Use this as your smoothie for a good source of electrolytes
OUR FAVORITE SMOOTHIES
The world is your oyster when it comes to smoothies (though that may not exactly be an ingredient we reach for…) You can make them simple or taste like the beverage version of your favorite dessert. Here are some of our favorites that hit one or all of our favorite factors. May they inspire your own creations! 
Recipes make 16 oz. smoothies.
THE GREEN DRINK
» Base: 2 oz. LEMON JUICE, 1 oz. ALOE VERA JUICE, 7 oz. WATER
» 1 handful KALE
» 1 or 2 sprigs PARSLEY
» 1/2 inch piece of GINGER
» Pinch of CAYENNE
» 1/2 tsp. HONEY
» 1 cup FROZEN PINEAPPLE
» 1 cup ICE*

*The addition of ice in this smoothie helps the pineapple and other flavors shine! 

GLORIOUS GREEN
» Base: 10 oz. COCONUT WATER
» 1 scoop HEMP PROTEIN
» 1 tsp. VITAMIC C
» 1 tsp. SPIRULINA
» 1/2 cup FROZEN PEACHES
» 1/2 cup FROZEN BANANAS
» 1/2 cup FROZEN STRAWBERRIES

BERRY WHITE
» Base: 10 oz. RICE MILK
» 1 tbsp. GREEK YOGURT 
» 1 tsp. HONEY
» 1 tbsp. CASHEWS
» 1 cup FROZEN BLUEBERRIES
» 1 cup FROZEN RASPBERRIES

THE CARIBOU
» Base: 10 oz. ALMOND MILK
» 1 handful KALE
» 1 tbsp. CHIA SEEDS
» 1 tbsp. PECANS
» 1 tsp. TURMERIC
» 1 cup FROZEN BANANAS