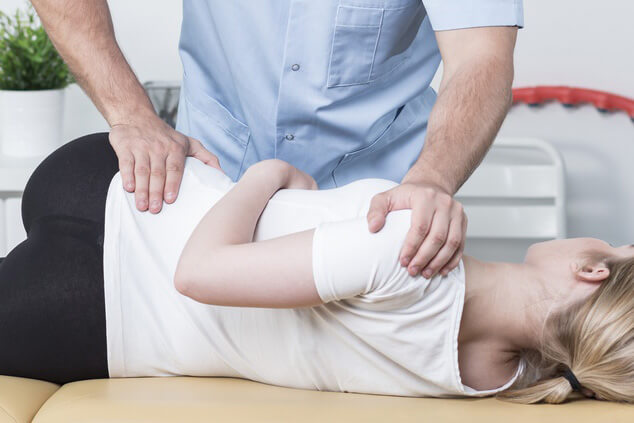 BENT OUT OF SHAPE?
We are pleased to now offer Chiropractic services in our Downtown Spa, with two new providers on our team!
Our Chiropractors work to restore proper motion to the joints of your spine and appendages, alleviating pain or discomfort felt in daily activities. Proper joint function reduces and removes the added stress that adaptive movement can put on the body. Move better than ever before, in daily life and in exercise!
WHY BOOK A CHIROPRACTIC SESSION?
Compensation patterns in the body (when imbalance causes more stress in other areas of the body) are a very common affliction. People normally seek out Chiropractic care to relieve pain or discomfort felt during daily activities, as a result of these compensation patterns. Pain, however, is normally the last symptom to show up. In reality, it could've been sneakily happening for far longer than you know! No need to wait for pain to show up to see a chiropractor. 
Chiropractic sessions focus on more than just relieving pain – they address the body as a whole so it can function the way it should. When compensation patterns occur, the nerves aren't able to communicate well with the muscles. For example, lower back pain could be a result of the ab muscles incorrectly firing. A chiropractic adjustment creates a "system reboot" – encouraging the nerves to fire correctly and providing the body more support, preventing future injuries. An adjustment works to prevent and decrease tension that would lead to imbalances. 
ONE SESSION, SO MANY BENEFITS
Proper joint function unlocks a huge range of benefits for the body! With full range of motion, the body can perform at its best in everything it does. From simple activities like walking, bending over to pick things up, to improved performance during sports or exercise. 
A chiropractic adjustment can also have a significant impact on decreasing anxiety. Adaptive movements or postural imbalances place stress on the nervous system. The nerves become overstimulated, sending the body into sympathetic mode. This is your fight or flight mode, with symptoms like high heart rate and anxiousness. An adjustment in the spine can trigger the parasympathetic nervous system – your rest and digest mode – physically easing the body's heightened, anxious state!
Ready to move at your full potential? 
MEET OUR CHIROPRACTORS
To book an appointment, call our Downtown location at (512) 478-4567 dial 1.