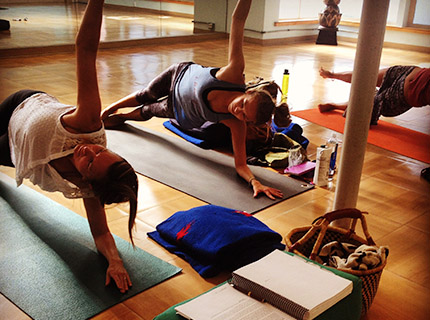 When can I sign up for a class? And how far in advance can I sign up?
A: Online Registration opens 2 weeks in advance at 12:01am each day. You can sign up for classes up to 2 weeks in advance.
How do I sign up?
A: Through our website: Go to
castlehillfitness.com/classes
and scroll and choose the class you want. When prompted you will be asked for log-in info or to create an account. When you
create an account
make sure to use the same email address that we have on file for you. Follow the prompts to secure your spot. A: Through the App: Download the
MindBody Connect App
through your phones App Store. When you open the app and create your account make sure to use the same email address that we have on file for you.
What do I do when I arrive?
Be on time.
Anyone who has not arrived by class start time to a fully reserved class without prior notice will have their spot given to a waiting list client.
If you are delayed
, let our front desk know immediately so your spot can stay reserved. CALL (512) 478-4567.
If you don't get a hold of us hit redial and keep trying until you do – we want you to make your class.
How do I cancel my reservations? 
A: Through our website: Go to
castlehillfitness.com
and use the Member Log-In portal in the top right hand corner of the home page. Under Manage My Schedule you can view your classes and cancel your reservations. A: Through the App: Click on My Schedule and select the class reservation or waitlist reservation you want to cancel.
How far in advance do I have to cancel?
A: We understand things come up. However, in order to ensure a fair opportunity for all we require a 4 hour cancellation policy for class reservations. If you do not cancel in this time frame you will be charged a late fee:
Monthly Membership holders: $8
Drop-in clients: Single Class pass or the reduction of one class from a non-member class package.
Why do you charge a fee for late canceling or no showing? 
A: When you don't show or late cancel a class it makes it very difficult for us to fill your spot. We assume that you want to take every class you sign up for, and when you flake out this is unfair to others clients that do want to take the class.
I didn't reserve online in time and now the class is full. What do I do?
A: Sign up on the waitlist! Many people sign up for classes in advance and then life gets in the way and they cancel. You must have an active membership pass or purchase a class pass to use waitlist.
WAITLISTS
What does it mean to waitlist a class?
A: When you waitlist a class you are setting your intention to take the class. You need an active pass in order to be put on the list, and you will be automatically moved into a class list should a spot become available. Often clients will cancel or no show – moving you up the list. Arrive the day of class to insure you get a spot.
I received a notification I got into the class, but I can't make it. What should I do?  How do I ensure I don't get late canceled?
A: Please remove yourself from the class via Mind Body or by responding to the text/email. This also allows us to offer your spot to another client. Please note, if you do not remove yourself from the class and do not come you may be subject to the late cancelation policy.
How do I find out what position I am on the waitlist?
A: If you log in to your
Mind Body Online account
you will check "My Schedule" and then click the Waitlist link. Under each class it will show you the classes that you are currently waitlisted for and the position you are on that list. Waitlists as much as 10 deep have been known to get put in to a class, so don't despair if you see double digits.
I signed up for the waitlist, but didn't receive a notification I got into class. Is there still a chance I could get in, should I still come?
A: We often have clients who have reserved, but can't make it or don't show for class. If, at the start of class time, there are clients who have not checked in we begin to give those spots away starting with the first name on the waitlist. We encourage you to come in, we love to get as many clients into their class as possible. And if you don't get it, you can always do a personal workout (get them gains!!!!)
I didn't get notified that I was placed in a class list, but I was on the list. What happened?
A: Log in to your
Castle Hill Mind Body account
and check your preferences. You want to make sure that your mobile phone number and email are correct and that your preferences are set to receive email and mobile text. Also make sure that the email address
automatedemail@mindbodyonline.com
is in your trusted senders list
I receive email notifications but want to receive texts. How do I do this?
A:
Log in
to your Castle Hill Mind Body account and edit your profile. You would want to make sure your mobile number is in the mobile number field and that your preferences are set to mobile text.