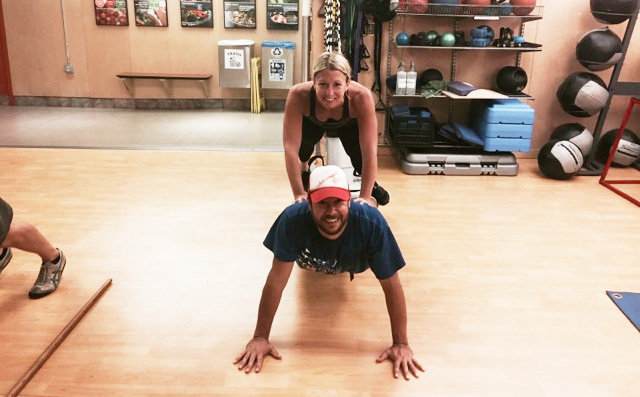 How long have you been members at Castle Hill?
LAURIE:
 My work,
Austin Dogtown
joined Castle Hill as a small business member two years ago.
ANDY
: Two years
What does your regular routine at Castle Hill look like?
LAURIE:
 Depending on my schedule, I like to do an assortment of
classes
. I am also getting better at working out on my own. Castle Hill has so many great tools for us (
Jacobs Ladder, the outdoor studio, hills runs right outside the door, weight vests, etc
) and I'm getting better at utilizing them.  I also usually workout once or twice a week with friends- whether it be a circuit workout, treadmill sprints or run with our dogs..it keeps things fresh and fun.
ANDY: 
Generally I take a
couple classes
during the week. My typical week looks like:Monday: Total Tabata, Wednesday: Sweat 2.0,  Plyo Burn: Friday, along with Circuit Training on Saturday and the occasional yoga session.
Have you made changes in your health and fitness lifestyle since you joined? What changes stand out the most?
LAURIE:
I am stronger and faster then I was two years ago. Also mentally, I am able to push myself harder.
ANDY:  
I have absolutely changed my health and fitness lifestyle since joining. Before joining
Castle Hill Fitness
I was playing the seasonal sports activity (tennis, sand-volleyball and swimming), but was dependent on the season with a lack of fitness routine during the fall and winter.  Now, with classes available either before or after work the flexibility and variety keeps me motivated and on track. Also since joining Castle Hill our workout routine is complemented by healthy and clean eating. I now feel supremely healthier. I sleep better. I focus longer. My mental health has also greatly improved by the exercise and clean eating.
Do you take any of our classes? Who is your favorite instructor?
LAURIE:
Amid Archibald
. He makes every class super challenging and fresh. I usually take a combination of Strength Circuit, Plyo Burn and SWEAT 2.0 during the week and
Hilary's
Circuit Training on Saturday. Hilary is awesome- she kicks your booty with a giant smile on her face! I also occasionally take
Robert's
classes when my schedule allows and I'm always super sore after!
ANDY: 
I take Total Tabata, Sweat (2.0), Circuit Training regularly, while I really enjoy Plyo-Burn, Vinyasa Yoga, Target-Tone, Yoga-Tone and Strength Circuit when I have the opportunity to attend them too.
Amid
and
Hilary
are fantastic- they are committed, very knowledgeable while being enthusiastic and fun.
Do you frequent our Wellness Spa? Do you have a service provider who has helped you on your journey to whole body health?
LAURIE:
I have gotten several
massages
by various therapists and they have all been great.
ANDY:
I do not frequent the Wellness Spa. I will take advantage of the massage offering very soon.
Do you currently work with a personal trainer? Who are they and what goals are you working on together?
LAURIE:
My girlfriends and I do a 6 AM session with Amid once a week. We are mostly focusing on strength training, but Amid always mixes things up for us.
ANDY: 
I do not currently work with a personal trainer.
What motivates you to stay on track?
LAURIE:
For me, going to the gym, doing a class or a long run, finished by the
Infrared sauna
and a shower is like switching the reset button in my brain. When I stick to my regular gym schedule, I eat and sleep better. Plus I have so much energy for a long work day.
ANDY:  
I am motivated to live healthy because I want to live a long and healthy life. I have always enjoyed training during my life. Growing up I enjoyed playing a variety of team sports and thrived from encouragement, camaraderie, working hard and personal growth. As school ended and professional life began staying motivated was challenging. I now stay motivated by my wife Laurie, and the other Castle Hills members/staff who inspire me daily. I work to stay up. I work to get ahead. And, I work to keep going. Like in the past, knowing I have team members committed to working hard and getting better motivates me. It is great to see others working hard and committed to their own journey. When I began, attending alone was an achievement. That has not changed; attending is the first step and keeping up in classes, or a routine, the next. I also see results from staying motivated. After I began taking Castle Hill classes-I witnessed changes in my strength, endurance and stamina along with my own health and happiness. Seeing results also keeps you on track. When you transform your body and get stronger you stay motivated. Physical strength, not just appearance keeps you on track. Witnessing your growth, endurance and strength improve weekly, keeps you on track.
What is your greatest health and fitness achievement?
LAURIE:
  Just sticking to a regular routine of consistent gym time and trying to eat as clean as possible.
ANDY:
 Since joining Castle Hill, I have lost over 50 pounds and counting. But working daily to keep that success going is my greatest achievement.
What goal keeps you motivated to show up at the gym regularly?
LAURIE:
My brain 🙂 I'm a bit addicted to the feeling after a workout- when the alarm goes off at 5 AM, I'm never super excited to get up, but I never regret it.
ANDY:  
I stay motivated show up to the gym regularly, because you never regret a workout. You never regret your own personal therapy. You never regret working hard. And, I prefer to be at Castle Hill than to brave Austin traffic.
When you aren't working out at Castle Hill, what do you do?
LAURIE: 
I manage the cutest pack of dogs in town, at
Austin Dogtown Boarding and Daycare
. We foster pups for
Austin Dog Rescue
. For fun, we love hanging out with our three dogs and one spunky kitty. We spend alot of time cooking, trying new restaurants, wine and live music. We love exploring the city via bike, playing tennis and we travel as often as we can.
ANDY:
 I enjoy time at home with my lovely wife and our tribe of pets who include three dogs (Travis, Beasley and Irie) and one kitty (JoJo).  We enjoy traveling, the beach, cooking, dining out, live music and records. During the various seasons we play sand-volleyball, swim, play tennis and tailgate with Shotgun30. Professionally, I work in the Solar Industry advocating and working to encourage distributed generation of clean energy. I enjoy the sun and work for change.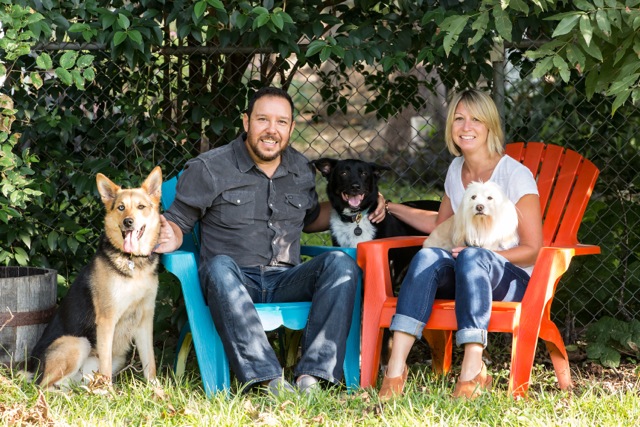 Any thoughts you can leave us with?
LAURIE: 
Don't half ass a work out. Please don't whine about running a hill 🙂
ANDY: 
Believe in change, as change comes from within.