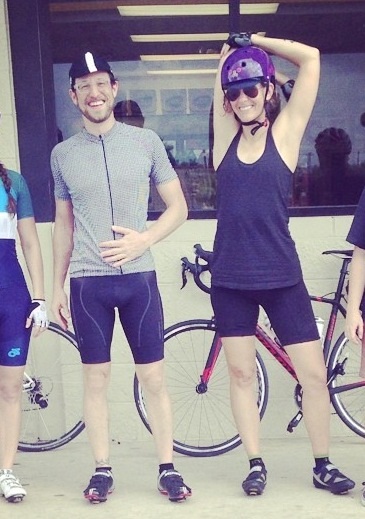 This month we spoke with Jessica Nielsen and Jonathan Buck, a fun couple we love having as part of the Castle Hill Family!

How long have you been members at Castle Hill?
Jessica: I've been in Austin since July 2013 and I joined Castle Hill in August 2013.
Jonathan: Way way back when the gym had mini-lap pools…2004 maybe?
What does your regular routine at Castle Hill look like?
Jessica: It's hard to motivate myself to work out on my own so I'm a BIG fan of the group classes – I love the yoga and cycle classes and recently tried out the Castle Barre class as well – everything hurt the next day – it is so hard!
Jonathan: These days – lots of yoga and a little spin.
Have you made changes in your health and fitness lifestyle since you joined? What changes stand out the most?
Jessica: Since I've joined, I have become more consistent in my yoga practice, which is beneficial to so many other activities. We both got road bikes this past April, so I'm definitely riding a lot more (and with gears!) than I did before.
Jonathan: Will Ravenel (former CH Structural Integration therapist) helped get me walking again after being hit by a car on my bike. I built my strength back up in the gym and (try to) stay healthy and centered with a regular yoga practice.
Do you take any of our classes? Who is your favorite instructor?
Jessica: We take classes all the time! Probably 90% of the time I'm at the gym, it's because I'm there for a class but I'm working on motivating myself to lift as well. We're big fans of yoga – I love Collette's & Anna's classes and I'm also a fan of the cycle classes.
Jonathan: Castle Hill has an amazing roster of yoga teachers.  You'll mostly find me in yoga, but you may see me in a spin or Pilates every now and again.  My favorite instructor is Anna: every class is well planned and renewing.
Do you frequent our Wellness Spa? Do you have a service provider who has helped you on your journey to whole body health?
Jessica: I wish I was able to frequent the Wellness Spa more often! I haven't gone for a massage, but I've had several facials with Melvis and she's great.
Jonathan: I come in for an occasional massage.  Will – who moved to Nashville – was incredible. I miss him.
Do you currently work with a personal trainer? Who are they and what goals are you working on together?
Jessica: I haven't worked with a trainer since joining the gym, but I'm definitely open to trying it. I'd like to work on toning and overall endurance.
Jonathan: I'm going in for my first training with Rachael tomorrow as part of my rehab program for my right shoulder.  She's been in contact with my PT to put together a plan.
What motivates you to stay on track?
Jessica: I want to live a long, healthy life so although we like to indulge every now and again (hello, Cow Tipping Creamery!), we know that exercising and eating well needs to be a major part of our lifestyle. Plus, we're going with my family to Mexico in March!
Jonathan: Jess! She gets me out of bed and into the gym for morning workouts. And, I remind myself how being active keeps me grounded, focused and more effective in pretty much everything I do.
What have been your obstacles with fitness?
Jessica: For me, the motivation to get to the gym is sometimes hard. I can talk myself out of just about anything, so if I'm able to actually GET to the gym, I'll be okay. Jonathan is also great at motivating me to go  🙂
Jonathan: I've struggled with injuries from bike accidents and – most recently – a new found love for the game of volleyball that my body's not totally on board with yet.  And, the allure of all the fun that is Austin makes the decision to head to the gym difficult at times.
What aspect of your health and fitness lifestyle are you most proud of?
Jessica: I'm proud that we actually get up early and go to the gym! Making time in our schedules to take care of ourselves can be cumbersome, but we push each other to do it and even early in the morning, there's always a friendly face at the gym.
Jonathan: My ginormous pecs. Only kidding. I agree with Jess – I'm most impressed with the consistency of our yoga practice and workout routine.
What is your greatest health and fitness achievement?
Jessica: We did 65 mile ride in September – it was SO hard, but we did it! It was the longest ride either of us have done.
Jonathan: I won the Pinewood Derby when I was 10. And, I came in 2nd in the Luling Thump Watermelon eating contest. Oh…wait…fitness achievement.  I'd say the 65-mile ride.  A century ride is in our future.
Are there any areas you are still working on? What goal keeps you motivated to show up at the gym regularly?
Jessica: I think it's always a bit of a work in progress. I'd love to improve my yoga strength and get to a point where I'm able to do an unassisted handstand.
Jonathan: Definitely – too many to list.  I want to be ready when life presents the opportunity to do a 6-month bike tour around Europe.
When you aren't working out at Castle Hill, what do you do?
Jessica: If we're not working or working out, we're probably either riding our bikes or walking our dog, Jelly! We also like to cook (i.e. Jonathan cooks, I act as sous chef), read and watch movies at home.
Jonathan: I would add volleyball, pinball & beer.
Any thoughts you can leave us with?
Jessica & Jonathan: We feel lucky to have such a great local gym. CHF rocks!