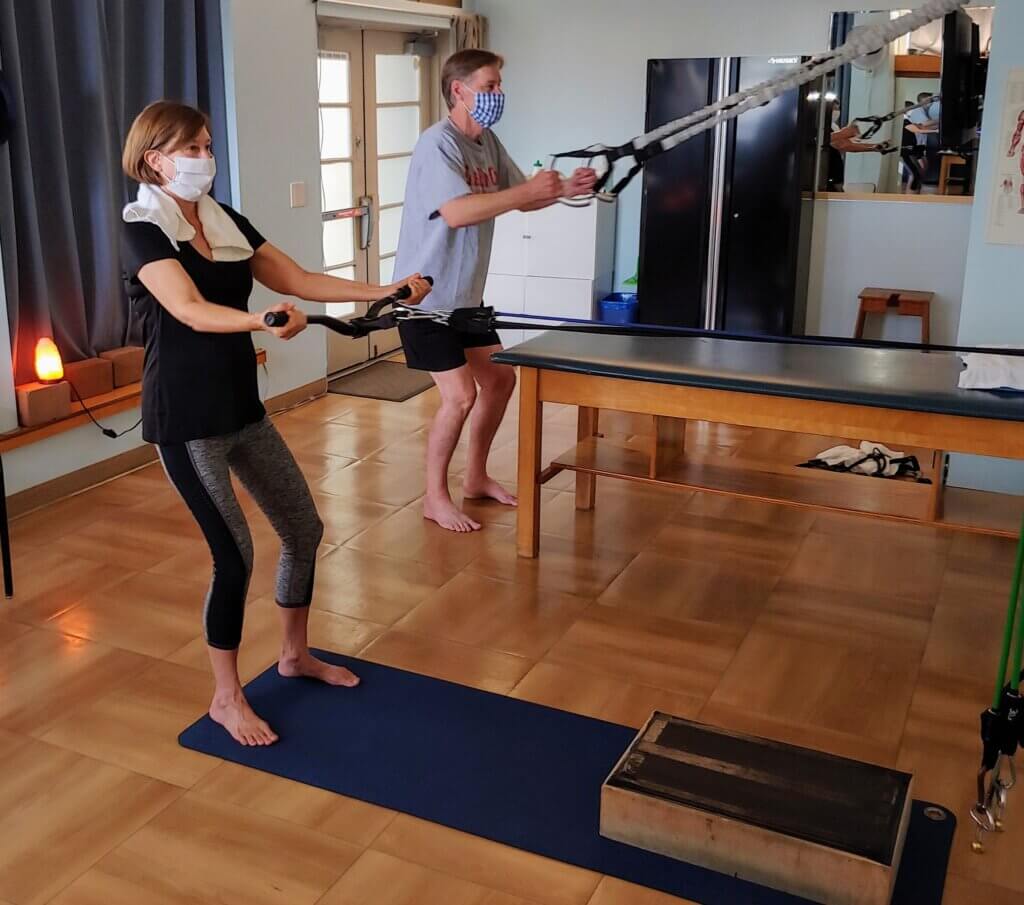 THE NEW ERGO LAB SPACE
Our Ergo Lab – working space of Elite Personal Trainer and Bike Fit Specialist, Jerry Gerlich – has moved into a new and ideal space for physically-distant Body Remapping and Personal Training sessions! As part of our COVID-19 renovations, the Ergo Lab is now in the Studio across the street at our Downtown location. There, he continues to focus on improving the body's functional mechanics and resetting the nervous system. On top of all our health and safety measures, the expanded Ergo Lab is more removed from all other foot traffic, and has ample space for proper distancing between him and his client and the creative utilization of different pieces of equipment! 
What is the Ergo Lab?
Jerry's services identify proprioceptive deficits and work to correct functional biomechanics, with the goal of helping clients find their optimal ergonomic movement patterns and remove chronic pain through 'Body Remapping'. His services are results-driven and are to the benefit of everyone and anyone. If you can walk, you can benefit from a lesson! A private session starts with an initial consultation, after which, the client will then go through activities that will uniquely address each of their ailments.
The Ergo Lab is outfitted with a Power Plate vibration trainer, assessment table, Barre connections, and Yoga Wall connections for resistance band and yoga strap attachments ideal for both stretching and exercises. Additionally, there is a box, stationary trainer, and leveling jack for Jerry's Bike Fit services. Based on any additional needs of the training session, Jerry will grab additional props from the Studio's Community Prop area. 
AN INSIDE LOOK AT AN ERGO LAB SESSION
View an entire 55-minute session with Castle Hill Fitness president, Clayton Aynesworth, in just 35 seconds in the video below!
CLAYTON'S SESSION WITH JERRY
In the consultation, Clayton told Jerry of his busy lifestyle attending to his responsibilities at Castle Hill Fitness, and the impending arrival of a granddaughter. Based on this, Jerry chose activities that would reduce stress and tension, improve posture, and reset the body for improved proprioception – the brain's ability to recognize where the body is in space. 
An Overview of the Workout: 
Warmup: Using a variety of supportive props, Jerry helped arrange Clayton to lay on the Power Plate with his lower back, to improve blood flow and reduce low back tension. 
Assisted deep squat and diagonal pull with Mycore resistance bands to loosen Clayton's hips and pelvis, work the legs through a full range of motion, and activate his upper body for improved posture. 
 Plank pushups into deep squat using a ballet bar and box to activate the front of the arms, shoulders, and chest, and activate further the legs and pelvis through a deep squatting protocol.
Once the anterior and posterior chain muscles and the legs are activated, back to the Power Plate for vibration recovery.
Standing outer thigh activity with a light resistance band to increase muscle activation and stability in the lateral hips and to challenge balance.
Side and forward shoulder dumbbell raises on a Bosu ball to activate shoulder muscles, improve foot proprioception and to challenge Clayton's balance.
Medial and lateral rotations while seated on a large stability ball to activate Clayton's obliques and core, while challenging balance in a seated position.
Supine straight-leg pulldowns with resistance bands to activate the core, hips, and legs in a manner similar to a standing deadlift without the need to bend forward due to Clayton's low back tension.
 Cool Down: Sitting on the assessment table with feet on the vibrating Power Plate to stretch bilateral piriformis muscles and to relax the lower legs and feet. 
These exercises focused on activating Clayton's torso and limbs, emphasizing pulling, twisting, balancing, and taking the legs through a full range of motion. The vibrations from the Power Plate also served to decrease the back tension that Clayton was experiencing.
Through Jerry's vast knowledge and truly unique methods and techniques, clients will leave a session with an entirely new bounce in their step.  
Ready to book your own Body Remapping session with Jerry? 
---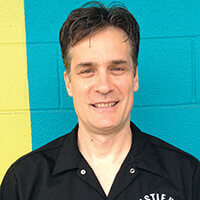 Jerry Gerlich has worked with cyclists and triathletes for decades, gym clients for over 15 years, and recently delved into the world of endurance auto racing with effective ergonomic suggestions, functional movement remediation, and foot correction techniques. His knowledge, experience, and truly unique techniques combined with a passion for improved function, posture, and performance have improved the lives of hundreds of local, national, and international clients. Jerry is a founding staff member of CHF and holds numerous certifications and continuing ed courses since 2001.