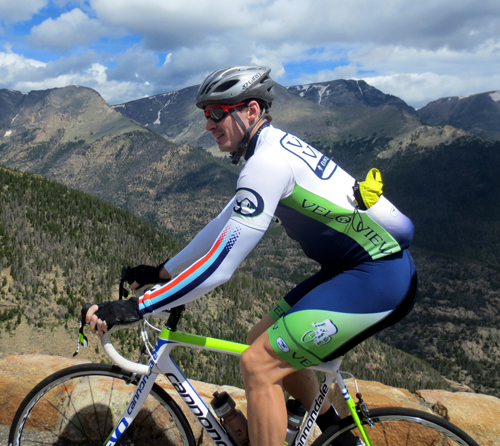 FORM:
Are my toes pointing down? When we first learned to ride a bike, we simply pushed down on the pedals. In doing so, most of us acquired the habit of pointing our toes when pushing. That's actually inefficient and limits how your leg muscles engage in pedaling. Try to keep your feet flat. A proper pedal stroke is similar to wiping mud off the bottom of your shoe. (Because we are so prone to pointing our toes, it's sometimes helpful to exaggerate dropping your heel down.) •
CADENCE:
How fast am I turning the pedals? Most new cyclists pedal slowly in an effort to conserve energy. However, if you're trying to maintain a certain pace (for example on a group ride), pedaling slowly will require you to push a bigger gear, which means that you'll be using your muscles that much more. Instead, try maintaining the same speed at a higher cadence, which means that you'll need to shift into an easier gear and pedal faster. That will quicken your heart rate, but it's better to tax your cardio than your leg muscles, which tend to tire out quicker. If you have a computer that tracks your cadence, try to keep it above 90 rpm. •
CONSISTENCY:
Am I pedaling at a consistent pace? In addition to using a higher cadence, it's important to maintain a consistent cadence. Waffling between pedaling fast and slow will wear you out much faster than finding a rhythm and sticking to it. The key is to use your gears. If you're going uphill, rather than slowing your cadence and pushing harder, shift to an easier gear so that you're maintaining the same cadence and level of effort. Similarly, if you're going downhill, shift to a harder gear to maintain the same cadence rather than sitting up and coasting. Get comfortable shifting often! •
FULL CIRCLES:
Am I only pushing down? Another habit we acquired as kids is only pushing down when pedaling. We had flat pedals and pushing down was our only option. These days, there are toe cages and shoes that clip into your pedals. These have a huge advantage over simple platform pedals because they allow us to pull up as well as push down when pedaling. The key to efficient pedaling is to pedal full circles, pushing through on the way down using the quads, and pulling up on the other side using the hamstrings and glutes. Remembering to pull up with each pedal stroke will dramatically improve your ability to ride longer and climb stronger!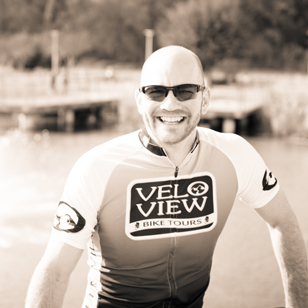 Shannon Burke
is the owner of
Velo View Bike Tours
, offering basic skills clinics and personal instruction,
guided Central Texas road & mountain bike rides
, and four and
five-day bike vacations
in some of the most beautiful places in the country. Please join Shannon for the outdoor bike rides in February for
Founders Month
: Sunday, Feb 9th or 23rd. Meet at
Food for Fitness Café
at 8:30am, leaves at 9am. Ready for road cycling? All good cycling starts with a proper fit and Castle Hill's own
Jerry Gerlich
is the master. Consider booking yourself for a
Bike Fit.
Attend Castle Hill Fitness
weekly Indoor Cycling classes
to build your strength!
Mondays 7:00 – 7:55 am Indoor Cycling COMMUNITY CLASS with Annick
Mondays 6:00 – 6:55 pm Indoor Cycling with Erin
Tuesdays 12:15 – 1:15 pm Cycle Strength + Abs COMMUNITY CLASS with Carol
Wednesdays 7:00 – 7:55 am Indoor Cycling with Annick
Wednesdays 6:00 – 6:55 pm Indoor Cycling with Adam
Thursdays 12:15 – 1:15 pm Cycle Strength + Abs with Carol
Fridays 12:15 – 1:10 pm R3volution Fit COMMUNITY CLASS with Erin
Saturdays 9:00 – 9:55 am Indoor Cycling with Annick
There are many different ways to become a better cyclist, but one of the easiest and most effective ways is to simply focus on pedaling. While everyone understands the importance of pedaling in propelling you forward, not everyone understands how proper technique and cadence can improve your overall experience on the bike. Next time you ride, put your mind on your pedal stroke and think about these aspects of pedaling: •