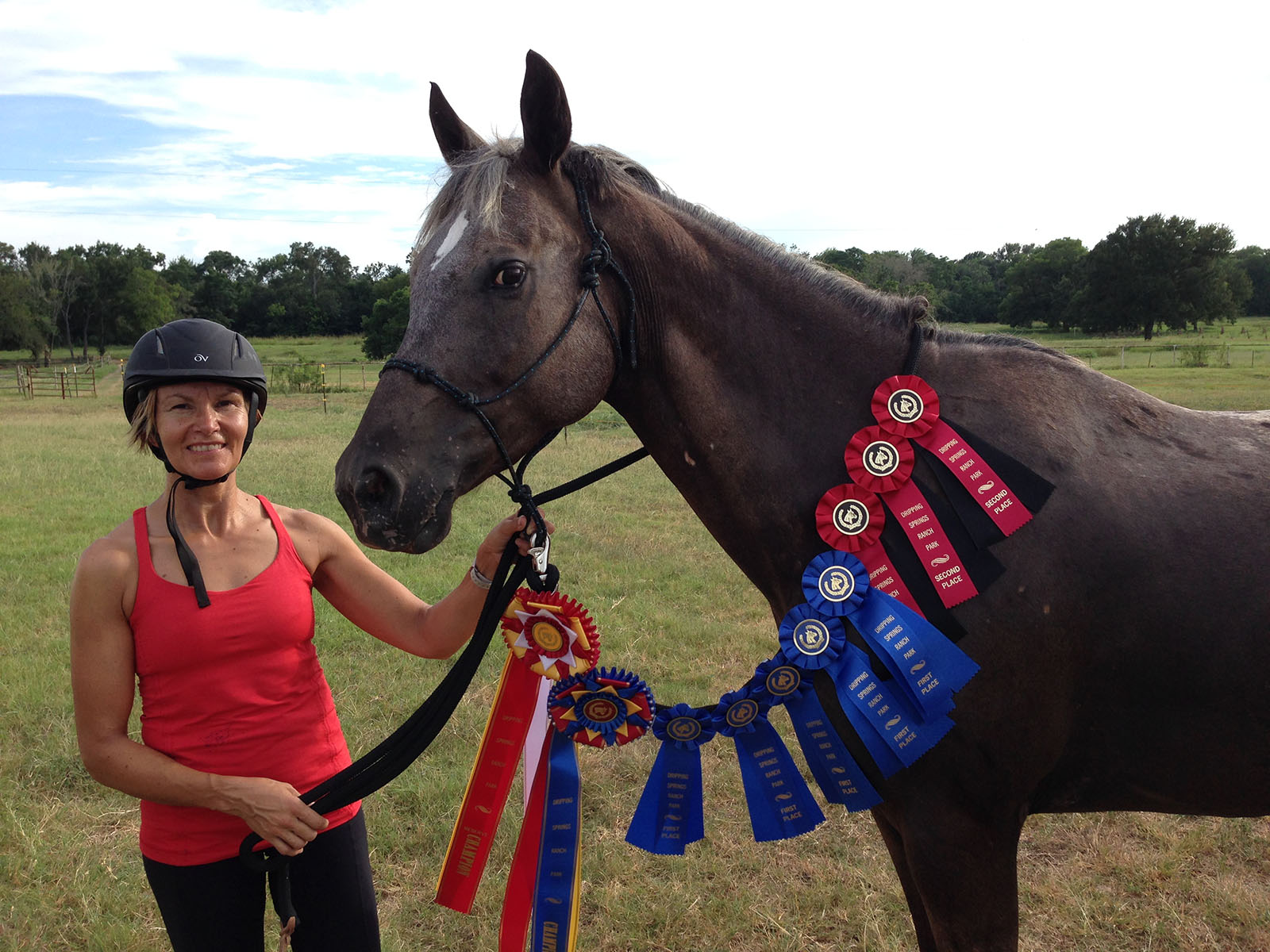 Besides training and conditioning human athletes and helping clients to build power and strength, Minna has been successful in training and conditioning her 7-year-old Appaloosa gelding, Mocca, which she started training last summer. She is building their skills in eventing, which is an equestrian triathlon consisting of dressage, stadium jumping and cross country. This summer, at the Dripping Springs Ranch Park Summer Series, they won the jumpers Championship in two consecutive events and Reserve Champion in dressage. After two events, they are leading the 2016 summer series championship points standings with just one more competition to go in August.
Minna builds her own stamina and core strength with Kettlebells, weights, functional mobility training and running. And believe it or not, training a sport horse is like training a human athlete. She builds Mocca's fitness by improving his strength, power, agility, flexibility, endurance and skill in a systematic and structured manner and includes recovery modalities to keep him ready for competitions.
Congratulations, Minna & Mocca!
And now for the Same 5 Questions We Ask Everyone!
How long have you been in Austin and where were you before?
I've been in Austin 22 years. I came from Murray, KY, and before that Tampere, Finland.
Austin is known as the Live Music Capital of the World, what's the best live music show you have seen?
Etta James
What food would you eat 5 times a day if you could?
I love dark roasted coffee.
If you were stranded on a desert island, what 3 exercises would you do to stay healthy?
I would keep it simple but effective and take with me the equipment of my choice, a single 16 kg (35 lbs) Kettlebell. Long Cycle (clean and jerk from a swing), Turkish get up (another fantastic Kettlebell exercise that develops athletic power) and rock climbing.
What's your favorite thing about Castle Hill Fitness?
I have fantastic clients who care about their long term wellness and fitness, and many of them have been with me over 10 years!
Come by and check out Minna's Kettlebell series or schedule a personal training session with her!