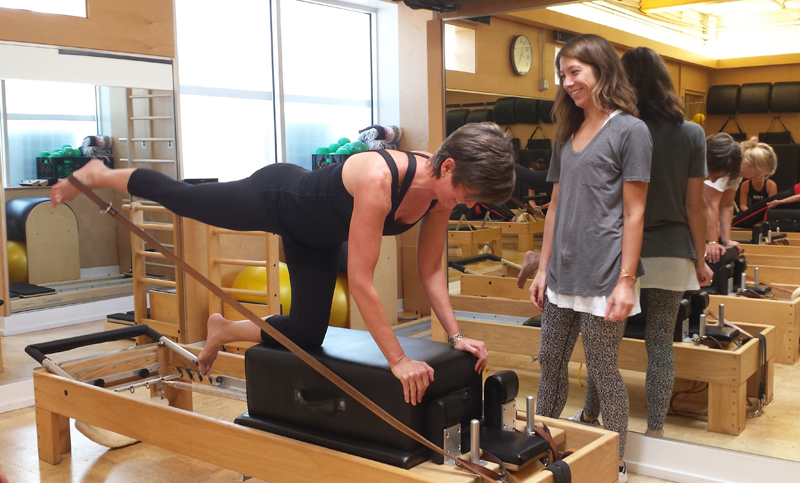 How long have you been a member at Castle Hill?
I believe I've been coming to CH for about ten years.  I started coming for Pilates training and joined the gym several months later.
What does your regular routine at Castle Hill look like?
My current routine does not look anything like what it did when I first joined CH.  I've changed how I utilize the gym as my life circumstances have changed during my time here.  Currently, I come for Pilates and yoga.  In the past I've worked out on the equipment, trained with trainers, had massages and acupuncture, and taken all kinds of classes – everything from yoga teacher training to rowing.
Have you made changes in your Health and Fitness lifestyle since you joined? What changes stand out the most?
When I first joined, I worked full time and lived outside of downtown.  The gym provided me with great options in both work out times and fitness activities to keep me active and interested in fitness.  Today I'm retired and living downtown.  Since moving five years ago, I've worked toward integrating fitness into my daily life.  I walk everywhere I can including to the gym, bike on the trail to tend to my garden at Deep Eddy Community Garden, swim in the lap pool at my condo, climb the 45 flights of stairs in my condo once a week (11 minutes to get to the top).  CH is still a very important part of my life, filling in those gaps in my routine with a variety of yoga and Pilates options.
Do you take any of our classes? Who is your favorite instructor?
I currently take yoga and Pilates classes.  I take yoga from Anna and Tracey and Pilates classes with Desi.  They are all my favorite instructors!
Do you frequent our Wellness Spa? Do you have a service provider who has helped you on your journey to whole body health?
I've been seeing Rachel for massage for a number of years.
Do you currently work with a personal trainer? Who are they and what goals are you working on together?
 I work with Stephanie in the Pilates Studio.  I have always loved movement and I have to have variety.  My sessions with Stephanie meet both of those needs.  Lots of variety, always challenging and most of all – fun!
What motivates you to stay on track?
I've just retired from 40 years of working and I'm ready to enjoy the next phase of my life and all of the many activities I've been yearning to do all these years when there was no time.  It's very important to stay healthy and fit in order to be able to do the things on my list!
What have been your biggest obstacles with fitness?
It was always about finding the time, especially when family and careers were involved.
What aspect of your current fitness lifestyle are you most proud of?
I'm most proud of the fact that since my early 20's I've managed to keep fitness in my life and I continue to do that.  I've always said the goal was to do something every day and that "something" has included a wide variety of activities over the years – walking, running, several types of yoga, tango dancing, weights, stair climbing, swimming, hiking, biking, Pilates, taking golf lessons, and rowing.  Sometimes it meant I was getting up at 5:15 in the morning to workout to Jane Fonda in the living room or going to the gym on my lunch hour.
What is your greatest health + fitness achievement?
Two things come to mind – the Danskin Triathlon that I did in 2010 and an eight day REI hiking trip in Scotland in 2012.  Both required lots of pre-event training.
Are there areas you are still working on? What goal keeps you motivated to show up to the gym regularly?
I plan to keep doing a well rounded variety of activities.  I'm motivated by how great I feel when I make the effort to be active every day.   I'm fortunate to not have any injuries or aches and pains and I hope to keep it that way as long as possible.
When you are not working out at Castle Hill, what do you do?
I am learning how to be retired and beginning June 1st I started my "year of living creatively."  I read, write, paint, garden, travel, do genealogy and of course stay active.  I have lots of family including two grandchildren in town and we all get together regularly.  I also volunteer at the Austin History Center and deliver Meals on Wheels.
Any thoughts you can leave us with?
Just do something every day – you don't have to kill yourself and it's the absolute best investment you can make in your future 🙂