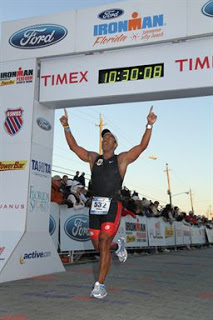 The Austin Livestrong Marathon is over and that means one thing to me, IT'S TRIATHLON SEASON! If you have ever wanted to compete in a triathlon of any distance, this article will help guide you to get ready for your race and have a great time doing it as well.
So you have decided to do a triathlon, now what? First you need to pick the distance that would be challenging yet fun for you to race. Triathlons range in distance from sprint to Ironman distance races. Sprints (swim 300-800 meters, bike 10-13 mi, run 2-3 mi), Olympic (swim 1500 meters, bike 40k, run 10k), Half Ironman (swim 1.2 mi, bike 56 mi ,run 13.1 mi) and Ironman (swim 2.4 mi , bike 112 mi, run 26.2 mi). For most people I recommend that you start out with a sprint distance. This, of course, is dependent on your athletic background.
Second, what is your goal? Is it to race a friend, do something new, or start to be active again? Whatever your goals, make sure they are bold enough to challenge you yet obtainable for accomplishment.
Ok, you now have a distance in mind and a goal (tentative). Let's find you a race. There are several great local races around the Austin area. For a list of upcoming races check out Jack and Adams page and click on Events (http://www.jackandadams.com/Calendar.asp). Make sure you pick a race that gives you enough time to train and meet your goals.
You now have your race and goals set, LET'S START TRAINING! But what do you focus on? Out of the three sports in triathlon list you strongest to weakest. Your weakest sport is where you want to spend more time working on (for most people this would be open water swimming), then your second, and finally your strongest sport you should spend a shorter amount of time training. I've provided a sample training week below but be sure to tailor it based on your strengths and weaknesses.
My first rule of thumb when learning to swim for a triathlon is don't get frustrated! Swimming is a very technical sport and people spend years mastering their swim stroke. You are allowed to use any swim stroke in the swim but freestyle is the preferred and fastest. There are some great resources on the internet to get a good idea of what a good swimmer looks like in the water. yes; A favorite place of mine to go to is swimsmooth.com. This website has a great animated video of the freestyle stroke. You may find a masters swim class (don't let the name scare you off) that you can attend with a coach on the pool deck coaching a group of swimmers. If you can afford it, having a one on one session with a swim coach is the best way to go here. Having someone watch your stroke and give tips on how to improve your mechanics right there is well worth the money. If not, have a friend video tape you and watch and compare it to swimming videos and see where you can improve. To help open water swimming techniques you can swim at Barton Springs or The Quarry by Pure Austin North. It is important to be comfortable in open water. Remember that on race day, you'll be swimming with a large group of people so staying calm and focused is key.
Next question: Do you have a bike (or access to one?) If not, time to find one. Spinning classes are a great place to start if you're new to cycling. You can try clip in shoes, without the fear of falling, and learn good techniques. The bike you use to get you through your first race does not have to be fancy. Once you fall in love with the sport, you can look into upgrading. The only real requirements for the race are that you wear a proper (CPSC compliant) helmet and have bar end caps. Most of the local bike shops offer group rides so check with your local shop for more details.
Run. The only equipment needed here is a good pair of running shoes. Make sure to get your shoes and train in them before race day to make sure they are right for you. Your best bet is to go to a store that specializes in running gear (Hill Country Running, Luke's Locker, etc) and have them analyze your stride to recommend the proper type of shoes. Check out the course description for your race and try to train on similar terrain. Do not be intimidated if you can't run the distance right off the bat. This is your first race and your ultimate goal is to finish and have fun!
As for nutrition, for shorter distances races go with what you're used to training with. For longer distances, experiment with new nutrition during your training to see what works best for your body. NEVER try anything new on race day.
Here is a sample training week to get you started:
Another good thing to practice is your transition. You will transition from swim to bike (T1) and bike to run (T2). Combining these in your training will help prepare you for the transitions during the race. The best way to describe transition is "controlled chaos". Have a plan and don't get flustered by all of the other athletes. Stay focused on yourself.
Other Equipment (optional but helpful): Body Glide (to prevent chafing/blisters), spare set of goggles, spare contact lenses (if applicable), wetsuit (if applicable), transition bag, towel to sit on in transition, sunglasses, race belt, chip strap, easy laces for your running shoes, running hat, Garmin or GPS watch, balloon or other marker(to find your spot in transition).
Planning for your event: Pickup packet at designated time/place. You'll need your driver's license and a USAT card (you can purchase a day pass if you are not a member). Affix race #s to your bike, helmet (if applicable) and race belt. Review other materials in packet, especially the race course map. Pack your race bag the day before so that you have time to get last minute items, if needed. Please make sure to review the rules of triathlon to avoid any penalties on race day. You can find them here: USA Triathlon Rules
Race Day: Wake up early and eat so that you have time to digest. Plan to arrive when transition opens so that you'll have plenty of time to get body marked, get your transition area setup and familiarize yourself with transition. Be aware of the entrances, exits and your proximity to them. You may be feeling nervous but trust your training and remember why you're here. Soak up the atmosphere and camaraderie that comes with this sport – this is why we race!
After your transition is setup, get your goggles, swim cap and chip (make sure it is strapped to your ankle) and head down to the swim start to find your wave. Seed yourself accordingly based on your swimming capability. First timers – start closer to the back. Take a deep breath, wait for the gun and remember – have fun (and smile at the cameras!)
When you cross that finish line throw your hands in the air and take pride in your accomplishment. _________ you are a triathlete!!  Welcome to the club.
Castle Hill Cycling Instructor
Team Tri It – Founder/Coach