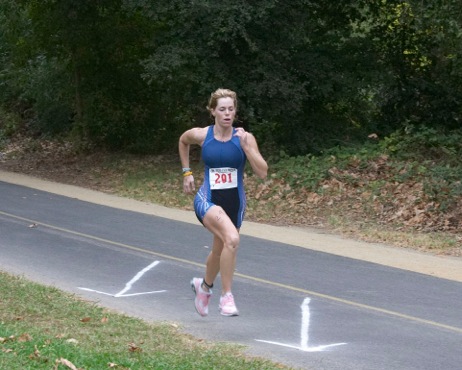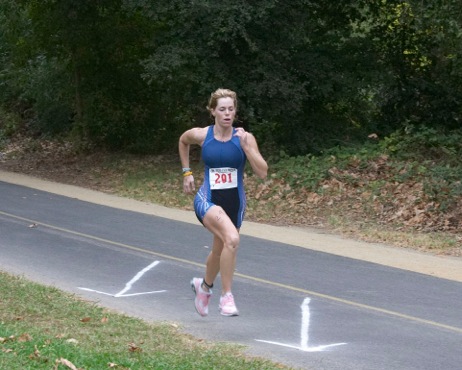 Shortly after my first Duathlon I started to become obsessed with researching the Triathlon on the Internet. I even set my TiVo to record all cycling and triathlon programs.  I began to learn the names of the athletes, and understand the rules of Triathlon which are set by the organization called the USA Triathlon or USAT.
There is also an international version of this organization called the International Triathlon Union or ITU, and their rules are similar but unique to their races. I remember watching the open water mass start of an Ironman on Youtube: the Hawaii Ironman swim start; it scared the hell out of me.  Imagine one of those Discovery Channel shows about feeding frenzies in the ocean; and now replace the fish with people dressed as seals. That will give you an idea of the chaos at the start of a very long day.  I found a cheeky video that helps describe the torture one can go through at the beginning of a triathlon- seen in this Clif Bar Triathlon Start Commercial.  Honestly this isn't too far from the truth.
With this fresh in my mind I decided to start off with a few 5Ks, plus more bike rides and longer distances, all the while happily swimming back and forth in a 25 meter, 80 degree pool. After some research I found an event called Eppie's Great Race, advertised as "The World's Oldest Triathlon"; in this race there was no swimming component.  This was a Run, Bike & Paddle race.  I started working on my paddling skills using my Kayak. To this day, I love this event and if I could, I would go back to California and race it again.  There is a new great option close to Austin TX called the Lulling Dry Tri coming this summer.
I arrived to Eppie's Great Race very nervous. I remember lining up for the start of the run with my whole family there cheering me on.  As the race started I realized I had over pre-hydrated.  I had to pee so badly! Running the almost six miles to my bike became pure torture. Once I arrived at my bike I fumbled with putting on my gloves (this time gloves were needed for the bike, paddle and helmet portions). I had to pee so badly and I did not see a port-o-lets anywhere! I could not help it, I squatted next to my bike (!), pretended to tie my shoes and pee'd.  It was terrible… and now I know I should have been removed from the event for this. My only consolation was I was on the dirt and behind a tree… then Karma nipped me in the butt.
About a ½ mile into the bike ride a volunteer calls out to me, "Your helmet is on backwards!"  Yep, it sure was. I had to stop, correct the helmet and continue on the bike portion of the race. Once I got to the Kayak part the race got real interesting.  Paddling 6 miles down a river with rapids when you are already tired is significantly harder than it looks. Still finishing was a blast! It was so much fun, and a bonus I found out I got 3rd place in my Age Group and Boat Category.  How exciting! Flash forward to the following year… I had upgraded my boat to an 18 foot all Carbon Surf ski and a Felt DA time trial triathlon bike, and I had just as much fun, (didn't pee in transition) but I did get a bumble bee trapped in my helmet and I  took home 2nd place in my Age Group! The excitement never ends!
It was not long after my 3rd place finish at Eppie's I decided to give Triathlon a try.
I signed up for an all-women's sprint race outside of my town so nobody would see me. I arrived a day early to pick up my racing packet which typically has a complimentary shirt, "bib" numbers, information about the race, coupons and free stuff from sponsors.  I went to the water's edge to see where we'd be swimming.  Since this was my first Open Water I was intimidated. The location of the event was at a park along the American River in Sacramento California. If you are not familiar with the American River it is narrower than Lady Bird Lake, and the water comes down from the snow melt in the Sierra Mountains. The water is crystal clear and about 65 degrees! Knowing this I had purchased in advance a full sleeve wetsuit.

In the morning I arrived pre-dawn as directed to set up my Transition area and to be ready for the swim start.  Now that I have participated in 40 Triathlon's- I realize now just how crazy this particular swim start was. They had us line up in Age Group waves, on the shoreline that was littered with beer cans and pop tops.  The swim start was under a bridge, and we had to swim between the concrete pillars about 15 feet into the start; make a hard left and swim upstream.  Imagine starting a race with 50+ women under the Mopac Bridge during rush hour in 65 degree water and everyone swimming in between the pillars! Oddly I was seeded at the front middle of my swim wave. This is the absolute wrong place if you are not a strong swimmer and if you are in your first race.
The chaos that ensued after the air horn went off was near pandemonium!  Suddenly within feet of starting I had been pushed, punched, hit, and women would swim right over me. I remember coming up for air sputtering and choking thinking to myself: "That's it! This is crazy! I can't do it….." and I was literally still just feet from the shore! I looked back at the shore and saw the next wave of women lining up to start, I looked forward at the group I was supposed to be with start to swim away. At that very moment something snapped in my brain, everything changed: "Oh, hell no!" I remember thinking, "They aren't going to win without a fight!!"  I swam as hard as I could, I cycled with as much as I could give and I ran fast as my legs would take me.  When I finished this race – I  had almost been taken out of in the first 30 seconds-in the end I finished 4th or 5th in my age group (!) and you know what- I smiled all the way home.
The next day I hired a Certified Triathlon coach and joined the local Tri Club (this is Austin's: http://austintri.com/main.html)